ANN ARBOR, Mich. -- Get ready for the first -- and last -- look at football at Michigan until August.
Michigan's spring scrimmage will provide some answers to some of the bigger questions surrounding the program on the field heading into next season, but it just as likely will create some false hope at some spots and leave even more questions at others.
So what to look out for on Saturday? What might be Michigan's biggest spots of concern and relief? Here's a quick look at five things to keep an eye on as Michigan completes its spring workouts.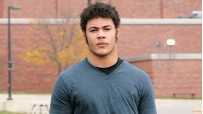 Watch the backfield: This goes for quarterback and running back, where the competitions will surely continue into the fall. The only guarantee is Devin Gardner will be Michigan's starting quarterback, but with Russell Bellomy being out indefinitely with a torn ACL, who could play behind Gardner is a major question. Redshirt freshman walk-on Brian Cleary will receive the first opportunity to win the job or put himself in a strong position before freshman Shane Morris enrolls this summer. Alex Swieca, a redshirt sophomore who once played in the Israeli Football League, also could receive a look.
Behind the quarterback is where the Wolverines really get interesting. Michigan's two most likely running back candidates -- redshirt senior Fitzgerald Toussaint (out with an injury) and freshman Derrick Green (not enrolled yet) -- won't play Saturday. So Michigan's other running backs have a chance either to solidify a role or establish something for Toussaint and Green to shoot for in the fall. Watch for Drake Johnson here, as he becomes a wildcard with a speed and athleticism factor which makes him an intriguing prospect.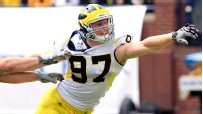 The linebacker rotation: With Jake Ryan out indefinitely due to a torn ACL, all three of Michigan's linebacker spots have at least some level of competition. Who emerges here could be a large indicator of how strong the Wolverines defense might be next season. Replacing Ryan will fall to either fifth-year senior Cam Gordon or junior Brennen Beyer. Both have experience in the role -- Beyer from his freshman season and Gordon last year. Neither, however, has shown the level of athleticism or instinct for making plays Ryan had. In the middle, Desmond Morgan, Joe Bolden and Royce Jenkins-Stone will all vie to replace Kenny Demens. Morgan has the experience and instincts, having started for the past two seasons on the weak side. Bolden showed promise as a freshman and backed up Demens, pushing him for time early last year. Jenkins-Stone is the unknown, as he needed to become bigger last season but played well on special teams. On the weak side, Morgan and James Ross III will continue to push each other as they did through the majority of last season. Jenkins-Stone could receive a look here as well. What happens with Morgan, though, could dictate the rest of the linebacker positioning.
Who lines up opposite Jeremy Gallon? Gallon is a proven commmodity. Both Amara Darboh and Jehu Chesson have shown flashes for making the big play according to players and coaches. Chesson has good separation speed from his days as a high school sprinter. Darboh has good size at 6-foot-2 and good hands. The spring scrimmage will be the first indication of who will be the guy to line up opposite Gallon, although the answer won't be finalized for a while.
Can the defensive line pressure the quarterback? Hoke, Greg Mattison and their defensive line have been talking up the speed and four-man rush presence of this year's D-line, but how much have they actually improved? It was definitely a low point last season, and without the front four getting much pressure, it put more on the linebackers and secondary. One name to watch is Frank Clark.
The early enrollees: The Wolverines had six early enrollees in the 2013 class and this will be a chance to see all of them play, rather than next season when that probably won't be the case. Obviously, guys such as tight end Jake Butt, defensive end Taco Charlton and defensive back Dymonte Thomas (who has been playing some nickel) have gotten quite a few spring ball name drops. Offensive coordinator Al Borges said Butt came in looking as though he had already been through a college weight-lifting regimen, but the question is whether he can take college-level hits from linebackers. Charlton and Thomas are in that same boat, physically, and all three guys are at positions that have a bit less depth than the coaches want.