Commentary
Important numbers in U-M history
60-51: Denard engineers a comeback; Chris Perry carries the day
Over the coming weeks, WolverineNation staff writer Chantel Jennings will be examining some of the most important numbers in the history of Michigan athletics. Today, she takes a crack at Nos. 60 through 51.
60
Yards --
Michigan looked like it was about to break against Illinois in 1981. The Wolverines trailed 21-0 when quarterback Steve Smith threw a 60-yard touchdown pass to Anthony Carter. It turned the game around for the Wolverines, who went on to score 63 more points while holding the Illini scoreless. Michigan won 70-21 in one of its highest-scoring outputs ever.
[+] Enlarge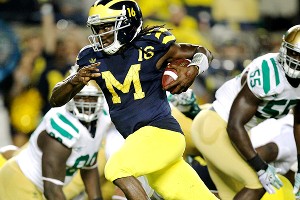 Gregory Shamus/Getty ImagesDenard Robinson led a furious rally that toppled Notre Dame in the first night game at the Big House.
59
Percent --
The best field-goal percentage shot by a Michigan men's basketball player during his career, by Chris Webber from 1991-93.
58
Yards --
Down three with 1:12 against Notre Dame in 2011, quarterback Denard Robinson led a 58-yard scoring drive down the field against Notre Dame which would give the Wolverines, who had been down by as much as 17, their first advantage of the game. The Irish would score once more, but so would Michigan and the Wolverines went on to win in their first night game, 35-31.
57
Wins --
The total number of wins the Wolverines have against Ohio State. The all-time record favors Michigan, 57-44-6.
Runner-up:
Yards -- The longest field goal ever made by a Michigan football player, by Hayden Epstein.
56
Jersey number --
Defensive end/linebacker LaMarr Woodley wore No. 56 for the Wolverines. He finished his career as one of the best defensive players in Michigan history, recording 177 tackles, including 47 for a loss of 286 yards. In his senior season alone he tallied 12 sacks for a loss of 119 yards. He was named both the Big Ten Defensive Lineman of the Year and the Big Ten Defensive Player of the Year, as well as becoming an All-American and winning the Ted Hendricks Award, given to the best defensive lineman in the nation.
Runner-up:
Minutes -- The most minutes ever played by a Michigan men's basketball player in a single game, by Eric Turner, who clocked 56 minutes against Illinois in a 1984 contest.
55
Points --
In 1947, en route to a national title, Michigan picked up a marquee win by beating Michigan State 55-0.
[+] Enlarge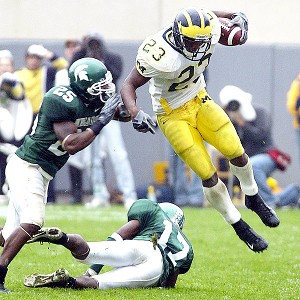 Domenic Centofanti/Getty ImagesThe Wolverines often relied on RB Chris Perry in the 2003 season, but never more than at Michigan State.
54
Penalties --
The most hockey penalties ever recorded in a single season, by Jack Johnson during the 2005-06 season.
53
National championships --
The total number of team national championships Michigan athletics has won.
Runner-up:
Year -- The Paul Bunyan Trophy, awarded to the winner of the Michigan-Michigan State, came into being in 1953.
52
Percent --
The best three-point field goal percentage ever shot in a season, by Glen Rice during 1988-89 season.
51
Carries --
The most rushing attempts in a single game in Michigan football history, by Chris Perry at Michigan State in 2003. The result? 219 yards and a touchdown in a 27-20 Wolverines victory in 2003.
Pac-12 reporter
Covers the Pac-12
Joined ESPN in 2011
Graduate of the University of Michigan
IMPORTANT NUMBERS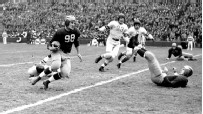 WolverineNation's Chantel Jennings combed through the Michigan record books in all sports to arrived at a countdown of 100 important numbers in the school's athletic history.
Harmon leads way
•
100-91
Big plays take spotlight
•
90-81
Arenas, legends and great linemen
•
80-71
A WCWS title
•
70-61
C-Webb, hockey penalties and Chris Perry
•
60-51
The Snow Bowl and Gerald Ford
•
50-41
The winged helmet
•
40-31
That Heisman pose
•
30-21
Barry Larkin, Denard Robinson
•
20-11
Year War, Fab Five & 1
•
10-1
MORE COLLEGE FOOTBALL HEADLINES
MOST SENT STORIES ON ESPN.COM