Commentary
Important numbers in U-M history
50-41: Rudy T, Glen Rice lit up scoreboards throughout the Big Ten
Over the coming weeks, WolverineNation staff writer Chantel Jennings will be examining some of the most important numbers in the history of Michigan athletics. Today, she takes a crack at Nos. 50 through 41.
50
Year --
One of the biggest Michigan/Ohio State rivalry games was the 1950 matchup, which has come to be known as "The Snow Bowl." With 5 inches of snow on the ground and winds upward of 29 mph, the Wolverine eked out a 9-3 win over the Buckeyes, earning themselves a spot in the 1951 Rose Bowl.
[+] Enlarge
AP Photo/U. of Michigan Sports PublicityGerald Ford was Michigan's MVP in 1934.
49
Minutes --
The most minutes played in a women's basketball game, set in 2001 by Alayna Ingram against LSU. She also holds the No. 2 spot as well, with 48 minutes in 2000 against Michigan State.
48
Jersey number --
Before becoming the 38th president of the United States, Gerald Ford wore the now-retired jersey No. 48 at Michigan. He was an All-American center and part of two teams that won national championships (1932-33).
Runner-up:
Points -- The most points ever scored in a men's basketball game in Crisler Arena, set by Rudy Tomjanovich in 1969 against Indiana.
47
Jersey number --
Before coaching the Wolverines, Bennie Oosterbaan wore the now-retired No. 47 when he was an end at Michigan. He is one of two Michigan football players to be selected as a three-time All American (1925-27).
Runner-up:
Year -- The 1947 Mad Magicians, Michigan's ninth football national championship team. The Wolverines held five teams scoreless that season, including USC in the Rose Bowl.
46
Percent --
The best 3-point field goal percentage shot by a Michigan women's basketball player over a season, by Leah Woodridge during the 1991-92 season. Recent graduate Carmen Reynolds holds the No. 2 spot at 45 percent.
45
Jersey Number --
During his three seasons playing basketball at Michigan basketball, Rudy Tomjanovich (1968-70) wore the now-retired No. 45 jersey. Tomjanovich still holds the record for the most rebounds over a career (1,044) and finished with an average of 15 rebounds per game. He led the team in rebounding and scoring all three seasons. In his final season he was named an All-American.
Runner-up:
Returns -- The most kickoff returns in a career in Michigan football history, by Desmond Howard from 1989-91.
44
Seasons --
The longest anyone has coached at Michigan, by former diving coach Dick Kimball. Kimball coached the Wolverines from 1958-2002 and was a part of five NCAA national championship teams and 33 Big Ten titles.
More on Michigan
For full coverage of the Wolverines, check out the Michigan blog, part of ESPN's College Football Nation. Blog

43
Wins without a loss --
During Fielding Yost's first four seasons at Michigan, the Wolverines went 43-0-1. In that same span, Michigan won four national championships. The one blemish on its record during those four seasons was a tie with Minnesota in 1903, the same year the Little Brown Jug came to exist as a trophy between the programs.
42
Championships --
The number of Big Ten championships the Michigan football team has won. The first came in 1898 and the most recent was in 2004.
41
Jersey number --
Glen Rice wore the now-retired No. 41 jersey during his four seasons at Michigan. He is the most prolific scorer in Michigan basketball history, posting 2,442 points during his career. During the 1989 national championship season, Rice was voted the NCAA tournament's Most Outstanding Player and was selected as an All-American.
Pac-12 reporter
Covers the Pac-12
Joined ESPN in 2011
Graduate of the University of Michigan
SPONSORED HEADLINES
MORE COLLEGE FOOTBALL HEADLINES
MOST SENT STORIES ON ESPN.COM
IMPORTANT NUMBERS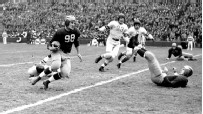 WolverineNation's Chantel Jennings combed through the Michigan record books in all sports to arrived at a countdown of 100 important numbers in the school's athletic history.
Harmon leads way
•
100-91
Big plays take spotlight
•
90-81
Arenas, legends and great linemen
•
80-71
A WCWS title
•
70-61
C-Webb, hockey penalties and Chris Perry
•
60-51
The Snow Bowl and Gerald Ford
•
50-41
The winged helmet
•
40-31
That Heisman pose
•
30-21
Barry Larkin, Denard Robinson
•
20-11
Year War, Fab Five & 1
•
10-1