Commentary
Important numbers in U-M history
10-1: The final list features no-brainer choices at 10, 5 and 2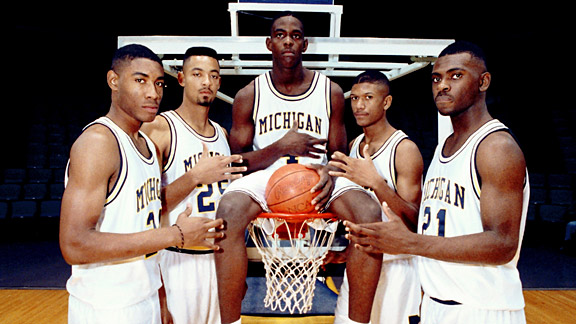 AP PhotoThe Fab Five provided joy and heartbreak during and after their stay in Ann Arbor.
WolverineNation staff writer Chantel Jennings wraps up her series examining some of the most important numbers in the history of Michigan athletics with a look at Nos. 10 through 1.
10
Year War--
From 1969-78, the rivalry between Michigan coach Bo Schembechler and his former mentor, Ohio State coach Woody Hayes, permeated Michigan and Ohio and the already fierce rivalry grew to new levels. Michigan went 5-4-1 against Ohio State over that decade.
9
National championships --
Michigan hockey has won nine national titles. It's most recent was in 1998, when the Wolverines defeated Boston College in the championship game.
8
Victories --
The Michigan football team has traveled to Pasadena 20 times, but come away victorious just eight. The most recent Rose Bowl trip was in 2006 when the Wolverines lost to USC, 32-18.
[+] Enlarge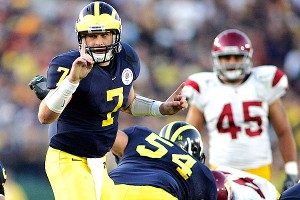 Charles Baus/Icon SMIChad Henne is just one of several top QBs to don the No. 7 at Michigan.
7
Jersey number --
Historically, the No. 7 jersey has been given to top quarterbacks at Michigan. Most recently, Devin Gardner wore it before he switched to the No. 12 jersey in 2012. Pervious signal-callers who also have sported No. 7 include Chad Henne, Drew Henson and Rick Leach.
6
Championships --
During Fielding H. Yost's career he won six national titles.
Runner-up:
Number of conference wins Rich Rodriguez amassed over his three-year stint with the Wolverines. His average of two wins per year was the worst in school history.
5
Fab --
The Fab Five was one of the most impressive units in college basketball in the early 1990s, not just for how they revolutionized the game, but also how they carried themselves. Juwan Howard, Jimmy King, Ray Jackson, Chris Webber and Jalen Rose, all of whom were in the top 100 recruits of 1991 (four were in the top 10), comprised the Fab Five. Each member of the Fab Five scored at least 1,200 points, grabbed at least 500 rebounds and dished out at least 150 assists. They were national runners-up in 1992 and 1993, but following the scandal that broke out after the 1993 national championship game, Michigan vacated several of the Fab Five's wins and achievements.
4
Guards --
When Michigan basketball coach John Beilein came from West Virginia, he brought with him a new offensive scheme that involved lots of outside shooting. The result was a guard-heavy offense with much reliance on the 3-point line. For the past few years, the Wolverines have lived and died by the 3.
3
Year --
The 1903 season marked the beginning of one of the oldest (and least aesthetically pleasing) trophies in college football -- the Little Brown Jug. The Wolverines lead Minnesota in the series, 67-22-3, but had their largest win in the history of the trophy in 2011 when they defeated the Gophers 58-0.
2
Jersey number --
The number worn by Charles Woodson, the only defensive player to win the Heisman Trophy. The two-time All-American won college football's highest honor in his junior year. He also led the Wolverines to an undefeated season and a national championship. He also won the Jim Thorpe Award that season. He finished his career in maize and blue with 162 tackles, 25 pass breakups and 18 interceptions.
1
Point --
In its first football game, Michigan defeated Racine College 1-0. The game was played on May 30, 1879.
Reporter, WolverineNation
Reporter for WolverineNation
Covers Michigan Wolverines sports and recruiting
Joined ESPN in 2011
SPONSORED HEADLINES
MORE COLLEGE FOOTBALL HEADLINES
MOST SENT STORIES ON ESPN.COM
IMPORTANT NUMBERS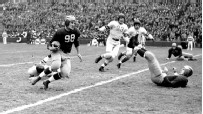 WolverineNation's Chantel Jennings combed through the Michigan record books in all sports to arrived at a countdown of 100 important numbers in the school's athletic history.
Harmon leads way
•
100-91
Big plays take spotlight
•
90-81
Arenas, legends and great linemen
•
80-71
A WCWS title
•
70-61
C-Webb, hockey penalties and Chris Perry
•
60-51
The Snow Bowl and Gerald Ford
•
50-41
The winged helmet
•
40-31
That Heisman pose
•
30-21
Barry Larkin, Denard Robinson
•
20-11
Year War, Fab Five & 1
•
10-1