Trey Burke wins Wooden Award
Updated:
April 5, 2013, 5:23 PM ET
By
Jason King
| ESPN.com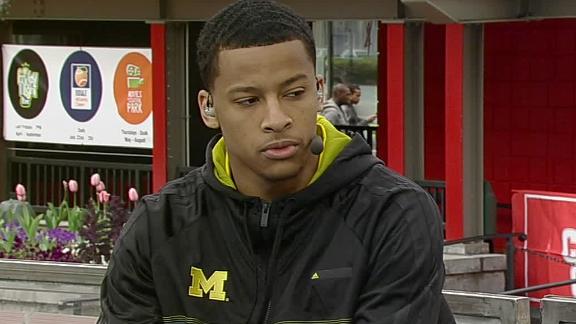 Trey Burke Wins Wooden Award
Michigan guard Trey Burke talks about winning the John R. Wooden award as the most outstanding player in men's college basketball.
Trey Burke Wins Wooden Award
ATLANTA -- Michigan's Trey Burke was named the John R. Wooden Award winner on Friday in a close vote, but his supporters have gotten some vindication from his recent play.
King: Burke Deserves Wooden Award

The favorite for the Wooden Award changed almost every week, but by mid-February the race had come down to a two-person affair: Trey Burke or Victor Oladipo? Burke deserves it, writes Jason King. Blog
Voting was completed the week before the Wolverines faced Kansas in the Sweet 16 of the NCAA tournament. When Burke hit a 28-footer late to tie the game on the way to an overtime win, those who put him No. 1 had to have smiles on their faces. That Burke has now led his team to the Final Four only solidifies their conviction.
Many others were just as committed to another player. Burke, a sophomore point guard, squeaked by Indiana's Victor Oladipo in the balloting, finishing with 2,808 points to Oladipo's 2,718.
"The whole year he has been just as calm and cool as if he were a fifth-year redshirt senior guard," Michigan coach John Beilein said of Burke. "He's [played] with three to five freshmen all year long. Here he is, the cagey, veteran sophomore.
"Those young guys look at Trey, they see poise, they see patience. It's worked very well."
Indeed, Michigan is in the Final Four for the first time in 20 years thanks to Burke, who scored 23 points after halftime in last week's 87-85 win over Kansas. Burke helped the Wolverines rally from a 14-point second-half deficit to defeat the No. 1 seed Jayhawks. Even though voters had already selected him as the Wooden Award winner by that point, Burke's performance left little doubt that he was the best player in America.
Burke, who also edged out Oladipo for Big Ten Player of the Year honors, is averaging 18.8 points and 6.8 assists for the Wolverines, who will take a 30-7 record into Saturday's NCAA tournament semifinal against Syracuse at the Georgia Dome. Burke shoots 46.4 percent from the field and 38.1 percent from 3-point range.
Creighton's Doug McDermott (2,344) finished third in the Wooden Award voting. Georgetown's Otto Porter (2,144) and Gonzaga's Kelly Olynyk (2,079) rounded out the top five.
College basketball writer for ESPN.com
Longtime writer at the Kansas City Star
Author of two books
The Wooden Award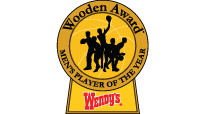 Michigan guard Trey Burke narrowly edged Indiana's Victor Oladipo for the John R. Wooden Award. It's a fitting choice for a player who's led his team to the Final Four. Jason King