Commentary
Sooners' Millard doesn't look back
Sophomore fullback wanted to play offense, while Missouri wanted him on defense
NORMAN, Okla. -- During his senior season at Columbia (Mo.) Rock Bridge High School, Trey Millard knew exactly what he wanted out of his college football experience, even if it struck others as a little odd.
Trey Millard: 'We won the war'
Trey Millard had plenty of naysayers when he picked Oklahoma instead of Missouri. The former Columbia (Mo.) Rock Bridge standout didn't think twice about his choice despite the fact he was surrounded by Tigers fans.
"They tried to make it a judgment of my character but I just tried to do what is best for me," Millard said. "There are people that write terrible things on the internet and a few even said some things to my face. But haters are going to hate. It's not their decision, they aren't living my life."
And the sophomore heard it again when Mizzou handed OU a 36-27 loss at Faurot Field last October.
But Millard got retribution when the Sooners won the Big 12 Championship with a 23-20 win over Nebraska last December.
"They won the battle, we won the war," Millard said. "We won the Big 12 championship, we got the ring. They beat us, no excuses, but we won the conference.
"I wear the ring a lot more when I'm at home than I do here."
-- Brandon Chatmon, SoonerNation
The Oklahoma sophomore wanted to play fullback, not tight end or defensive end -- positions that would present opportunities to earn the spotlight.
"You have to be kind of messed up to want to play that position," offensive tackle Donald Stephenson said. "But he's a tough guy, he likes contact, that's just Trey."
Millard's choice to play fullback was the driving force behind his decision to sign with the Sooners instead of the hometown Missouri Tigers.
"They don't really have a true fullback," Millard said.
The Tigers' loss has been OU's gain as Millard has developed into one of the best fullbacks in the Big 12.
"He's going to be one of the best to come through this school; it's unbelievable, the things he does," running back Brennan Clay said. "I see big No. 33 in front of me, I know he's going to make a play, I know he's going to make holes. He makes it easier for us."
A second-year starter, Millard can flatten a linebacker with a lead block, carry the ball on a dive, then catch a pass for a 10-yard gain in consecutive plays.
"It's the evolution of a position with a guy that can do everything," former Oklahoma fullback J.D. Runnels said. "Trey does it all, and I think that's why Bob [Stoops] and those guys are so high on him. If you had a guy that just did blocking, you couldn't beat Florida State. They need guys that can do everything."
Runnels -- who played at OU from 2002 to 2005 and blocked for running back Adrian Peterson, now with the Minnesota Vikings -- has become a mentor to Millard. Hearing that Millard actually wanted to play fullback made an immediate impression on him.
"That's half the battle," Runnels said. "If you don't want to play [fullback], it's going to show. You can only run into a linebacker or defensive end a few times before you say 'Hey, Coach Stoops, we gotta move me back to tight end or receiver or something.'
"It's the most violent position in all of sports. You have to be a little crazy on the field and sane off the field."
Millard loves to play physical, hit defenders and be aggressive on the field. Yet, he had the awareness and smarts as a high school player to pick OU, because he felt the Sooners would groom him at a position he believes gives him the best chance to play in the NFL.
[+] Enlarge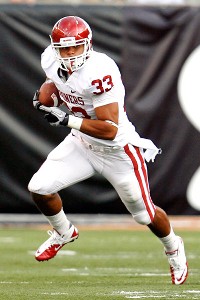 Jim Owens/Icon SMI Oklahoma sophomore fullback Trey Millard can do it all for the Sooners.
"I'm trying to play football as long as I can," Millard said. "It's a dying position in college football, so hopefully it will help me get a chance to play at the next level."
The icing on the cake is Oklahoma's tradition of competing for Big 12 and national championships, another major factor in Millard picking OU over Missouri, despite the fact his parents, Rob and Jay Millard, are Mizzou fans.
"I wanted to win championships," said Millard, noting that he wears his Big 12 championship ring more often when he's back home in Missouri. "And Oklahoma is a team fighting for national championships and Big 12 championships every year."
Sixteen games into his college career, Millard already has Bob Stoops calling him one of the best fullbacks at OU during his tenure, with Runnels, one of the best fullbacks to ever put on crimson and cream, endorsing him as well.
"Trey will have stats to compare with any fullback, and he will make some plays that are going to stick out in people's minds," Runnels said. "His size, speed, hands ... he's one of the better ones to come through here."
Brandon Chatmon covers University of Oklahoma sports and recruiting for SoonerNation.
Follow SoonerNation's coverage on Twitter: Sooner_Nation
Big 12 reporter
Covers the Big 12
Joined ESPN.com in 2011
Attended the University of Colorado
SPONSORED HEADLINES
MORE COLLEGE FOOTBALL HEADLINES
MOST SENT STORIES ON ESPN.COM