QB on verge of making OU history
Landry Jones could become winningest signal-caller in school history this season
Updated:
August 16, 2012, 3:35 PM ET
By
Jake Trotter
| SoonerNation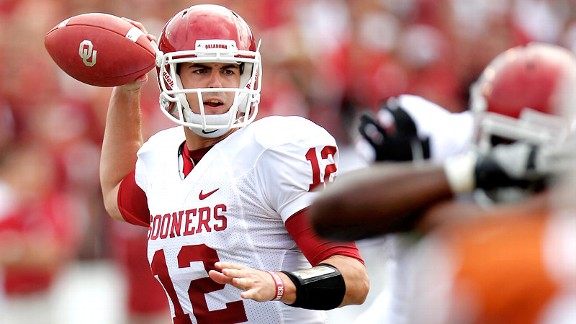 AP Photo/Mike FuentesLandry Jones is already the most prolific passer in school history. So why don't fans appreciate him?
NORMAN, Okla. -- Landry Jones is four victories from becoming the winningest quarterback in Oklahoma history. He already owns nearly every other school career passing record and will factor into the FBS record book, too.
He's also on the short list of Heisman contenders and the foremost reason the Sooners are fourth in the preseason polls.
Yet many in Sooner Nation cling to the past (Sam Bradford). Others long for the future (Blake Bell). Even as one of college football's top players quarterbacks the Sooners in the present.
Winningest quarterbacks in OU history
A look at where Landry Jones ranks among the greatest signal-callers in Sooners history.
| QB | W | L | T | Pct. | Years |
| --- | --- | --- | --- | --- | --- |
| Steve Davis | 32 | 1 | 1 | .956 | 1973-1975 |
| Jamelle Holieway | 31 | 3 | 0 | .912 | 1985-88 |
| Landry Jones | 29 | 8 | 0 | .784 | 2009-present |
| Jason White | 27 | 4 | 0 | .871 | 1999-2004 |
| Jimmy Harris | 25 | 0 | 0 | 1.000 | 1954-56 |
| Sam Bradford | 24 | 7 | 0 | .774 | 2007-09 |
| Jack Mildren | 24 | 9 | 1 | .721 | 1969-71 |
| Cale Gundy | 23 | 12 | 2 | .649 | 1990-93 |
| Thomas Lott | 23 | 5 | 1 | .810 | 1976-78 |
| J.C. Watts | 22 | 3 | 0 | .880 | 1978-80 |
"Landry has been setting all kinds of records here, and people were hoping he left [for the NFL]," center
Gabe Ikard
said. "I really didn't understand that."
Others on the team don't understand it, either. But they sure sense it.
"That's probably true," coach Bob Stoops said when asked whether he thinks Oklahoma fans underappreciate Jones. "The expectations are what they are. He isn't any of those other guys. He's Landry Jones, and we love him, and he's getting ready to have a great year."
It's hard to become loved when following a legend. Especially when that legend is perhaps the most beloved player in Oklahoma history. Bradford, who grew up in Oklahoma City, captured the Heisman in 2008 while quarterbacking the Sooners to the national title game. In 2009, the line to get Bradford's autograph at Meet the Sooners Day was so long -- 14,000 strong -- that fan appreciation day has since been limited to kids and their parents.
When Bradford suffered a season-ending shoulder injury, Jones struggled as a freshman, and the Sooners finished with their worst season since Stoops' first.
After a Big 12 championship sophomore campaign in 2010, Jones got off to a hot start last season as Oklahoma held its No. 1 preseason ranking into October. But then the Sooners lost leading rusher Dominique Whaley to a broken ankle followed by leading receiver Ryan Broyles to a torn ACL. Without its top two playmakers, Oklahoma became a shell of its former self offensively. Jones almost rallied the Sooners to a victory at Baylor but also played perhaps the worst game of his career in a 34-point loss at Oklahoma State.
"This place demands a lot of things," said offensive coordinator Josh Heupel, who understands firsthand the pressure of quarterbacking the Sooners. "They want you to win championships, compete for championships, and obviously when you don't do that, as the quarterback you're going to get a fair share of the blame."
30-DAY FREE TRIAL

Start your one-month free trial to ESPN Insider and get full access to all of the content on SoonerNation and RecruitingNation.
• 30-Day Free Trial
• RecruitingNation
Jones' touchdown opportunities also vanished late last season, as the Sooners turned to the "Belldozer," a red zone and short-yardage package designed to take advantage of Bell's power-running prowess. Twice in the first half of the Insight Bowl, Jones drove the Sooners down the field -- even chipping a tooth along the way -- only to watch from the sideline as Bell capped the drives with short touchdown runs. As a result, Bell -- not Jones -- was named the game's offensive most valuable player. And on message boards and sports talk radio, plenty of fans expressed their hope that Jones would enter the NFL draft so Bell could take over for good.
"You have to leave everything else off to the side and focus on what you can control," Jones said. "Other outside deals, what other people are saying, you just have to control your emotion and how you react to things."
Such controlled emotion on the field and during interviews, however, seems to have also irritated the fan base at times. Especially during and after losses.
"Landry keeps to himself, he's not that outspoken," Ikard said. "Some people might not like that. They might want more of a [Tim] Tebow type. That's not Landry's style to be the center of attention, so maybe they just don't like that."
Jones might not possess Bradford's aura, Bell's hype or Tebow's fire. But only Steve Davis and Jamelle Holieway have won more games as Oklahoma's starting quarterback, and Jones should pass both of them before the Texas game. Jones also has a better winning percentage as a starter than Cale Gundy, Jack Mildren and -- that's right -- Bradford.
"Landry Jones doesn't have to take a backseat to anybody in college football," co-offensive coordinator Jay Norvell said. "He hasn't won every game, but how many people do?
"Landry is tremendously talented, and one of the best in college football history. We appreciate him as coaches, I can tell you that."
FBS career passing record list
A look at where Landry Jones ranks among the top passers (by yards) in college football history.
| Name | Years | Yards |
| --- | --- | --- |
| 1. Case Keenum, Houston | 2007-11 | 19,217 |
| 2. Timmy Chang, Hawaii | 2000-04 | 17,072 |
| 3. Graham Harrell, Texas Tech | 2005-08 | 15,793 |
| 4. Ty Detmer, BYU | 1988-91 | 15,031 |
| 5. Kellen Moore, Boise State | 2008-11 | 14,667 |
| 18. Landry Jones, Oklahoma | 2009-present | 12,379 |
Jones, however, is not content. Teammates say he was the Sooners' hardest worker in the offseason, spending his days on the field and nights in the film room.
"His truck was up here all the time," Ikard said. "He really came to work."
Jones spent the two weeks the Sooners had away from the team -- spring break and the week before summer workouts -- with quarterbacks guru George Whitfield, who has also tutored Andrew Luck and Cam Newton. Jones focused on improving his footwork and playmaking outside the pocket -- two areas he's shown dramatic improvement in this preseason.
"I have seen him escape and get away from more things in this camp than I ever have," Stoops said. "I think he feels more confident moving around, breaking contain or stepping up and making things happen. He is very assured of himself and what he's doing."
At this point, Jones doesn't really care whether he's appreciated. When it comes to football, he cares about only one thing.
"For me, it's going after that national championship," he said. "We've had some stumbles that have kept us from getting to that big game. So that's the stepping stone I want to take. That's the way I want to end my career here."
College Football
Covers the Big 12
Joined ESPN.com in 2011
Graduate of Washington & Lee University
SoonerNation 2012 Preview
Follow SoonerNation on social media:
Twitter / Facebook
FEATURES
VIDEOS
RANKINGS
MORE COLLEGE FOOTBALL HEADLINES
Nike Men's Oklahoma Sooners Crimson Football Champions Local Attribute T-shirt Shop »
MOST SENT STORIES ON ESPN.COM