Sooners forced to refocus goals
Can OU contend for national titles going forward the way it is constructed?
Updated:
October 29, 2012, 2:05 AM ET
By
Jake Trotter
| SoonerNation
NORMAN, Okla. -- Bob Stoops likes to say that the Sooners play for championships. Both national and Big 12. Oklahoma will have to now refocus its goals once again.
After losing to Notre Dame, the Sooners are out of the national title picture for good. And unless aliens abduct Kansas State quarterback Collin Klein, OU is not winning the Big 12, either.
[+] Enlarge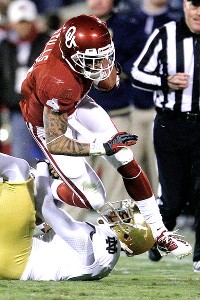 AP Photo/Sue OgrockiKenny Stills and the Sooners have shown they can move the ball up and down the field on just about any team. But both of their losses this season can be attributed to getting beat in the trenches.
The Sooners can still have a nice season. They can win 10 games and go to another BCS bowl. In fact, chances are, they will. Maybe the Sooners will go to the Rose Bowl and face old rival Nebraska, which at the moment is just what
ESPN BCS guru Brad Edwards is projecting
.

But as Stoops regularly points out, the goal is championships. And after a fourth consecutive season without seriously contending for a national title past October, it's time to ask this question -- can OU contend for national titles going forward the way the team's currently constructed?
The truth is, OU didn't play poorly in either of its two losses. Stoops attributed turnovers to the Kansas State defeat. Saturday night, he basically said the Notre Dame outcome swung on two big plays.
But the bottom-line? The Sooners lost to two better teams. Squadrons built to contend with the SEC for national titles.
OU is currently constructed to outgun the Texas Techs and West Virginias of the Big 12 world. But when it comes to tough, physical football -- where the game is settled in the trenches, where the game is decided on who makes the fewest mistakes -- the Sooners have come up short. Twice now.
Both the Wildcats and Fighting Irish ran the ball on OU and stuffed OU's run. That put pressure on the Sooners to make plays in the passing game. And inevitably, that led to OU committing crucial errors.
"That's always tough," Stoops said, "when you're not able to run it and have to throw it more than you want."
A common misconception of the 2008 Sooners was they were a finesse team. Yes, Sam Bradford threw for 51 touchdowns. But there was nothing finesse about that group. OU had two 1,000-yard rushers that made hay between the tackles, a phenomenal blocking tight end, and a bunch of 330-pound maulers up front.
These Sooners will be lucky if anyone gets to 1,000 yards. They don't even bother using a tight end. And the offensive line's two best players are converted tight ends.
ESPN's SoonerNation

ESPN.com's SoonerNation covers everything Oklahoma, including college football and recruiting. SoonerNation
More:
• Recruiting news | Blog | Forum

That '08 defense gave up some plays in the passing game. But no one outside
Tim Tebow
had success on the ground versus run-stuffers such as
Gerald McCoy
, Adrian Taylor and DeMarcus Granger when he was healthy.
Over the past four years, the Sooners have kept the up-tempo offensive style. But they have drifted from some of the tenets that made that team -- and the ones in '00, '03 and '04 -- so dominant.
When the Sooners wanted to be physical then, they handed the ball off to Adrian Peterson or Allen Patrick or Chris Brown. Now, they have to change quarterbacks and run a gimmick offense.
Until recently, in the history of its program, OU has almost never had problems dealing with the tough, physical teams. Why? Because the Sooners usually were the tough, physical team others had to deal with.
No doubt, college football has gone the way of the spread offense. But as the SEC has proven over and over, championships are still won in the trenches.
Despite Stoops' motto, it has been a while since the Sooners contended for one. Notre Dame just showed why.
SoonerNationESPN.com
Oklahoma Sooners football beat writer
Joined ESPN.com in 2011
Author of "I Love Oklahoma/I Hate Texas"
SPONSORED HEADLINES
MORE COLLEGE FOOTBALL HEADLINES
MOST SENT STORIES ON ESPN.COM