May, 21, 2013
May 21
10:00
AM CT
Get ESPN 150 safety
Jamal Adams
(Lewisville, Texas/Hebron) in any competitive environment and you'll begin to understand very quickly why he's so coveted.
Take for example the Dallas Nike Football Training Camp in Allen, Texas, on April 7 when he set the tone in 1-on-1 drills by
shoving a wide receiver three yards behind the line of scrimmage
at the snap of the ball.
Adams, the No. 23 player overall and No. 3 safety, isn't naming any favorites. But we caught up with him to get a sense for where he stands with a few of the programs generally thought to be in the mix.
To continue reading this article you must be an Insider
May, 21, 2013
May 21
8:00
AM CT
AUSTIN, Texas -- The object of the Texas running game, as it is with all others, is to not get touched.
Given that perfection is much more elusive than the runners trying to achieve it, the next best thing then is to not let those touches have too much effect. In order to quantify just how good runners are at not being adversely affected, the hairball-in-windpipe-sounding YAC (yards after contact) stat was born.
[+] Enlarge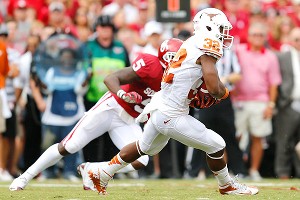 Cal Sport Media via AP ImagesBecause of injuries, Johnathan Gray led Texas in rushing as a freshman.
As it turns out, Texas is pretty decent at garnering YAC. Texas' top three runners,
Johnathan Gray
,
Joe Bergeron
and
Malcolm Brown
, gained 42 percent of their yards after contact in 2012.
Brown, who carried the ball the least among the three (61 rushes for 324 yards), proved to be the most effective when it came to shaking off potential tacklers. The rising junior gained 87 percent of his yards after contact on 281 of his 324 yards.
Bergeron, the biggest of the three backs and the most apt to run between the tackles, was next with 51 percent of his yards coming after contact (287 of 567).
Gray, by far the shiftiest of the three, proved to be a much more elusive target for defenses but also, quite possibly, easier for them to bring down as well. The rising sophomore gained 14 percent of his yards after contact (102 of 701). Maybe not so coincidentally, Gray was not injured during his freshman year. Brown and Bergeron both suffered injuries as freshmen in 2011 and Brown was hurt again as a sophomore.
All three are now healthy. Expectations are the Texas run game should be as well. There are three accomplished and veteran backs. Three-year starters littered across the offensive line. And there has been a shift toward a spread offense that actually seizes upon the novel theory of running where the defense isn't.
It's that last factor, coupled with Gray's elusiveness as demonstrated by his YAC, that appears to make him the ideal candidate for the most carries in 2013. Clearly Gray has already demonstrated the ability to be elusive even when having to pick his way through to green grass and daylight. So the imagination wanders when considering what he might be able to do when, egad, given the ball in space or with space which to work. His 4.7 yards-per-carry average could top 5.0 or even quite possibly wander into the 6.0 range, a mark not surpassed by a Texas runner with more than 75 carries since Jamaal Charles was given room to roam in a spread offense in 2007.
But Gray's march could be could short if Brown and Bergeron are unable to produce YAC stats similar to 2012's in 2013. Brown probably will not hover near the 87 percent mark. That number is slightly skewed due to a shortened season, lack of carries and Brown's willingness to duck his shoulder and summarily dismiss every Ole Miss defender that was sent his way.
If he, like Bergeron, were to produce 50 percent of his yards after contact, Texas would succeed in producing the roundhouses and uppercuts necessary to daze a defense and therefore set up the potential for Gray to take advantage of weary bodies and glassy eyes. It's the oft-coined thunder-and-lightning effect. Texas could have two claps and one strike.
Now while such a scenario still might not mean perfection, it might just be close enough that Texas would be satisfied.
May, 20, 2013
May 20
2:00
PM CT
AUSTIN, Texas -- There was no way
Kevin Shorter
was going to be a well-kept secret for long.
Especially not after the statistics the Newton (Texas) athlete put up in 2012. His monster junior season has yielded an impressive number of offers this spring. The whole thing is becoming a bit more than he could have imagined.
To continue reading this article you must be an Insider
May, 20, 2013
May 20
12:00
PM CT
During the summer, HornsNation will analyze each of the scholarship players on the Texas roster -- excluding the Longhorns' 2013 recruiting class -- in our Burnt Orange Breakdown series. Starting with No. 1 Mike Davis, we will go through the roster numerically, finishing with No. 99 Desmond Jackson.
No. 11 Tevin Jackson
Junior linebacker
To continue reading this article you must be an Insider
May, 20, 2013
May 20
10:00
AM CT
HornsNation is breaking down Texas' 2013 football schedule every Monday this summer. This week: The Longhorns' third game of the season vs. the Ole Miss Rebels on Sept. 14.

Ole Miss record in 2012:
7-6, 3-5 in the SEC
Last meeting against Texas:
The Longhorns won 66-31 in Oxford, Miss. in 2012.
To continue reading this article you must be an Insider