Commentary
Bryce Cottrell Q&A
Defensive end flipped his commitment to Texas shortly before signing day
Updated:
May 1, 2012, 12:10 PM ET
By
Max Olson
| HornsNation
[+] Enlarge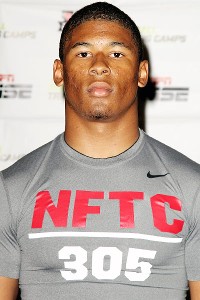 Tom Hauck for ESPN.comBryce Cottrell, a late addition to the 2012 class, will likely make his biggest impact as a pass rusher in the future.
Editor's note: Before Texas' 2012 recruiting class arrives on campus, HornsNation will talk with each of the incoming freshman one more time before their college careers begin
Bryce Cottrell (Plano, Texas/Plano West) committed to Oregon last October but knew all along he wanted to be a Longhorn if Texas ever did offer. Three months later, a lifelong dream came true.
In a recent interview with HornsNation, the two-star defensive end signee looked back on the decision to flip his commitment, how Texas won him over in the end and where he fits into UT's defensive schemes.
HornsNation: How did you end up a Longhorn?

Bryce Cottrell: Well, I've always wanted to play for the Longhorns since I was a little kid. My mom and my grandma and all them were Texas Longhorns, so it was kind of meant to be. I remember getting a phone call from Mack Brown a week and a half before signing day and they told me they were offering a scholarship. It was one of the happiest days of my life. That's a dream come true.
HN: But at the same time, that was a pretty confusing time for you, wasn't it?

BC: Oh yeah. I'm a pretty loyal person. I don't like changing my mind on anything, really. That was hard to say no to a school that recruited me for so long and that I was committed to and everything. It doesn't help when Chip Kelly calls and has a conversation with you and the coaches come for their in-home visit on the day before I left for Texas.
HN: I'm guessing that was a pretty tense meeting. What do you remember about it?

BC: Yeah. Coach [Don] Pullum asked me what I wanted to do, and I said I didn't know. He was worried at first, but he assured that if I went they would still save a spot for me. They assured me I would be fine and coach Kelly was OK with it. I wanted to visit Texas. If I like it, I like it. If I don't, I'll be an Oregon Duck. And you know how that turned out.
HN: What was it about that visit that encouraged you to flip your commitment?

BC: Just seeing everything Texas has to offer. The facilities, the reputation for playing great defense, the number of players they put in the NFL each year. Those were the main things, not to mention you get a world-class education. That was a big factor for me. I knew in the back of my mind that would be the right place for me, because I sat down with Manny Diaz and he came to my school with coach [Oscar] Giles and showed me their depth chart and defense and how I fit in. It fits the way I play very well. Going on campus and seeing coach Brown and everybody, it really put it into perspective how important the education is and having a system that fits you well to succeeding.
HN: Did you have any second thoughts after you committed to Texas or ever feel you made the wrong choice?

More on Cottrell

Carter Strickland: Cottrell would have had a better chance of making it on the field early at Oregon. At Texas he is going to have to wait a year. The Longhorns are loaded at defensive end and are unlikely to use him in that position.
Cottrell's best shot to get on the field might be at the linebacker spot. He is a hybrid player and Texas might want to look at cross-training him in the first few weeks of August to see if he might be used at linebacker. Texas has four solid linebackers -- Demarco Cobbs, Steve Edmond, Tevin Jackson and Jordan Hicks -- but will be looking to add at least one or two freshmen to the mix in August.
What Texas must figure out is if Cottrell has the frame and the speed to be a defensive end or if he is better suited for a linebacker spot. And that decision needs to be made rather early in his career so that he can quickly become a productive player.
Mack Brown's take:
"He started at safety. Then they moved him to middle linebacker. He's only played defensive end one year. He's got really good quickness. You can see he plays well with his hands. He's got really good feet. He's got the speed to run people down. We feel like that he can be a really strong factor coming off the edge in pass rush. We're in such a pass rush league. We've got to have that. Guys might throw it 50 times in this league. We also trusted [sophomore DE] Jackson [Jeffcoat]. He knew him really well and knew the family. And he grew up being a Texas fan."
BC:
Not at all. I'm playing for a top program either way. They're both two of the top programs in the country. I can't go wrong. It's just what I wanted.
HN: What was it about Oregon that you really loved and will miss?

BC: Just to play for Chip Kelly and to do something different, really -- break the mold and do something different. I liked coach [Nick] Aliotti and the way he runs their defense, but I just think Manny Diaz is better.
HN: What do you think of your opportunity to play at Texas in your freshman year?

BC: The same as everyone else. They told me if I come in and do what I need to do and shine in practice, I'll be playing. If not, redshirt just like anyone else. There's opportunity for everybody.
HN: How much did being at the Orange-White spring game get you excited to get this first year started?

BC: It got me excited, especially that atmosphere with everyone there. To come out for a spring game and like 50,000 people come to see you just shows you how dedicated the fans are.
HN: What do you bring to Texas as a defensive lineman?

BC: I bring several things to the field. I'm able to come off the edge and pass rush. I'm quick enough and agile enough to drop into coverage. Those are some of the things Manny Diaz likes about me. I'm not just a straight defensive end -- I'm a linebacker/defensive end and they can move me around.
HN: Why is Diaz's scheme a good fit for your skill set?

BC: Just the way they play defensive ends. At Texas I'll be playing the weakside defensive end. The way they do it is their defensive end is able to stand up or put their hand down. And they move them around a lot. That's the main thing I like.
HN: As a lifelong Texas fan, are you looking forward to playing your first game at DKR-Texas Memorial Stadium?

BC: Oh yeah, definitely. I'm more worried about the practices first, though. With Mad Dog (strength coach Jeff Madden) and Bennie Wylie and everybody, it's not the game I'm worried about, it's the practices. That's the hard part.
SPONSORED HEADLINES
MORE COLLEGE FOOTBALL HEADLINES
MOST SENT STORIES ON ESPN.COM
EDITORS' PICKS
The Epicenter of recruiting is ...?
Story »

Who is best recruiting fit at Florida?
Crabtree

Little tops ESPN Junior 300.
Rankings »