Commentary
Kevin Vaccaro Q&A
DB prospect will join his brother Kenny in the Longhorns' secondary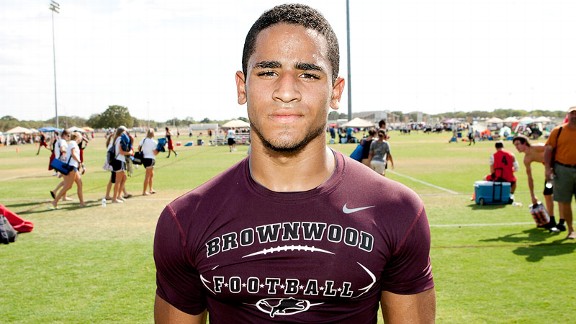 Miller Safrit/ESPN.comTexas coaches hope that Kevin Vaccaro will add to his slight frame and grow into a player like his brother.
Editor's note: Before Texas' 2012 recruiting class arrives on campus, HornsNation will talk with each of the incoming freshman one more time before their college careers begin
ESPN ranked Kevin Vaccaro (Brownwood, Texas/Brownwood) as the No. 65 cornerback in the nation and No. 173 player in Texas for the class of 2012, and gave him a three-star grade to boot.
It's because of rankings like these that led many to assume that he was only offered a Texas scholarship to entice his brother, Kenny, to come back for his senior season, which he is.
More on Vaccaro

Carter Strickland: To put this simply, Kevin Vaccaro is a project. But he is not one without hope. The younger brother of starting safety Kenny Vaccaro knows the game and knows how to hit. However, he does not yet have the size for the college game. On the positive side, Kenny did add a couple of inches to his frame his senior year in high school and grew into the safety that he is today. But Kevin is just 5-foot-9 and needs two inches at least to become a productive cornerback. Wide receivers are getting bigger and unless a corner is a phenomenal athlete he has to at least have near the same height and reach as his opponent.
Kevin is a very good student who can utilize his brain power to make up for some of his athletic shortcomings. Still Kevin will undoubtedly redshirt his freshman year and the staff will see if he can grow into the corner position.
Kevin could ultimately become a cornerstone for the special teams. He has speed, has been a return man and could be utilized in that role. Or he could make for a solid gunner on punt coverage or outside speed rusher in field goal and punt block situations.
Mack Brown's take:
Everybody knows Kenny. Kevin made his own mark. He plays very much like Kenny. He is tough. Coach Bob Shipley at Brownwood was really excited about him -- talked to us about him all year. He actually knocked some teeth loose at camp and wouldn't come out. He has got the toughness like his brother. He is a very good student. He is smart. He is tough. Very smart, got good ball sense. Jaxon [Shipley] loved him. Jaxon said he was one of the hardest guys to get loose in man-to-man against when he was playing with him in high school. So we had some inside information on him, too, that we felt like was very good from people we trust.
The younger Vaccaro (5-foot-9, 175 pounds) has heard those doubts for months, but he's eager to prove he earned his scholarship based on his skills and not his last name.
HornsNation:There are those out there that question your commitment as being a bargaining chip for your brother to stick around for his senior season. Have you heard that and does that bother you?

Kevin Vaccaro: "Oh yeah, I've heard. There are always going to be doubters with any player. But I've seen people say the only reason I got offered was so that Kenny would come back for his senior year. But I've talked with Coach [Duane] Akina and that was the first thing they said, because they obviously knew that people were going to say that. It doesn't affect me whatsoever."
HN: Have you found a way to bottle up that frustration and use it to your advantage?

KV: "That's pretty much all it is, is motivation. It motivates me to work hard."
HN: You check in at 5-foot-9 and 175 pounds. Are you at all concerned with how you might match up against some of the taller receivers?

KV: "No. Not in the slightest. I know I can play. There are a lot of doubters talking all over the internet but it doesn't bother me one bit. It just helps me. I'm confident enough that I don't have to listen to anyone."
HN: Texas' starting cornerbacks Quandre Diggs and Carrington Byndom aren't very much bigger than you. Were you able to watch what they did a year ago and apply that to your game?

KV: "Oh yeah. Every time I went to a Texas game I always watched my spot and always watched how they played."
HN: What's the most important thing for a smaller cornerback to understand when you are going up against a bigger receiver?

KV: "Mainly just to be smart and you have to have the footwork. That's the main thing to have if you are short."
HN: How much of a luxury has it been to have someone like your brother, who is one of the best safeties in the country, be there by your side to help you hone your craft as a defensive back?

KV: "It's helped me so much because everything I do I can just look up to him. He's led me this whole way. It's like I have my own personal coach. He's a great example. He's helped me so much and helped me get to where I am now."
HN: In what facet of you game has he helped you out the most?

KV: "Really with everything. Just like working hard. Before I got offered he was always down here helping me. I have such a head start with the footwork and drills that they do at Texas."
HN: What has Kenny told you about what to expect once you get to Texas?

KV:"He just told me to work hard and try to start and play my freshman year, or at least play special teams."
HN: What are your realistic expectations for this season?
KV: "I want to play my freshman year so I can play with him one year. I really want to do that so I am really going to work hard. Obviously there is a great DB core there already so it's going to be competitive. So my plans are to just work hard and maybe play some special teams if I had to. Whatever I need to do to help the team."
HN: Pretend like you are your brother's agent heading into next year's NFL Draft. Why should he go in the first round?

KV: "Mainly because he is a good sized safety and he will knock your head off. He is good at covering and I feel he has the NFL safety mentality."
RecruitingNation
Big 12 recruiting reporter
Joined ESPN in 2011
Graduated from Texas
EDITORS' PICKS
These 10 teams need a big spring in recruiting.
Hamilton

Which coaches will rule spring recruiting?
Crabtree »

Superlatives from The Opening Miami, Orlando regionals.
Story
MORE COLLEGE FOOTBALL HEADLINES
Nike Youth Texas Longhorns #28 Burnt Orange Football Game Jersey Shop »
MOST SENT STORIES ON ESPN.COM