Commentary
Nick Jordan Q&A
Freshman kicker ready for pressure at Texas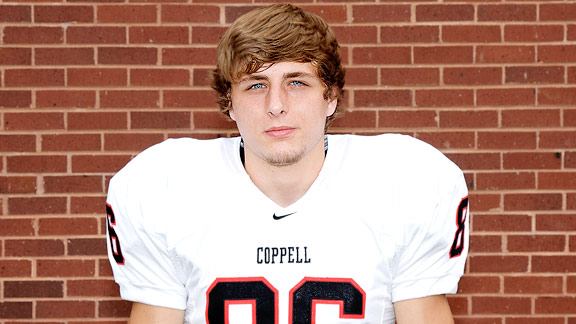 Courtesy of Coppell High SchoolClass of 2012 signee Nick Jordan could find himself as Texas' starting kicker.
Editor's note: Before Texas' 2012 recruiting class arrives on campus, HornsNation will talk with each of the incoming freshman one more time before their college careers begin
As is the case every season, Texas' 2012 recruiting class is loaded with some of the nation's most-coveted prospects. But don't be surprised if the kicker of that class ends up making the biggest immediate impact.
More on Jordan

Carter Strickland: There is one huge question mark concerning Nick Jordan's arrival at Texas: How soon can he get to Austin?
Following the departure of Justin Tucker last season the Longhorns knew they would be in need of a kicker. Following the spring performance of William Russ and Ben Pruitt, Texas became downright desperate.
Jordan will get his shot from day one. And Texas is not afraid to employ a true freshman kicker. Dusty Mangum kicked for Texas as a true freshman and proved to be rather clutch.
Make no mistake, there will be a clutch moment or two for Jordan. Texas was 107th in red zone offense last season. Only Iowa State was worse in the conference. The passing game has not changed dramatically and, to date, Texas has not figured out who will be in the wild formation. (This was Texas' most effective formation inside the red zone.)
With that, Texas could be attempting plenty of field goal. Now it just has to figure who will be kicking those field goals. Chances are it will be Jordan.
Mack Brown's take:
"Nick Jordan is one of the best kickers in the country. He was at our kicking camp. We had gotten away from kicking camps, and we got back into it last year and we thought it helped us with evaluation. He has got a really strong leg. He also was a soccer player for Coppell. He is a guy that can kick it out on kickoffs, and he has been very good on field goals. We saw him kick out on a 60-plus-yard field goal, and he pulled it a little bit left. But so we have seen him with a very strong leg. He can punt, but that is not what we will ask him to do. We will want him to work on kickoffs and at field goals. That will be what we want him to do early. He also played in the All-American game in San Antonio. His parents were Aggies. He was sitting between them while Justin was getting ready to kick the field goal at the end [of A&M game.] I asked the parents who they were for, and they said Jordan was for us. So I think that answered it."
With Texas' kicking duties still wide open after the departure of Justin Tucker, incoming freshman Nick Jordan (Coppell, Texas/Coppell) will have the opportunity to secure a starting role this fall if he can prove himself worthy.
Is he ready to take on that responsibility should he be given the chance?
HornsNation: First things first, both of your parents are Texas A&M graduates. How did you end up at Texas?

Nick Jordan: "When I was looking for a school, obviously football is now a big part of my life. But as I was looking at the schools that were recruiting me I was looking at which schools actually needed me rather than chasing schools that didn't need a kicker. Texas was just at the top of the list. I liked everything about it. Everything worked out well."
HN: You sat with them in College Station and watched Justin Tucker nail the game-winner. What was that moment like for you, and how much did you envision being that guy someday?

NJ: "It was definitely a moment of realization knowing that was one of Justin's last times to kick. I knew that I was coming up and have the potential to start and be ready for it. It made me think that it would definitely be me someday. I just need to make sure that I am focused the whole time and give myself the opportunity to be in his place."
HN: The Longhorns signed one of the nation's best classes again in 2012, but of all of the players signed, you could have the biggest immediate impact. Are you ready for that pressure?

NJ: "Yeah. Being a kicker you always have to be ready to handle pressure. I know what I am getting myself into and I know I can handle it well. It shouldn't be too much stress."
HN: What's going to be your game plan, or mindset, coming into the fall knowing that the season is right around the corner and Texas' kicking duties are still up for grabs?

NJ: "I just have to make sure that I prepare for my fullest and that I'm 100 percent going into the fall. Obviously there are other guys there that I have to compete against but I just have to do the best I can and show the coaches that I can and that I'm ready."
HN: What have you been doing to stay in shape and keep your leg fresh for the fall? And has this offseason varied any because you are preparing for Texas and not Coppell?

NJ: "Other than obviously switching to ground rather than a tee there wasn't much of a difference. I have been lifting heavily trying to get body mass because that is important going into college. Other than those two things my approach hasn't been much different. Leading up to the day that I get there I will begin to kick more."
HN: How often do you kick?

NJ: "Right now I am kicking two or three times a week. As it gets closer I will step it up more. It just depends on where I feel like I'm at. As of now I feel pretty good about it."
HN: Texas kickers have established a very good track record over the Mack Brown era, making some of the most clutch kicks in program history. Are you confident that you can keep that track record intact?

NJ: "Definitely. It's in my job description. I have to go out there and make sure I am not worried about the crowd or the other team blocking it. I just have to go out and act like it's just a kick I would do in practice. Pressure shouldn't really get to me. I can handle it."
HN: What do you think will be going through your mind the first time you line up for a field goal at DKR in front of 100,000 fans? How do you focus on the task at hand?

NJ: "I've played in a couple of different games that were more than a normal high school game. The U.S. Army game was a good starter because there were a lot more people there than I had ever seen. I should be able to have that to be able to know what it's going to feel like. If I just keep my head on and not let the amount of people there stress me out then I should be fine."
HN: What's the biggest discrepancy that people say about kickers that particularly gets under your skin?

NJ: "That all we do is kick. Yeah that is what my position is but I go out there and practice every day. I put in just as much time and effort as someone else would. It's a different effort but it's still me going out there practicing and doing what I have to do. A lot of people don't understand what it takes to be a kicker."
HN: What's the first thing you are going to do when you get to Austin?

NJ: "I'll be down there May 25. I'm just going to enjoy my dorm and enjoy my room to myself."
RecruitingNation
Big 12 recruiting reporter
Joined ESPN in 2011
Graduated from Texas
SPONSORED HEADLINES
MORE COLLEGE FOOTBALL HEADLINES
MOST SENT STORIES ON ESPN.COM