Commentary
Jalen Overstreet Q&A
Dual-threat QB ready to challenge for playing time
Updated:
May 7, 2012, 10:56 AM ET
By
Max Olson
| HornsNation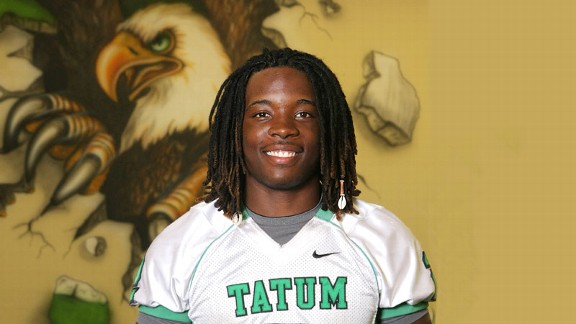 Courtesy Tatum High SchoolIt might be with his running, but Jalen Overstreet is ready to make an impact in 2012.
Editor's note: Before Texas' 2012 recruiting class arrives on campus, HornsNation will talk with each of the incoming freshman one more time before their college careers begin
Jalen Overstreet has heard all the talk that David Ash is Texas' starting quarterback and Tyrone Swoopes is its future, but he doesn't pay much attention to it. The Tatum, Texas, quarterback is looking forward to his opportunity to prove he can be the Longhorns' next great dual-threat passer.
In an interview with HornsNation, Overstreet shared his thoughts on where he fits into Texas' plans this fall, how he's fitting in with fellow members of the 2012 class and why he believes he can play quarterback at the next level.
HornsNation: You're less than a month away from becoming a Longhorn. Does that feel real yet?

Jalen Overstreet: Oh yeah, it's great. I'm excited to get down there. I'm just so anxious. Ever since I signed the dotted line, I was ready to get down there.
HN: After you committed to Texas, which schools tried to talk you into switching your pledge?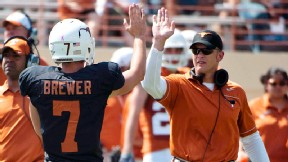 Brendan Maloney/US PresswireFellow 2012 QB Connor Brewer had the advantage of enrolling early, but seems destined for a redshirt.
JO:
Oklahoma State, Texas Tech and Baylor did. Those were the main ones that were still trying to get in it. Really after I committed I made it known that that's where I wanted to go. It cut back a lot right away. I made it known I wasn't changing my mind. I told them thank you for the interest but I've made my decision. I'm going to be loyal to my Texas coaches.
HN: You didn't get to go to the spring game, but what did you think of watching Texas' quarterbacks when you went to practices?

JO: The guys looked good. I didn't get to see them a lot, but they played well. I'm just ready to see what I can do with the coaches' help.
HN: Back in January, you told me you'd never spoken with Connor Brewer. Has that changed?

JO: Yeah, I've talked to him a bit. We actually get along really well. I guess a lot of people were surprised to hear me say that back then, but we get along really well. He's a good guy. I'm excited to actually get there and be around him more.
HN: Did it bother you this spring that you didn't enroll early and couldn't practice like Connor did?

JO: Oh yeah. It eats at me every day, but there was nothing I could do. This time last year I didn't know where I was going so I didn't jump on a plan to graduate early because I didn't know where I was going at that point.
More on Overstreet

Carter Strickland: After suffering through the true freshman season of David Ash, Texas coach Mack Brown has come out in favor of redshirting all freshmen quarterbacks. Even Ash said he should have and wished he would have redshirted in 2011.
But Jalen Overstreet is more than a quarterback. That's why he could play in 2012, just maybe not as a quarterback. Brown has already all but ruled that out. The coach believes it will be way too difficult for a player who is starting in August to learn the system well enough to compete with Ash and Case McCoy for playing time. (Connor Brewer, the other true freshman quarterback appears likely to redshirt.)
Where Overstreet could make his mark -- and we are talking about 25 percent chance here -- is in the wild formation or in certain situational packages designed by co-offensive coordinator Bryan Harsin.
Since Overstreet can throw and run, the wild might be best suited for him because he can keep defenses off balance. Texas attempted to throw out of the formation last year with Fozzy Whittaker, but the senior proved not to have the greatest arm, throwing an incompletion on his only attempt. Undoubtedly Overstreet has a better arm than that. But he might not be able to read defenses as well as Whittaker did, at least at this level, and that could still keep him out.
The bottom line with Overstreet is that if he proves he is reliable with the ball and can be a threat, Harsin will use him. Texas is going to need plenty of options inside the red zone -- they were second to last in the Big 12 inside the 20 last season -- and Overstreet could provide them with the change of pace a fresh look they need.
Mack Brown's take:
[Tatum was] 13 and three this year. And he played most of the year with a cracked knuckle on his index finger of his right hand. So you can see he has tremendous ability. He didn't even talk about his cracked knuckle at all and played the whole year. It affected his throwing stats some, but he has got tremendous ability and leadership as a quarterback. Bryan (Harsin) saw him in the spring and was very impressed with him. We do feel like he has a chance to be a great quarterback, as well as having really good athletic ability. When we lost Garrett [Gilbert] and Connor Wood, we felt like we needed to add another quarterback. It was really fun to go into his town. It has only 1,300 people and they all just pile out of everywhere for those ball games.
HN: You know how Texas recruiting goes. People have already moved on and focus all their attention on the next big quarterback, Tyrone Swoopes. Have you heard about him much or ever talked to him?

JO: I've heard about him and everything. It's the coaches' job to recruit the best. There's not much I can say except I'm excited to go in and see what I can do. It doesn't bother me at all. You have to keep signing, that's just part of it. I'm just ready to go in and have the coaches develop me. I'm just ready to help, really.
HN: You ran track this spring, but what else have you been doing to improve your game as a quarterback?

JO: You throw every day. Every single day you can throw. I've been really strengthening my shoulders and all the little things that make the big things come together.
HN: Are you ready to start killing that perception that you're only a running quarterback?

JO: Oh yeah. Just because of our offense and the things I had to do in my offense last year to contribute, people might have just viewed me as a runner. I'm really excited for coach [Bryan] Harsin to develop me as a pure passer as well. I believe I'm a much stronger thrower than runner, it's just that at times people don't see that.
HN: You got offers from schools that wanted you to play receiver and others who saw you as an athlete. How did you feel about coaches saying you're better off at another position?

JO: I've always known I wanted to play quarterback, or at least have the opportunity to play quarterback. I feel like I can do it. I feel like God has blessed me with the ability to play the position. But it never offended me. Every offer or anything was an honor to me. Just the fact that people were talking about me and showing interest in me was always a blessing. But I knew I wanted to play quarterback.
HN: That chatter usually had a lot to do with your size -- 6-foot-2 and 214 pounds. What do you think your second-best position is behind quarterback?

JO: If I couldn't play quarterback, I would play whatever was needed for me to contribute. I don't know. Growing up, I played just about every single position. Whatever a coach feels comfortable with, I would play that.
HN: Do you look at this freshman season as one where you'll have an opportunity to get the ball in your hands?

JO: With everything you do it won't be given to you -- you have to earn everything. Whatever happens this season, I believe I'll have to earn it. I don't have any expectations about playing. Of course, you always want to play and that's a major thing. But I feel like after fall camp, if I'm prepared to play, so be it.
HN: What are your feelings about redshirting?

JO: I don't feel really strongly either way. I just know that I need to go in and take care of my business. Whatever happens from there happens, whether I'm redshirting or playing. As long as I know I'm giving my best and taking care of business, I'll be fine with it.
HN: Do you think David Ash is already the locked-in starting quarterback, or do you sense it's still going to be a wide-open competition when you join the program?

JO: Of course as a competitor you always want to compete. I don't know where the coaches are standing on that right now, but I feel like they'll pick the right person to be the starter by the time the first game comes.
HN: This spring, Mack Brown frequently said he needs to have two quarterbacks who can play. Do you see that as more room for opportunity?

JO: Oh yeah. When opportunity presents itself, you have to seize it and take advantage of it. If there's an opportunity for me, I plan to take it.
HN: Texas played 18 true freshmen last year. Does it excite you to know you're going into a program that does believe in putting newcomers on the field early?

JO: Of course. The football player in you, that competitive nature in you, is always excited about every single chance you might get to get on the field.
HN: Which of the guys from your 2012 class are you already close with?

JO: The guys I've bonded with the most -- especially when I took my visits there were Johnathan Gray, Cayleb Jones and Kendall Sanders. I've been around those guys the most. I hope to grow close to all of my teammates. I'm most likely going to be living with Kendall. We're both East Texas guys, you know.
HN: What do you think of the fish bowl you're going to be walking into in Austin, where everybody knows your name and has an opinion?

JO: I think I'll be taught how to handle that the right way. I don't really worry about that. You really just have to be humble. Let every experience humble you. That's what I plan to do.
SPONSORED HEADLINES
MORE COLLEGE FOOTBALL HEADLINES
MOST SENT STORIES ON ESPN.COM
EDITORS' PICKS
Big 12 recruiting breakdown.
Chatmon

Soso Jamabo's surprise top two
Story

Pac-12 recruiting breakdown.
McKinney
Nike Youth Texas Longhorns #28 Burnt Orange Football Game Jersey Shop »