Commentary
Hassan Ridgeway Q&A
DE can came close to switching his commitment to A&M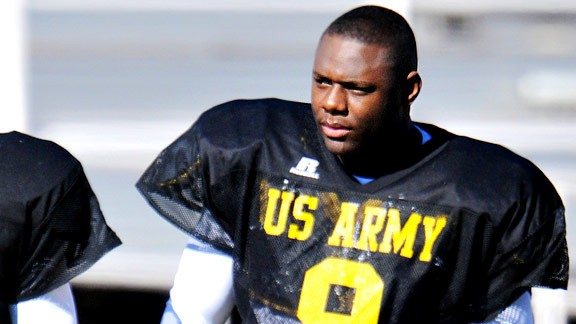 John Albright/Icon SMIHassan Ridgeway came close to switching his commitment to Texas A&M but stuck with the Longhorns.
Editor's note: Before Texas' 2012 recruiting class arrives on campus, HornsNation will talk with each of the incoming freshman one more time before their college careers begin.
Hassan Ridgeway (Mansfield, Texas/Mansfield) is a notoriously quiet individual, who lets his action speak on the field.
More on Ridgeway

Carter Strickland:Prior to spring there was a chance for Ridgeway to come in and make an impact at defense end. But with Jackson Jeffcoat injured, two backups, Cedric Reed and Reggie Wilson, were forced into more action. Both veterans proved that they are more than capable of being replacements for Jeffcoat and Alex Okafor.
It's expected that Texas will go with freshman Shiro Davis behind those two. And as a last resort, Texas might even move Chris Whaley back to the outside on some plays if it needs to spell any of the aforementioned five.
That leaves Ridgeway headed for a redshirt season. The only two ways for him to avoid that redshirt is if there are a lot of injuries at the end position or he beats out Davis as the third strong rush end. But given that he has already bulked up to 260 and could go as high as 275-280 once he gets on campus, it appears that Ridgeway is more suited as a backup for Okafor. Okafor will be playing for an NFL contract so it is not likely he will want to come off the field that much.
A final option with Ridgeway is seeing how much weight his frame can handle and possibly moving him inside. Right now, Texas is stacked at the defensive tackle position, but if Ridgway proves that he is just as quick and even more powerful as he gains weight, Texas could have him at 280-290 by the start of 2013 and move him inside.
Mack Brown's take:
For such a big guy, he is really powerful at the line of scrimmage, but he is a great pass rusher as well. So we feel like he could play either defensive end. You will see him take on some blocks in a minute. He is very strong, very powerful. You can see here he can run. I will say that the guys that he is playing against will not use this on their highlight reel. He pretty much dominates the line of scrimmage.
However, in a recent interview with HornsNation, the No. 20 defensive end in the 2012 ESPN 150 opened up on a number of topics, including exactly how close he was to switching commitments to Texas A&M days from National Signing Day.
HornsNation: There couldn't have been too many people that were more relieved to sign their Letter of Intent than you. You weren't the biggest fan of the whole recruiting process. Why not?

Ridgeway: I guess because recruiting is so confusing. You have a lot of college coaches telling you a bunch of different things at the same time. It's a pretty hard decision to make. The main thing to me was coaches will do what they need to get you there. What Texas told me I knew they were being honest.
HN: Do you think you were undervalued as a recruit?

HR: Not really. I always see myself being No. 1 regardless. But I didn't really look at the recruitment like that. I didn't care where I was. I was more worried about where I was on the football field.
HN: There was a time late in your recruitment when questions arose about your commitment to Texas. You visited Texas A&M in Late January. How close, if at all, were you to switching?

HR: I was pretty close to switching. On a scale of 1 to 10, probably pretty close to a 10. One of the things that I liked about A&M was them going to the SEC and playing in a big conference like that, a powerhouse conference, which I like a lot. They had a lot of openings, which I liked. I liked the campus. There were a lot of things I liked about it. But I had a previous commitment to Texas and I like them just as much. The only thing that set them apart is the playing time that A&M had. But playing time isn't the biggest thing that I should be thinking about because I will get playing time wherever I go if I work hard.
HN: You are a pretty low-key guy off the field but that definitely isn't the case on it. What switches in your mind once you play football?

HR: When you get on the field that is where you are supposed to let everything out, and I leave everything out there. Everyone has things that make them mad or that they hold in, and I like to take out my aggression on the football field.
HN: Those that never saw you play at Mansfield were probably thrilled to see you play so well in the U.S. Army All-American game. Forced fumble and all. How great of an experience was that for yourself?

HR: It was great. It was amazing playing with all of those athletes out there. It is something I will remember for a while. I can't see it going any better than it did. But I wasn't impressed by my performance. I thought I should have done a lot more. But the talent I was going against was real high.
HN: You'll join a Texas team pretty set two-deep at defensive end. That's in addition to the other DE's that will join you in this class. What will your approach be next season?

HR: The main thing is just to outwork. I just want to outwork everybody and be the hardest worker out there. If I can do that then I won't have to worry about playing time.
HN: Is it important for you to play right away or do you think a redshirt year could benefit you at all?

HR: It's whatever the coaches want. If they see me benefiting the team by getting on the field right away then I'll do that. If they think I can help the team by redshirting then I don't care. As long as I can help the team.
HN: What have you been doing since football season ended to stay in shape and how are you feeling right now?

HR: I did basketball and a little bit of track. I am feeling really good. I lost some weight (15 pounds down to 260) and got a little faster. I did a lot of different workouts. I like being at 260 but I want to get a little lower. Maybe to 255 or 250 so when they do put weight on me I'm not getting up to 290 or something like that.
RecruitingNation
Big 12 recruiting reporter
Joined ESPN in 2011
Graduated from Texas
EDITORS' PICKS
These 10 teams need a big spring in recruiting.
Hamilton

Which coaches will rule spring recruiting?
Crabtree »

Superlatives from The Opening Miami, Orlando regionals.
Story
MORE COLLEGE FOOTBALL HEADLINES
Nike Men's Texas Longhorns White 'longhorn State' Local Characteristic T-shirt Shop »
MOST SENT STORIES ON ESPN.COM