Commentary
Bryson Echols Q&A
The four-star DB is fast and comfortable in man coverage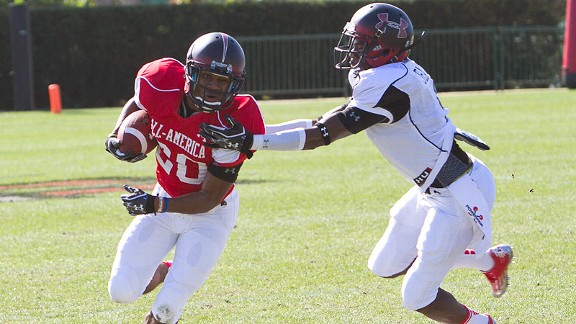 Davide De Pas for ESPN.comYouth is not the issue in Texas' secondary, but depth concerns could allow Bryson Echols some playing time.
Editor's note: Before Texas' 2012 recruiting class arrives on campus, HornsNation will talk with each of the incoming freshman one more time before their college careers begin.
Four-star cornerback Bryson Echols is well aware that Texas is bringing back both of its starting cornerbacks, who make up one of the better (and younger) duos in the country. But that doesn't mean he's not going to do his best to earn playing time once he gets to Austin on June 3.
More on Echols

Carter Strickland: Bryson Echols could make a huge impact on Texas as a scout team member in 2012. He is a fast and athletic defensive back who will give starting wide receivers fits during practice. And Texas needs someone like that in order to get players like Mike Davis more comfortable catching the ball with a guy draped all over them.
No matter how well Echols performs in practice it might be hard for him to find a spot on the field in the field. Texas has arguably three of the top defensive backs in the Big 12 with Carrington Byndom, Quandre Diggs and Kenny Vaccaro. Add to that Adrian Phillips at safety and no one is going to just come in and break into the starting lineup.
As far as the backups go, safety is set with Mykkele Thompson and Sheroid Evans. Those guys have been cross-trained as well so they can play corner in a pinch. Secondary coach Duane Akina cross-trained all his defensive backs this spring so that they have versatility in the secondary.
As for cornerback, Duke Thomas got to Texas in the spring and appears as if he will be the only true freshman to get playing time in the secondary. Josh Turner will handle backup duty at corner as well. In addition, Leroy Scott is still a bit of a question mark and did not look great in the spring game but will probably still get the nod over a newcomer to the program.
Mack Brown's take:
[DeSoto] had the fastest relay team in the country last year. He ran the first leg. He's really fast. He played in the Under Armour All-Star game. He's a tough player. A very explosive player. He's got good hands. We feel like he can really fit what we're doing in the secondary. A very competitive young man.
Echols thrives in competitive situations, which he found himself apart of consistently at perennial power DeSoto (Texas). Be it against the opposition's top receiver or during a relay at the Texas State Track and Field Meet on May 12, he always arose to the occasion.
Echols, the No. 6 cornerback in 2012, hopes to use that experience and his skills to add his name to a long list of players that have helped make Texas "DBU."
HornsNation: What excites you the most about starting your journey down in Austin?

Echols: I'm really excited about everything. What excites me the most is just getting down to a new environment with new people and everything.
HN: When is the last time you spoke with Texas' coaches and did you all talk about what your roll would likely be this upcoming season?

BE: I spoke with Coach [Manny] Diaz about a week ago. He just asked me what number I wanted. I got 16. I don't like it (laughing). It was either 16 or 30. I wanted to be 20 but they retired that because of Earl Campbell.
HN: What are your goals for this season with Texas bringing back two starters at cornerback?

BE: I don't know yet. I think I can stack up pretty good with those guys after two months of training and lifting. That's the only part I think I need to get better at is the lifting weights and physical part. Everything else, I think I can keep up with those guys.
HN: What makes you think you can compete with those guys right now?

BE: DeSoto has the best coaches I think. They really prepare you for the next level.
HN: Have you been able to start the Bennie Wylie workout since you just got done running track (competed in the 4x1 and 4x2 at the state track meet on May 12)?

BE: I have the workout and started it but I was gaining too much weight so I had to stop because of track. It is a full-body workout. The main benches are squat and bench but there are like 1,000 auxiliary lifts. It's pretty hard. It's about a two-hour workout a few days a week.
HN: You get everyone's best shot at DeSoto just because you guys are so talented. How much did that help you prepare for college?

BE: It will definitely help me because in the two years I went against eight or nine Division I receivers that are playing right now. So I think that will help me out.
HN: Who was the best receiver you faced.

BE: JaCorey Shepard of Mesquite Horn. He was a monster.
HN: What makes you so good at what you do?

BE: Practice. I work hard at it. We play a lot of man at DeSoto, which helped. And the footwork is there from me being a soccer athlete. I didn't play football until my freshman year. I was all soccer until then.
HN: Why did you wait so long to play football?

BE: I really didn't like football. I wasn't a fan of it. I was pretty good at soccer.
HN: You are 5-foot-10 and 175 pounds. How will you go about guarding some of the bigger receivers you'll face?

BE: Well footwork is important and I am a high jumper too with a high of like 6-foot-6, so I think I can hang with them. Beat him up on the line so they won't have the chance to catch the ball too.
RecruitingNation
Big 12 recruiting reporter
Joined ESPN in 2011
Graduated from Texas
SPONSORED HEADLINES
MORE COLLEGE FOOTBALL HEADLINES
MOST SENT STORIES ON ESPN.COM
EDITORS' PICKS
The epicenter of football recruiting is ...?
Crabtree »

What makes Deondre Francois special?
Watch

Latest ESPN 300 has a new No. 1.
Rankings »