Commentary
Hexing the Aggies one more time
Texas' annual rally before the Texas A&M game has been around since 1941
AUSTIN, Texas -- Leza Buentello spent the day after looking back.
[+] Enlarge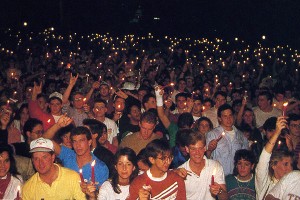 Courtesy Texas ExesTexas students helped revive the Hex Rally prior to the 1986 Texas A&M game.
Decades of photos and stories crossed her fingertips as she pulled memory after memory from the old box.
There was MaMa with the tightly wrapped bun, every hair in place. And the house, just off The Drag at 805 29th, she could never forget that. And Madame Hipple, the cards, the customers, the candles and the Hex; most of all the Hex, no one in her family, or even the University of Texas family, could forget the Hex.
"It's always been a part of who we were," Buentello said. "We've been proud to be associated with it. And now … now we don't know."
Off and on for 70 years the Hex has been a part of Texas. Leza Buentello's MaMa made it so.
She was Madame Hipple. She was the one who answered the door in 1941, welcomed in two Texas students, listened to their plight and saw their future.
Since 1923, the students explained, Texas A&M had beaten Texas in College Station. Now the Aggies were No. 2 in the country. Texas, they told Madame Hipple, needed something. Any sort of an advantage she could give them.
Light a candle, she said. Have everyone light a candle, a red candle. Put a hex on them.
"She wanted there to be unity," Buentello said. "Everyone showing support for the team."
"You couldn't find a red candle in Austin after she told them that," said Debra Villareal, Leza's sister.
The hex worked. Texas won. The rally was born.
They were all there again Monday night, 3,000 strong, red candles lit, speeches made. Debra watched it all. She is 53 now. The rally has been a part of her life since her life began.
But this was the first she has attended. It also could be her last.
"You never thought it would go away," she said. "It's just so emotional because it's over."
It's over because the rivalry is over. Traditions across the state died when Texas and Texas A&M decided to stop playing each other. Thursday will be the final meeting until at least 2018. Even then, there is no guarantee the two rivals will play again.
"From El Paso to Beaumont, things have now changed," said W.K. Stratton, the author of "Backyard Brawl: Inside the Blood Feud Between Texas and Texas A&M." Take Brownsville. In the south Texas town, the Texas and Texas A&M alumni chapters for years have had a one-night contest to see who could raise the most money for scholarships for local students. This year, $13,800 was raised -- $6,600 by the Texas Exes, $7,200 by the Aggie alums. The money was pooled and split down the middle.
[+] Enlarge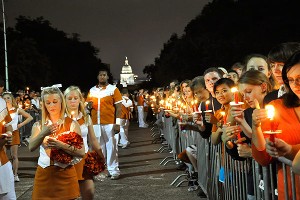 Courtesy Texas ExesWhile Longhorns fans can hex other teams, the tradition around the A&M game is over.
"You just don't know what is going to happen with events like that one," said Jim Nicar, the director of campus relations at Texas and a historian on all things Texas.
"Those kinds of things are everywhere. And nobody knows what is going to happen."
The schools are so intertwined, they are each a part of the other's fight song. "Sawing off Varsity's Horns" doesn't make much sense in Tuscaloosa.
And the Hex Rally, even though it had been sporadically used for other schools, has been a constant around Texas since 1986, when a junior went around and tied fliers to all the trees on campus urging people to show up at 11:30 p.m. the night before the game and hex the Aggies.
That junior was Nicar. The band showed. The football players broke curfew and showed. The Texas president, William Cunningham, flew back from a dinner meeting in West Texas in his tux to be there.
The tradition started by Madame Hipple, who learned to read cards growing up as an orphan in a convent, was reignited.
"I've been to every one since then," Nicar said.
So have thousands of others. But so many more might miss out.
"It's really a shame," said Daniel Chancellor, a Texas fan who attended his first Hex rally Monday. "Being there, at the rally, it was bittersweet."
Villareal, who attended alongside her brother, Donnie, had many of the same emotions. She also had the history. She knew what this had meant to her family. For her it was a symbol of not just Texas, but of her MaMa and her family.
"We don't want to see it end," she said.
It's out of their hands now. All they can do is hope this year's hex works.
Carter Strickland covers University of Texas football and recruiting for HornsNation
Follow HornsNation's coverage on Twitter:
@ESPNHornsNation
Reporter, HornsNation
Reporter for HornsNation
Covers Texas Longhorns sports and recruiting
Joined ESPN in 2011
EDITORS' PICKS
These five 2016 QBs could start from Day 1.
Hamilton

Which schools must sign QBs in 2016?
Hamilton

These four things make a great recruiting job.
Crabtree »
MORE COLLEGE FOOTBALL HEADLINES
MOST SENT STORIES ON ESPN.COM