Commentary
Texas' year-in-review
The Longhorns had sub-par seasons in big sports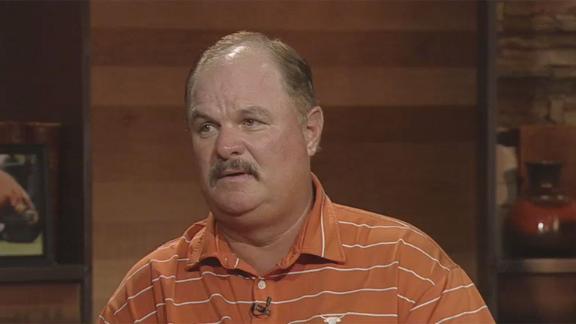 Fresh Off National Title, Golf Coach John Fields Visits LHN Studios
Dylan Frittelli's dramatic 30-foot putt lifted Texas to their 3rd NCAA men's golf championship.
Fresh Off National Title, Golf Coach John Fields Visits LHN Studios
Texas had one last shot.
[+] Enlarge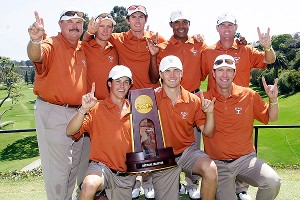 AP Photo/Reed SaxonThe Longhorns celebrate their NCAA golf championship. It was the only team title won by a Texas team this year.
Dylan Frittelli had one last shot.
Frittelli's putt was for national championship. To date it is the only one title brought home by Texas. (Track is still to be contested. Texas has not won an outdoor track title since 1999.) Now for those who believe the standards are just a tad too high, it is the standards that Texas itself sets.
"A lot is expected of us at Texas," freshman golfer Jordan Spieth said. "When you commit to play any sport at Texas, you are committing to do everything you can to win a championship."
This is not an athletic department that takes kindly to second. But it is one that has settled for it, or even worse.
In the 2011-12 sports year, none of the Longhorns' marquee sports -- football, baseball, men's or women's basketball -- finished near second. On top of that, three coaches -- women's basketball, women's soccer and women's swimming -- stepped away, were reassigned or let go. True enough, transition in athletic programs is normal and can even be healthy. But no one has found credible value in losing.
What has been found, at Texas at least, is that winning has become elusive and losing is pervasive.
"When this kind of thing happens we have to check the water system around UT and see what is going in the water," Texas baseball coach Augie Garrido said. "It seems to be contagious."
The thing is, the environment around Texas is not toxic. From the budget -- the largest in the country -- to the facilities -- again some of the best in the country -- to the athletes -- Texas has what so many pine for in college athletics. What it lacks is attitude.
Texas used to be the bully, a team that could win by name only. That bred confidence. That confidence was infectious.
This was an athletic department in which the teams fed off each other. The competitive nature of the coaches and the athletes forced each to one-up the other in recruiting and on the field.
ESPN's HornsNation

Join the discussion about all things Longhorn football and recruiting exclusively for HornsNation fans in The Tower

At the pinnacle of this structure was football. Its status and success forced others to work in order to get out of its shadow. That status and success also brought many other programs into the spotlight. People put their eyes on Texas because of the football program and discovered much more.
When the football program lost in 2009 the cracks started to appear. Texas coach Mack Brown, with the benefit of perspective, now understands that loss to Alabama sent him into a protective depression. His program no longer had the juice it once had. The overall Texas program no longer had the leader it once had.
Programs weathered that in 2010. Despite football losing, women's swimming, always a consistent contender won another title. Baseball, again always a consistent contender, made a run to Omaha. Basketball was loaded with highlight talent and was just what Texas fans demand of it -- entertaining if not all that engaging.
By 2011 the cracks that had surfaced became fissures. Texas had masked its symptoms successfully, but eventually they took over. Sure, there was bad luck involved. Three running backs being injured. Mass defections to the NBA. Missouri somehow coming back to win in the Big 12 baseball tournament title game at the last possible moment and therefore keeping the Longhorns out of the NCAA tournament.
But in the past, these were things Texas was always able to overcome. In 2011, the Longhorns didn't.
At least not until Frittelli's last shot.
Reporter, HornsNation
Reporter for HornsNation
Covers Texas Longhorns sports and recruiting
Joined ESPN in 2011
Capital One Cup
CAPITAL ONE CUP

The Capital One Cup rewards the best Division I men's and women's programs in the country for their on-field performance throughout the year. For more information about the Cup, visit capitalonecup.com.
Race for the Cup
• Capital One Cup standings | Fan page
• Championship Central
Men's golf championship

Texas was awarded 20 points for its NCAA men's golf tournament win in the Men's Capital One Cup Standings
MORE COLLEGE FOOTBALL HEADLINES
Nike Youth Texas Longhorns #28 Burnt Orange Football Game Jersey Shop »
MOST SENT STORIES ON ESPN.COM