May, 22, 2013
May 22
12:43
PM PT
The 2013 season will be the final year of the BCS era.
And there was much rejoicing!
So, what have been the Pac-12 highs and lows of this often confounding system? Thanks for asking!
Best
1.
USC drubs Oklahoma for the 2004 national title:
The 55-19 victory over unbeaten Oklahoma was the most dominant display of the BCS era. It was also the pinnacle of the Trojans' dynasty under Pete Carroll. It's worth noting that future Pac-12 member Utah also whipped Pittsburgh in the Fiesta Bowl to finish unbeaten that same year.
[+] Enlarge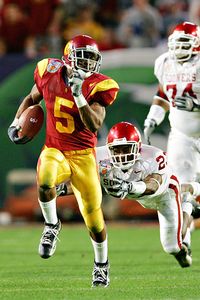 Jamie Squire/Getty ImagesReggie Bush and USC ran away with the 2004 national title.
2.
USC wins "real" national title:
In 2003, USC was No. 1 in the AP and Coaches polls at season's end. If you had eyes and knew anything about football, it was clear the Trojans were the nation's most-talented team on both sides of the football, a notion that was reinforced the following season. Two teams picked by computers played in New Orleans -- most folks outside of Louisiana don't even remember who -- and that forced the Trojans to settle for three-fourths of a national title after dominating Michigan 28-14.
3.
The year of the Northwest:
After the 2000 season, three teams from the Northwest finished ranked in the AP top seven. Washington beat Purdue in the Rose Bowl and finished third. Oregon State drubbed Notre Dame in the Fiesta Bowl and finished fourth. Oregon beat Texas in the Holiday Bowl to finish seventh.
4.
Oregon gets left out but finishes No. 2:
One of the grand faux paus of the BCS era was Nebraska playing Miami for the 2001 national title. Nebraska was coming off a 62-36 loss to Colorado, but the computers failed to notice, and the Cornhuskers were euthanized by the Hurricanes before halftime. The Ducks would whip that same Colorado team 38-16 in the Fiesta Bowl and finish ranked No. 2.
5.
Oregon and Stanford both win:
The 2012-13 bowl season wasn't good to the Pac-12, but Oregon pounded Kansas State in the Fiesta Bowl and Stanford beat Wisconsin in the Rose Bowl. The Ducks finished ranked No. 2 and Stanford was seventh. It was just the second time two Pac-10/12 teams won BCS bowl games in the same season.
Worst
1.
Just one BCS national title, lots of frustration:
No conference has more legitimate gripes with the BCS system than the Pac-12. Multiple seasons saw the conference have teams skipped over, most notably Oregon in 2001 and USC in 2003 and 2008. And ask California fans about how Texas coach Mack Brown gamed the system in 2004, preventing the Bears from playing in the Rose Bowl.
2.
USC's three-peat gets Vince Younged:
It's difficult to look at Texas's epic 41-38 win over USC as anything but great college football art -- perhaps the all-time greatest game -- but Trojans fans don't feel that way. The loss prevented USC from claiming three consecutive national titles and, of course, a second BCS crown for the Pac-10/12.
3.
Oregon falls short versus Auburn:
Oregon looked like a great team and Auburn a team with two great players before the BCS title game after the 2010 season. The Ducks chose a bad time to play one of their worst games of the season, but they still nearly prevailed before being undone by a dramatic game-winning drive from the Tigers.
4.
Make a field goal, Stanford:
Stanford kicker
Jordan Williamson
missed three field goals, including a certain game-winner from 35 yards on the last play of regulation, in the Cardinal's 41-38 loss to No. 3 Oklahoma State in the Fiesta Bowl after the 2011 season. Williamson also missed from 43 yards in overtime, which set the Cowboys up for the win. Stanford dominated the game, outgaining the Cowboys 590 yards to 412, with a 243-13 edge in rushing.
5.
Ducks drop Rose Bowl:
Oregon fell flat in Chip Kelly's first BCS bowl game, with the favored Ducks losing to Ohio State 26-17 in the Rose Bowl after the 2009 season. Buckeyes QB Terrelle Pryor had perhaps the best game of his career -- 266 yards passing, 72 rushing -- and the Ducks offense struggled, gaining just 260 yards.
May, 22, 2013
May 22
10:00
AM PT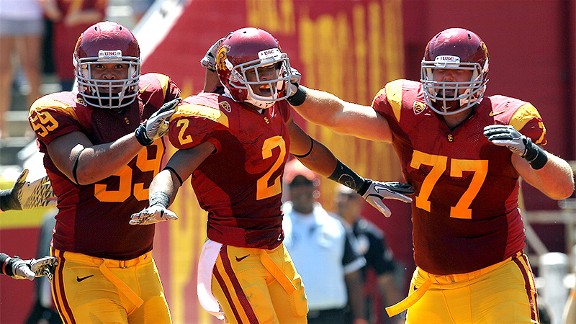 Stephen Dunn/Getty ImagesJohn Martinez (left) and Kevin Graf (right) have manned the right side of the Trojans offensive line for the past 25 games.
In an
article
last week we wrote about how the USC running backs are well equipped to play a big role in the Trojans' increased commitment to the run game in 2013.
No amount of running backs will matter, however, if the Trojans offensive line is not doing its job as well.
When the Trojans were developing their reputation as "Tailback U" they were doing it behind offensive linemen such as Ron Yary, Anthony Munoz and Brad Budde. You aren't going to get any better than that group. In recent years USC has produced first-round selections such as Tyron Smith and Matt Kalil, but it hasn't been the consistently strong group that the Trojans have seen in the past.
In order to help meet the stated goal of controlling the line of scrimmage, USC coach Lane Kiffin brought in veteran offensive line coach Mike Summers to oversee the group while also keep previous position coach James Cregg on staff as well. Summers has experience in a man blocking scheme -- as opposed to the zone blocking that Cregg taught the last three seasons -- and his fiery, old-school style has resonated well with players so far.
The projected starting five that Summers inherits currently has
Aundrey Walker
at left tackle,
Max Tuerk
at left guard,
Marcus Martin
at center,
John Martinez
at right guard and
Kevin Graf
at right tackle. Those five players have combined to start 84 games at USC, so there is plenty of experience, but they have yet to show they can be a dominant force up front.
Of course, a big part of the reason why they have not shown that is because they haven't been asked to carry that kind of load. That will change this season according to Kiffin. The Trojans did increase the physical contact in practices this spring, even as the injuries piled up, in an effort to further develop a mindset of toughness
It's important to note that the starting group is not completely set, as Kiffin has indicated that there will be competition in fall camp. While the depth should be better in 2013 than it has been in recent seasons -- particularly with redshirt freshmen
Jordan Simmons
and
Chad Wheeler
making good progress -- it stands to reason that the starters will likely come as listed above since they represent the five best options at this time.
There are still question marks that must be answered before the line can be considered a strength -- primarily the maturity of Walker at left tackle and the need to solidify Martin as the replacement for Khaled Holmes at center. No player is more of a question mark than Walker, a guy with tremendous physical gifts but one who also suffers lapses such as the missed assignment which led to the clean shot on Matt Barkley by UCLA's
Anthony Barr
that ended Barkley's Trojans career.
The right side of the line has remained unchanged over the last two seasons, as Martinez and Graf have started next to each other for 25 straight games. There is a lot of pride in this unsung pair and it wouldn't be a surprise to see the senior duo lead the way for the line in 2013. Both players have talked about how important it is for them to change the fortunes of the Trojans away from what happened in 2013, and the ability to control the offensive line of scrimmage will go a long way toward making that happen.
May, 22, 2013
May 22
7:00
AM PT
Every Wednesday, the WeAreSC staff will take a quick-hit look at some of the top recruits and storylines facing USC recruiting for the week.
This week's targets:
Assistant coach Ed Orgeron dropped by River Ridge (La.) John Curtis Christian over the weekend to see safety
Mattrell McGraw
, No. 2-rated receiver
Malachi Dupre
and four-star linebacker
Kenny Young
in their spring scrimmage. Assistant coach Mike Ekeler checked in with ESPN 150 linebackers
Clifton Garrett
(Plainfield, Ill./Plainfield South) and
Nyles Morgan
(Crete, Ill./Crete-Monee) at their respective schools on Monday, while three-star outside linebacker
Michael Smith
(Miami, Fla./Northwestern) said he also received a visit from USC. On Monday night, local receiver
Brandon Burton
(Gardena, Calif./Serra) became the first Class of 2016 prospect to land a Trojans scholarship offer.
Prospect performance:
Last weekend's Nike Football Training Camp in Oakland had a USC flavor to it. Five-star cornerback
Adoree' Jackson
(Gardena, Calif./Serra) shined in one-on-one drills, just a day after winning his section's track and field title with a record-setting long jump of 25 feet. Jackson received an invitation to The Opening, as did fellow USC targets
Joe Mixon
,
Michiah Quick
and
Adarius Pickett
. Trojans defensive tackle commit
Tashon Smallwood
(Fresno, Calif./Central) also turned in an impressive performance in pass rushing drills. Fast-rising cornerback
John Plattenburg
(Corona, Calif./Centennial) and guard
Kammy Delp
(Pomona, Calif./Diamond Ranch), whom have garnered interest from USC assistant James Cregg, took home DB and OL MVP honors, respectively.
To continue reading this article you must be an Insider
May, 22, 2013
May 22
6:00
AM PT
MONTEREY PARK, Calif. -- Nothing can wipe the smile off
Michael Wyche
's face nowadays.
Not the fact that his mother passed away this year after a battle with cancer. Not that his father is less than halfway through a 40-year prison term. Not that he's about 2,700 miles from his 7-month-old daughter, Sky'mariah.
No, the East Los Angeles College defensive tackle flashed his smile whenever possible during a recent practice as the sun beamed down on Weingart Stadium. The native of Chesapeake, Va. giggled when coaches jokingly questioned his punctuality, grinned at the thought of post-workout Mexican food and laughed when he was asked what he thinks of the Los Angeles area.
To continue reading this article you must be an Insider
May, 21, 2013
May 21
1:45
PM PT
Damien Mama
(Bellflower, Calif./St. John Bosco) made himself invisible to college coaches for a short time this spring, which isn't an easy thing for a 6-foot-4, 352-pound recruit -- as well as the No. 68 player overall and No. 3 offensive guard in the country -- to do.
To continue reading this article you must be an Insider
COLUMNISTS
Greg Katz
Make or break
After what seems to be an early start to the season, things will get tough for the Trojans starting on Sept. 28, when a three-game stretch att Arizona State, home for Arizona and at Notre Dame kicks off.

Story » Archive »
Steve Bisheff
Clear choice at QB
The battle to be USC's starting quarterback continues despite there being a clear winner between Max Wittek, Cody Kessler and Max Browne in spring practice.

Story » Archive »
Jeremy Hogue