May, 23, 2013
May 23
9:37
AM PT
By RecruitingNation | ESPN.com
Future USC DT
Michael Wyche
talks to Blair Angulo about his decision to commit to the Trojans and why it was such an emotional moment for him.
To learn more about Wyche's incredible journey to big-time Division I recruit,
read Angulo's story here

.
May, 23, 2013
May 23
8:30
AM PT
The 2013 USC defense is banking on at least three position changes and probably a fourth in hopes of plugging a unit that had so many holes last season that even the Little Dutch Boy wouldn't have enough fingers to stop the gushers.
It has been well-chronicled how dysfunctional the Trojans defense was last year. The number of points in games surrendered to the likes of Oregon (62), Arizona (39), UCLA (38), and even Syracuse (29) was enough to even make an onion cry, let alone USC fans.
To continue reading this article you must be an Insider
May, 23, 2013
May 23
8:00
AM PT
LONG BEACH, Calif. -- One of the most highly discussed prospects on the West Coast knows little about trending topics. He has zero followers, but admirers to spare.
Unlike many of his peers, ESPN 150 athlete
John "JuJu" Smith
of Long Beach (Calif.) Poly is completely shut off from the social media grid. He doesn't tweet, doesn't share filtered photographs of his meals or document his every move on a profile.
And, really, if it weren't for the demands of recruiting, the four-star prospect might not even own a phone.
To continue reading this article you must be an Insider
May, 23, 2013
May 23
7:30
AM PT
By WeAreSC staff | ESPN.com
"USC sprinter and Olympian Bryshon Nellum recently captured first in the 200- and 400-meter dash at the Pac-12 championships. At one point, there was talk of the speedy Nellum playing on the USC football team. Name three USC athletes through the years outside of football who would have made good football players if they had suited up for the Trojans."
Garry Paskwietz
Sam Clancy Jr. (basketball): At 6-foot-7, 240 pounds, Clancy had a frame and physical style that would have made for a terrific tight end or defensive end. His father, Sam Sr., was a defensive end in the NFL for 11 years. Clancy was a good enough basketball player to be named Pac-10 Player of the Year as a senior for the Trojans, but he injured his knee in a pre-draft camp and never appeared in an NBA game.
To continue reading this article you must be an Insider
May, 22, 2013
May 22
12:43
PM PT
The 2013 season will be the final year of the BCS era.
And there was much rejoicing!
So, what have been the Pac-12 highs and lows of this often confounding system? Thanks for asking!
Best
1.
USC drubs Oklahoma for the 2004 national title:
The 55-19 victory over unbeaten Oklahoma was the most dominant display of the BCS era. It was also the pinnacle of the Trojans' dynasty under Pete Carroll. It's worth noting that future Pac-12 member Utah also whipped Pittsburgh in the Fiesta Bowl to finish unbeaten that same year.
[+] Enlarge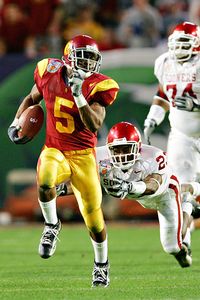 Jamie Squire/Getty ImagesReggie Bush and USC ran away with the 2004 national title.
2.
USC wins "real" national title:
In 2003, USC was No. 1 in the AP and Coaches polls at season's end. If you had eyes and knew anything about football, it was clear the Trojans were the nation's most-talented team on both sides of the football, a notion that was reinforced the following season. Two teams picked by computers played in New Orleans -- most folks outside of Louisiana don't even remember who -- and that forced the Trojans to settle for three-fourths of a national title after dominating Michigan 28-14.
3.
The year of the Northwest:
After the 2000 season, three teams from the Northwest finished ranked in the AP top seven. Washington beat Purdue in the Rose Bowl and finished third. Oregon State drubbed Notre Dame in the Fiesta Bowl and finished fourth. Oregon beat Texas in the Holiday Bowl to finish seventh.
4.
Oregon gets left out but finishes No. 2:
One of the grand faux paus of the BCS era was Nebraska playing Miami for the 2001 national title. Nebraska was coming off a 62-36 loss to Colorado, but the computers failed to notice, and the Cornhuskers were euthanized by the Hurricanes before halftime. The Ducks would whip that same Colorado team 38-16 in the Fiesta Bowl and finish ranked No. 2.
5.
Oregon and Stanford both win:
The 2012-13 bowl season wasn't good to the Pac-12, but Oregon pounded Kansas State in the Fiesta Bowl and Stanford beat Wisconsin in the Rose Bowl. The Ducks finished ranked No. 2 and Stanford was seventh. It was just the second time two Pac-10/12 teams won BCS bowl games in the same season.
Worst
1.
Just one BCS national title, lots of frustration:
No conference has more legitimate gripes with the BCS system than the Pac-12. Multiple seasons saw the conference have teams skipped over, most notably Oregon in 2001 and USC in 2003 and 2008. And ask California fans about how Texas coach Mack Brown gamed the system in 2004, preventing the Bears from playing in the Rose Bowl.
2.
USC's three-peat gets Vince Younged:
It's difficult to look at Texas's epic 41-38 win over USC as anything but great college football art -- perhaps the all-time greatest game -- but Trojans fans don't feel that way. The loss prevented USC from claiming three consecutive national titles and, of course, a second BCS crown for the Pac-10/12.
3.
Oregon falls short versus Auburn:
Oregon looked like a great team and Auburn a team with two great players before the BCS title game after the 2010 season. The Ducks chose a bad time to play one of their worst games of the season, but they still nearly prevailed before being undone by a dramatic game-winning drive from the Tigers.
4.
Make a field goal, Stanford:
Stanford kicker
Jordan Williamson
missed three field goals, including a certain game-winner from 35 yards on the last play of regulation, in the Cardinal's 41-38 loss to No. 3 Oklahoma State in the Fiesta Bowl after the 2011 season. Williamson also missed from 43 yards in overtime, which set the Cowboys up for the win. Stanford dominated the game, outgaining the Cowboys 590 yards to 412, with a 243-13 edge in rushing.
5.
Ducks drop Rose Bowl:
Oregon fell flat in Chip Kelly's first BCS bowl game, with the favored Ducks losing to Ohio State 26-17 in the Rose Bowl after the 2009 season. Buckeyes QB Terrelle Pryor had perhaps the best game of his career -- 266 yards passing, 72 rushing -- and the Ducks offense struggled, gaining just 260 yards.
COLUMNISTS
Greg Katz
Make or break
After what seems to be an early start to the season, things will get tough for the Trojans starting on Sept. 28, when a three-game stretch att Arizona State, home for Arizona and at Notre Dame kicks off.

Story » Archive »
Steve Bisheff
Clear choice at QB
The battle to be USC's starting quarterback continues despite there being a clear winner between Max Wittek, Cody Kessler and Max Browne in spring practice.

Story » Archive »
Jeremy Hogue