Commentary
USC needs to get past final score
Late mistakes turned a close game into one with a deceptively lopsided score
LOS ANGELES -- Saturday's 43-22 loss to Arizona State was a hard defeat to take for USC, which had fought back from an early deficit to take the lead in a game that seemed destined for a wild finish.
After USC's lack of first-half execution, there was little stopping the Trojans early in the second half. If not for some self-inflicted issues, it's very easy to imagine a scenario in which the Trojans come out with a win.
"There are some games where you walk away with the feeling that you simply got beat by the other team," USC radio sideline analyst John Jackson said. "This wasn't one of those games for the Trojans."
Go back to the point where USC had the ball at the ASU 14-yard line, right before Matt Barkley's fumble. Having scored two touchdowns already in the second half, USC's offense, it seemed, was bound to score not only on that drive, but whenever it needed to for the rest of the game.
The USC drives in the second half to that point had been six plays for 65 yards (touchdown), nine plays for 80 yards (touchdown), two plays for 24 yards (fumble) and 11 plays for 73 yards to get to the Sun Devils' 14. Those numbers reflect an offense that was having success moving the ball. The ASU offense was having success, as well, against the Trojans defense, setting the stage for what seemed to be an inevitable shootout finish.
More from We Are SC
Everything USC, from recruiting to news to game coverage, is available in ESPN.com's WeAreSC.
More:
• ESPN Los Angeles' USC blog
• ESPN.com recruiting coverage
• ESPN.com's Pac-12 blog

Turnovers became the reality, however. USC did self-destruct and take itself right out of the game, but it wasn't exactly a blowout. The final 43-22 score was deceptive, and that's important for the Trojans to remember as they prepare this week for Arizona, a team capable of giving them problems.
Are there issues for the Trojans? Of course there are. But the real danger comes with the possibility of letting what happened at ASU impact the rest of the season. If there is carryover, the season could be in danger of going south, and quickly.
Some of the biggest plays that led to the defeat were made by veteran players such as Barkley, Marc Tyler and T.J. McDonald. It will be up to guys like them, players who are team leaders, to put the ASU game in the past and play up to their potential. Their ability to do that this Saturday, especially with a bye week after that, will go a long way toward determining how things play out for the season.
Defense in search of adjustments
One of the most puzzling parts of the game was the inability of the USC defense to adjust to a key element of the Sun Devils offense.
The previous week against Syracuse, Orange quarterback Ryan Nassib started off 11-for-11 by throwing short passes -- until the Trojans brought their coverage guys up and forced him to attempt deeper throws. The result was plays that took longer to develop, giving the USC defensive line more time to bring pressure, which made Nassib far less effective.
"The Sun Devil offense was predicated on the bubble screen throw, with a couple other options in there," Jackson said. "It's an easy throw to make behind the line, and then they had a receiver in Jamal Miles who was good in space.
"USC never made any adjustments to get ASU out of that. If a team is having success with the same play over and over, you need to do something to take it away, such as bringing the safeties closer to the line to be more involved with pass coverage."
Trojans coach Lane Kiffin saw another problem with how USC defended the bubble screen.
"So many balls were thrown either behind the line of scrimmage or within five yards of it," Kiffin said. "It's a tough play to defend. You've got to make the first tackle, and so many times we missed the first tackle."
Running back rotation
There were a lot of raised eyebrows when true freshman running back Amir Carlisle entered the game. Nothing against Carlisle -- he is a fine talent who has definitely performed well in practice when healthy -- but was there a clear need to burn his redshirt year?
It's not like the Trojans don't have other options available at tailback. Marc Tyler is the clear leader of the group. D.J. Morgan has had fumbling issues that seem to have made Kiffin hesitant to use him, but he is also a gamebreaker with real talent that can be developed. The biggest variable is Curtis McNeal, a veteran player who is leading the team this season in yards per carry (7.6). McNeal seemed poised to play a bigger role this week after a solid performance against Syracuse, and that only added to the confusion over the decision to play Carlisle.
[+] Enlarge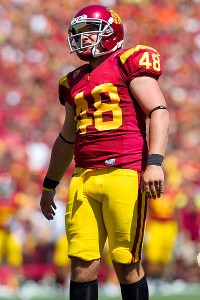 Jeff Lewis/Icon SMIAndre Heidari impressed in his first career road game, hitting all three of his field goal attempts.
There are only so many carries to go around, and any carries that go to a freshman like Carlisle will take away opportunities for McNeal and Morgan. Kiffin has his reasons for how he distributes playing time, but in this particular case there didn't seem to be a glaring need to play the freshman, as other options were available.
Heidari is kicking it
Lost in the aftermath of the tough loss was the performance of freshman kicker Andre Heidari. In his first road game, Heidari made all three of his field goal attempts in the first half to provide the only scoring for the Trojans. Those kicks allowed USC to stay within striking distance of the Sun Devils at halftime and eventually take the lead in the third quarter. Heidari also booted multiple kickoffs into the end zone and added an extra point.
Notes on a Trojans scorecard
Linebacker Ross Cumming saw extensive action as an offensive blocker who was primarily lined up off the line and behind a tackle in a stacked formation. ... Nickell Robey had his longest punt return of the year with a 44-yard effort in the first half. ... Dion Bailey got the only USC sack of the game, and the converted safety is leading the Trojans defense this year in total tackles. ... USC has only two rushing touchdowns through four games. ... USC was flagged for 10 penalties for 87 yards in the game, giving it 31 penalties on the year.
Garry Paskwietz is the publisher of WeAreSC.com and has covered the Trojans since 1997. He can be reached at garry@wearesc.com.
Publisher, WeAreSC.com
Founder of WeAreSC.com
Has covered USC since 1997
Graduated from USC
SPONSORED HEADLINES
ESPN TOP HEADLINES
MOST SENT STORIES ON ESPN.COM
EDITORS' PICKS
Soso Jamabo's surprise top two
Story

Big 12 recruiting breakdown.
Chatmon

Pac-12 recruiting breakdown.
McKinney