Commentary
Can Barkley, team deliver on dream?
Roundtable: New Year's resolution for two trophies -- crystal football and Heisman
Updated:
December 29, 2011, 11:00 AM ET
By
We Are SC staff
Give three New Year's wishes that you would grant to USC football next season.
Garry Paskwietz

More from We Are SC
Everything USC, from recruiting to news to game coverage, is available in ESPN.com's WeAreSC.
More:
• ESPN Los Angeles' USC blog
• ESPN.com recruiting coverage
• ESPN.com's Pac-12 blog

• A consistent and effective left tackle to help protect Matt Barkley as well as he was protected this year.
• A good old-fashioned dose of vintage Ed Orgeron coaching to help his young defensive linemen keep pace with the rest of a veteran defense.
• Karma. These players have paid a penalty for someone else's violations, and if there is any justice, they will receive an equal amount of good fortune to help make 2012 a special year.
Steve Bisheff

• For Matt Barkley, an injury-free season that allows him a shot at achieving his two major goals, a BCS title and a Heisman Trophy. No Trojan in recent memory deserves it more.
• For Lane Kiffin, another solid recruiting class to continue building the program back to where all USC loyalists believe it belongs.
• For Pat Haden, a chance to savor what he has done in restoring the quality and, even more importantly, the class and dignity of the athletic program.
Greg Katz

• The 2012 Trojans go undefeated and win the BCS national championship in Miami, and wouldn't that be ironic considering that's the location of the Trojans' 2005 BCS title game victory over Oklahoma, which was later vacated because of you-know-who.
• Matt Barkley wins the 2012 Heisman Trophy and is the No. 1 pick in the 2013 NFL draft, which proves there is such a thing as good karma.
• If Wish No. 1 doesn't come to fruition, the 2013 Rose Bowl Game, which ain't a bad consolation prize.
Kyle Williams

• Winning the Pac-12 championship game, which automatically secures the Trojans a spot in the Rose Bowl. However, if USC has the season that it is expected to have now that Barkley is returning, then winning the national championship is where the teams sights are set, but it all starts with winning the Pac-12.
• Barkley for Heisman. If he doesn't win the trophy that's OK, but I wish by the end of the season he is at least invited to New York. If Barkley is in that top three or four waiting to hear his name called, then he will have had the season that he came back to have.
• Kyle Murphy becomes a Trojan. Although USC has Kevin Graf and Aundrey Walker, the Trojans are extremely thin at the tackle position. With Max Tuerk already committed, and if the Trojans can steal Murphy away from Stanford or Oregon, then USC will have the best bookend tackles in this year's recruiting class as well as securing the edges of the O-line for the next four to five years.
Give your thoughts on the new Pac-12 and Big Ten scheduling partnership.
Paskwietz: I applaud the move. It's a very proactive and realistic way of dealing with the ever-changing world of college sports. I'm also glad to see that the partnership is with the Big Ten. The two conferences had such a good thing going with the exclusive Rose Bowl relationship for so many years, and it was a shame to see the BCS impact that. Hopefully this new partnership can develop into something that will help fill that void.
Bisheff: I think a Pac-12, Big Ten collaboration on scheduling would be a good thing. Most teams play only one or two interesting non-conference games. This would solve that and make a lot more games interesting. Could it make the schedule more difficult? Sure, on years you draw the Big Ten powers. But the way USC and the rest of the quality Pac-12 teams have played in recent years, that shouldn't be a problem and might even enhance the reputation of West Coast teams.
[+] Enlarge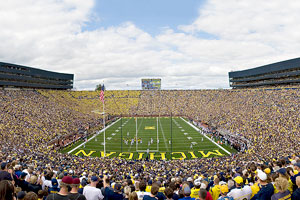 Scott Boehm/Getty ImagesThe Big Ten/Pac-12 collaboration, and future games at venues like Michigan Stadium, has the WeAreSC panel excited.
Katz:
I think this is a tremendous idea. Can you imagine the Trojans playing football at Michigan in the Big House or at Wisconsin in Camp Randall Stadium or in the Coliseum? Seems to me that the Pac-12/Big Ten must know something about the future of the BCS title game format. The big winners here are fans of the Pac-12 and the Big Ten.
Williams: With the negative image college athletics has received this year with the rearrangement of conferences due to money, it's nice to see that the Pac-12 and Big Ten have come up with a realistic and reasonable solution to help grow the two conferences. The Pac-12 and Big Ten already have a great relationship, history and established rivalries from past Rose Bowls. Fans will be able to enjoy old rivalries as well as see new ones created. The new agreement between the two will more importantly give the Pac-12 some much-needed exposure to the rest of the country, especially for those players who are in the Heisman race. This is a win-win on every level.
SPONSORED HEADLINES
ESPN TOP HEADLINES
MOST SENT STORIES ON ESPN.COM
EDITORS' PICKS
The Irish could move up in the rankings when they play Michigan .
Crabtree

10 bold 2014 recruiting predictions
Story

Could this be a big week for Arkansas?
Crabtree