Seniors prep for final home game
USC's senior class has stuck it out through lots of adversity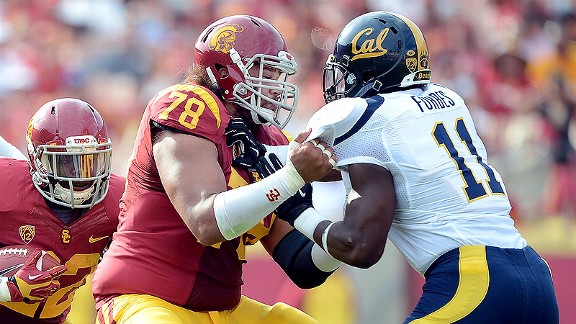 Harry How/Getty ImagesSaturday marks the last time USC fans will get to see Khaled Holmes blocking for Curtis McNeal at the Coliseum.
The
USC Trojans
prepare to face the
Notre Dame Fighting Irish
on Saturday in the final Coliseum home game for the USC seniors.
One of the annual traditions that will take place is the tunnel of former USC players that will line the field as the seniors are introduced to the Coliseum crowd. It is an emotional scene and a time for the Trojan faithful to show its appreciation for what the players have done for the program.
This year's senior group features players who were forced to endure NCAA sanctions, bowl bans and a 2012 season that has fallen far below expectations. Because they chose to stick it out at USC -- through good and bad -- it's a group that will hold a special place in the hearts of Trojan fans.
Here's a look at the seniors who will be introduced to the crowd on Saturday:
QB Matt Barkley: It won't seem right to have Barkley run onto the field with the knowledge that he won't be playing in the game. This night was supposed to offer the possibility of a crowning moment in Barkley's career, a stage that could have put the final stamp on national championship dreams and Heisman races. Instead, Matt will watch from the sidelines with an injured shoulder as his teammates try to take down the top-ranked Irish. Barkley's legacy is filled with plenty of impressive records and a reputation for classy behavior, but it also includes missed opportunities, none bigger than the 2012 season and the thought of what could have been for this team.
RB Curtis McNeal: One of the true success stories on the roster. McNeal had a tough upbringing -- one assistant coach said it was as much of a hard-luck story as any he had ever seen -- but McNeal persevered and battled through academic issues to become a 1,000-yard tailback for the Trojans as a junior. He was forced to share the load in 2012 with the arrival of Silas Redd, but the last two weeks have seen him back in the primary role and he has responded with 52 carries for 324 yards in those games.
OC Khaled Holmes: A true scholar-athlete who is finishing up his graduate school degree, Holmes anchored the middle of the USC offensive line, and his value was evidenced with the struggles against Stanford when he was out. He was a team captain who called that designation the biggest honor of his life. Khaled followed his older brother Alex in playing for the Trojans, and it's safe to say he represented the family name with pride.
OL Abe Markowitz: Markowitz is a former walk-on who earned a scholarship two years ago and has seen playing time at both center and guard. Hee suffered a pair of foot injuries that cost him two full seasons, including being forced to miss an away game to his home state of Hawaii in 2010. Markowitz has seen extended playing time and there is a chance he could end up applying for a sixth year of eligibility.
More from We Are SC

Everything USC, from recruiting to news to game coverage, is available in ESPN.com's WeAreSC.
More:
• ESPN Los Angeles' USC blog
• ESPN.com Recruiting coverage
• ESPN.com's Pac-12 blog

OL
Jeremy Galten
: He came to USC as a junior college transfer at a time when bodies were needed along the offensive line for practice purposes as much as anything. Yet Galten showed enough to start the 2011 season opener against Minnesota and got spot playing time on the line and special teams throughout his career.
DL Wes Horton: A veteran starter at end, Horton had the unique experience of playing at USC alongside his brother, Shane, a linebacker who graduated last year. Their father played at UCLA, which meant the loss to the Bruins last week prevented Wes from going undefeated against his dad's alma mater.
LB Tony Burnett: Another former walk-on who earned a scholarship, Burnett is a tremendous athlete who has contributed to the Trojans at safety, cornerback, linebacker and special teams. He is also a member of the USC track team.
LB Dallas Kelley: Kelley also came to USC from junior college and was primarily a practice contributor during his career.
DB T.J. McDonald: An aggressive defender in the secondary, McDonald followed his father, Tim, in the defensive backfield for the Trojans and was a productive three-year starter who was named an All-American in his junior year. McDonald leads the 2012 Trojans in tackles and has been a very good special teams performer, but he also had some critical personal-foul penalties in his career.
DB Jawanza Starling: The three-year starter will long be remembered for his touchdown against Notre Dame in 2011 when he picked up a fumbled and returned it the length of the field for the turning point in USC's victory.
DB Drew McAllister: A ballhawking safety who battled assorted injuries, including a pair of hip surgeries, during his USC career.
DB Brian Baucham: Baucham showed a lot of promise early in his career as a corner, but he suffered serious injuries in a motorcycle accident and then had academic issues that slowed his attempt at a comeback.
P Kyle Negrete: A one-time linebacker at USD who came to USC as a walk-on punter. Negrete earned the starting punter job as a junior, was awarded a scholarship as a senior and then was named the winner of the John Wayne Scholarship for post-graduate work. Negrete specialized in punt placement inside the 20 and not allowing big returns.
Publisher, WeAreSC.com
Founder of WeAreSC.com
Has covered USC since 1997
Graduated from USC
SPONSORED HEADLINES
ESPN TOP HEADLINES
MOST SENT STORIES ON ESPN.COM
EDITORS' PICKS
Teams that will dominate 2015 recruiting.
Crabtree

Who are 2015's instant-impact recruits?
Luginbill

Key questions for the 2015 recruiting class.
Roundtable
Rawlings USC Trojans Junior-Sized Tailgater Football Shop »