Little things, big difference
Notre Dame's attention to detail leads it past inconsistent Trojans
LOS ANGELES -- You can't say the Trojans didn't have their chances.
In a game that mattered mostly for pride, with an opportunity to prevent a fierce rival from advancing to the BCS title game, USC did enough to stay in it to the end, but a series of missed opportunities resulted in the Notre Dame Fighting Irish coming away with a 22-13 victory Saturday.
[+] Enlarge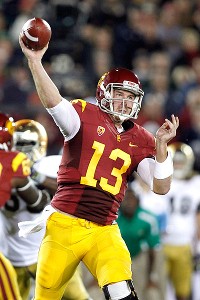 AP Photo/Danny MoloshokRedshirt freshman Max Wittek performed admirably in his first start, but it wasn't enough against No. 1 Notre Dame.
This is not to take anything away from Notre Dame -- it showed exactly why it is an undefeated team that will advance to Miami with the No. 1 ranking in the country. The Irish are a disciplined football team -- they do not make mistakes, they are patient and they are strong on both sides of the line. They also have a really good red zone defense, as the Trojans found out with a dramatic goal-line stand that sealed the victory for Notre Dame.
The Trojans played the game with a redshirt freshman (Max Wittek) at quarterback, didn't get much production from Marqise Lee until a couple of big plays at the end, and were dominated in total offense (439 to 281) and time of possession (34:38 to 25:22). Even with that, USC fans will walk away from this game viewing the result as one that -- with a few plays here or there -- could have gone the other way.
In many ways, the outcome was a reflection of the issues that have plagued this USC team throughout the season and are a key reason the preseason No. 1 team in the country now sits with a 7-5 record. There were clock management issues, questionable play calls, a defense that gave up too many big plays at critical times and, of course, turnovers.
"It is very difficult for everyone in our locker room," USC coach Lane Kiffin said. "For everything that hasn't happened the way we wanted this season, we hoped things could have been different today. We had our shot. The game was close; we just weren't able to finish."
There was a lot of talk going into the game about Matt Barkley missing the matchup due to a shoulder injury, giving Wittek his first collegiate start. There were ups and downs, but for the most part, Wittek was solid, as he completed 14 of 24 passes for 186 yards with one touchdown and two interceptions. It wasn't enough to come away with the victory, but his inexperience certainly didn't cost USC the game.
"Outside of a few mistakes, I thought I did well in my first game," Wittek said. "We are all disappointed, but I can say I couldn't express any more pride in my team."
A big problem for the Trojans was that the Notre Dame defense was simply as good as advertised for much of the night. USC got decent production from the run game, with Silas Redd and Curtis McNeal combining for 115 yards on 21 carries. Robert Woods led the way for the receivers with seven catches for 92 yards and a score, while Lee had five catches for 75 yards.
Lee was held in check for most of the night, as 53 of his receiving yards came on one play late in the fourth quarter that helped put the Trojans in great position for a score. That catch came after Lee had returned a kickoff 43 yards to give USC hope after the Irish extended their lead to 22-13.
The Lee catch gave USC the ball at the 2-yard line and the Coliseum crowd was in a frenzy at the thought of a dramatic finish, but the Irish defense chose that time to remind everyone of why it is so good. Three straight USC run plays were stuffed, and a fourth-down pass to fullback Soma Vainuku fell incomplete to basically end the ballgame.
More from We Are SC
Everything USC, from recruiting to news to game coverage, is available in ESPN.com's WeAreSC.
More:
• ESPN Los Angeles' USC blog
• ESPN.com recruiting coverage
• ESPN.com's Pac-12 blog

The goal-line stand was vintage USC versus Notre Dame "big-man-on-big-man football," and it was the most glaring example of the Irish's superiority in the trenches. There was simply no moving the interior of the Irish defensive line, no matter how much the Trojans wanted to make it happen.
There will be critics in the Trojan family who point to Kiffin's play-calling in that situation, and the criticism of Kiffin won't stop with that series of calls. There was the fact that he didn't call timeouts after the first two runs were stopped and the fact that he did call a timeout in a goal-line situation earlier in the game that appeared to take away a potential touchdown pass -- which replays later showed was dropped.
The clock management issues also were present at the end of the first half, when USC got the ball with two minutes to go and down 13-10. The Trojans could have run a few plays, perhaps put together a drive, but at the very least, the thought of going into halftime down only three points -- and getting the ball to open the second half -- was a scenario every USC fan would have taken at that point.
Instead the Trojans went deep with a pass on the first play. Wittek tried to hit Lee, but KeiVarae Russell came away with the interception and the Irish quickly marched down the field to get a field goal to make the score 16-10. It might have been only three points, but on a night when points were at a premium, it was a critical turning point and the kind of detail Notre Dame managed better than USC.
The ability to manage those little details is the key difference in where the two programs are at right now. Both have coaches in their third season at their respective schools, yet one is playing for a national title while the other is left to wonder what could have been. It's a question that has been asked by USC fans far too many times this season.
Publisher, WeAreSC.com
Founder of WeAreSC.com
Has covered USC since 1997
Graduated from USC
EDITORS' PICKS
Best of this weekend's recruiting visits.
Story »

Arkansas' rebuild is adding good D-linemen.
Early Offer

Recruits take notice of the Big Ten's problems.
VanHaaren