An inside-the-huddle look at the sounds of the NBA's Western Conference playoffs.
Actor and performing artist Ice Cube appears on SportsNation talking about his thoughts on the Los Angeles Clippers.
Point guard Tony Parker will play for the San Antonio Spurs in Game 3 on Friday against the Clippers after experiencing tightness in his right Achilles tendon.
ESPN NBA analyst Chauncey Billups picks who will win Game 3 matchups between the Clippers-Spurs, Rockets-Mavericks and Raptors-Wizards.
David Thorpe breaks down the 10 biggest difference-makers in the playoffs so far. Who leads the list after one week of action?
The Spurs listed Tony Parker as questionable Thursday for Friday's Game 3 matchup against the Clippers in the Western Conference playoffs due to tightness in his right Achilles tendon.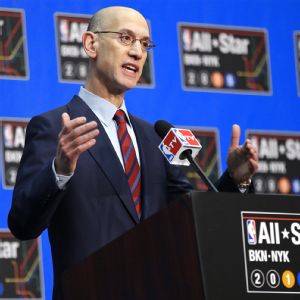 NBA Commissioner Adam Silver said Thursday he is "on the fence" about intentional fouling away from the ball and expects the league to be "very engaged" about the tactic over the coming months.
Spurs small forward Kawhi Leonard won the NBA Defensive Player of the Year Award, prevailing over Warriors forward Draymond Green and Clippers center DeAndre Jordan.
ESPN NBA analyst P.J. Carlesimo shows how San Antonio Spurs forward Tim Duncan was able to lead the Spurs to a Game 2 victory over the Clippers.
After apologizing to his teammates for his miscues late in the fourth, Tim Duncan recovered in OT to salvage an otherwise virtuoso performance.
Griffin had his first playoff triple-double but ended up regretting a late turnover that opened the door for the Spurs to tie series 1-1.
Add right Achilles to the list of injuries sustained thus far by Tony Parker over the first two games of San Antonio's Western Conference playoff series against the Los Angeles Clippers.
Take a look back at the top assists from the week in the NBA, including Blake Griffin's assist to DeAndre Jordan.
Tim Duncan posts a double-double of 28 points and 11 rebounds in the Spurs' 111-107 overtime win over the Clippers in Game 2.
Blake Griffin's nasty move on Boris Diaw for the one-handed dunk is the top play of the night in the NBA.
Apr 24, 2015

,

9:18 PM ET
Sounds of the game: West playoffs Week 1