He shall from time to time give to Congress information of the State of the Union and recommend to their Consideration such measures as he shall judge necessary and expedient.
-- Article II, Section 3 of the U.S. Constitution
And he shall also give annual updates on the State of the National Pastime.
-- Article II, Section 3(c) of Baseball's unwritten rulebook (right below the clause about retransmission of games without the commissioner's express written consent)
Pitchers and catchers, position players and non-roster invitees, my fellow American fans -- as well as fans in Canada, Latin America, Japan and all across the globe: As we set down our snow shovels and pick up our SPF 30 sunscreen, I am proud to announce the State of the Game is … outstanding.
Recession? What recession? Thanks to the owners and players taking a bipartisan approach over the past decade -- if only Republicans and Democrats followed their example! -- baseball is generating more money than even Congress can spend. Though maybe not as much as Magic Johnson and the Dodgers can.
Major League Baseball took in $7.5 billion last year. The Dodgers sold for more than $2 billion -- and that included only half the stadium parking lot. The Padres are close to a $1 billion local TV package. The Rangers have a $1.6 billion TV deal. The Angels have a $3 billion deal. The YES Network recently was valued at $3.8 billion -- with that kind of money, we'll soon see Yankeeographies on Boone Logan and Joba Chamberlain.
How to spend this money? On bling, of course! So many different teams have earned World Series rings lately that South Africa has had to open more diamond mines. Since 2000, 15 different teams have reached the World Series. In the past 12 seasons, four teams that hadn't won a World Series in at least 40 years won world championships (the White Sox, Red Sox, Giants and Angels), and six teams that had NEVER been to the World Series reached the Fall Classic (the Astros, Angels, Rangers, Rockies, Rays and Diamondbacks).
Someday, maybe even Seattle and the Cubs will host a World Series! (I have a dream.)
Listen. That silence you hear is the end of owners whining about market size. Despite playing in one of our smallest markets, the Cardinals have been to the World Series three times and have won it twice since 2004. The Athletics won their division last year despite the league's lowest payroll. The Rays went to the World Series in 2008 despite the league's lowest payroll.
Every sport has a perennial loser to serve as the league punch line. But even the Pirates, who haven't had a winning season in 20 years, were in first place at the All-Star break last year.
The game has demographics Apple would relish. When you go to a major pro sports game, baseball is the one that is packed with kids -- sometimes in the dugout. Bryce Harper played in the All-Star Game, earned the NL Rookie of the Year award and created his own national catch phrase while a teenager. Mike Trout, barely a year older, might have been the game's best player. Meanwhile, 49-year-old Jamie Moyer won a game, inspiring baby boomers and retirees too old to work a universal remote.
Critics complain that the game's best players are avoiding this spring's World Baseball Classic, but every day is a world baseball classic in the game right now. There were players from Brazil, Italy, the Netherlands, Korea, Australia, Cuba, Japan and China in the majors last season. There are prospects from Africa in the minors. Baseball not only is the national pastime, it's becoming a world pastime, too.
Baseball is everywhere. The major league season opened to sellouts in Tokyo last year. There has been a team in Canada for decades (not just a team from the States that plays in Toronto once a year), and the rejuvenated Blue Jays might be poised to return to the World Series. And get this, NFL fans: Baseball even has a team in Los Angeles (two, in fact).
Baseball is a vibrant part of our pop culture as well. Hollywood's biggest stars are stepping to the plate. Brad Pitt's "Moneyball" was nominated for six Academy Awards, including Best Picture; Clint Eastwood starred in "Trouble With the Curve"; and Harrison Ford co-stars in "42," a biopic about Jackie Robinson that opens this April.
Cy Young winner R.A. Dickey's brutally honest memoir was a best-seller. Macklemore, whose current No. 1 rap sensation "Thrift Shop" has nearly 100 million views on YouTube, is such a baseball fan that his first hit was an ode to the late, great Mariners broadcaster Dave Niehaus.
Sure, baseball has its problems, but they're mainly restricted to Miami. Marlins owner Jeffrey Loria hosed taxpayers and fans alike by trading away his best players shortly after his brand-new publicly financed stadium opened for business, while a South Florida wellness clinic has produced another drug scandal -- Loria and steroids are the baseball embarrassments that never seem to go away. But unlike other major sports leagues in America, at least baseball is trying to do something about PEDs. The game just approved blood testing for HGH.
Rather than concentrating on public relations spin like some other league we know, baseball is also taking its players' health seriously by benching them for long stretches when they suffer a rare concussion. The game is looking at adding liners to pitchers' caps for protection against line drives. In baseball, retired players hit the golf course, and their wives and widows do not have to file lawsuits over brain damage.
It's true that World Series ratings remain in decline, and the Series has lacked drama in recent years. But this can be helped by an effort to market the game better nationally, by making fans on the East Coast as excited about West Coast stars such as Trout, Albert Pujols, Buster Posey, Clayton Kershaw and King Felix as they are about their own players, and by creating nationwide fan bases for all teams. Yes, even the Padres.
That's one area where the NFL has a commanding advantage over Major League Baseball, but this is not the bottom of the ninth. There are many innings yet to play and many at-bats left for baseball to catch up. And baseball will catch up. The game is strong and growing stronger.
Spring training has started. The great Giants and Dodgers rivalry is re-booted. Justin Verlander is throwing smoke. Derek Jeter's ankle is healing. Tim Lincecum cut his hair. Stephen Strasburg is ready to pitch into October. And best of all, box scores soon return. The State of the Game is so outstanding that -- who knows? -- the Pirates and Royals might even have winning records.
After all, it's spring training. It's the season to be optimistic.
Thank you, and may God -- or Pablo Sandoval, at least -- bless baseball.
CSI: Box Score
Each week, I provide a fragment from an old box score and challenge you to determine what game it is from and why it's significant. The challenge for you is to figure out why. I give this one a difficulty rating of 9.5. Answer below:
Baseball Card of the Week
As we continue our trip into the time capsule that is the 1988 Topps set, here's an interesting side-by-side of then-Chicago players and future Chicago general managers.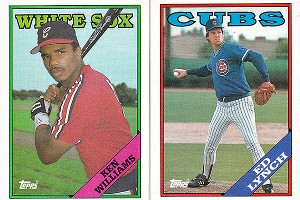 Ed Lynch shows impressive pitching form in this card (No. 336), but he did not play in the majors that season -- or ever again. His last year was 1987, when he went 2-9 with a 5.38 ERA for Chicago. Unfortunately for Cubs fans, he wasn't much more successful as a general manager.
Kenny Williams (No. 559) wasn't very productive as a player for the White Sox, either (a .218 career batting average with 290 strikeouts and just 27 home runs). But he was much more successful in the front office, guiding the White Sox into their first World Series in 46 years and their first world championship in 88 years as their general manager.
Yeah, Well, That's Like, That's Just Your Opinion, Man
Just Wait Until You See The Stick Of Stale Gum That Comes With It. Last week I wrote about opening up my annual first pack of new baseball cards. Topps easily topped that Tuesday by unveiling the world's largest baseball card -- a 90 foot-by-60 foot card of Prince Fielder in Lakeland, Fla. Check out the video in this Detroit Free Press story.
Pete Rose Isn't In This One, Either. Here's one advantage the Canadian Baseball Hall of Fame in St. Marys, Ontario, has over Cooperstown. Tim Raines will be inducted into it this summer. True, the Canadian Hall has somewhat different standards. Not only is George Bell going in this summer as well, so is Rob Ducey. The three were elected to the Hall last week, along with former Blue Jays broadcaster Tom Cheek and Vancouver, British Columbia, baseball legend Nat Bailey. Congratulations to them all.
But At Least Fans Still Have Synchronized Swimming. Baseball just got some more competition in its bid to return to the Olympics when the International Olympic Committee surprised just about everyone this week by dropping wrestling, beginning with the 2020 Games. The IOC was expected to drop the modern pentathlon -- an event in which virtually no one competes -- but instead eliminated wrestling, a sport popular around the world and which goes back to the ancient Games and is even mentioned in the Bible. The wrestling federation will attempt to get it reinstated, which means baseball will have to compete against one of the world's oldest and most widespread sports. Or maybe the two sports should make a combined bid by offering up Prince and C.C. Sabathia to compete in sumo wrestling.
CSI: Box Score Answer
I admit it, this was a very tough one and the clues were subtle. The first clues were the very unfamiliar names listed for the Cincinnati and Chicago pitchers, though the name Toney might have helped. The only Toney in big league history is Fred Toney, who famously threw a double no-hitter against the Cubs' Hippo Vaughn in 1917. Obviously, this was not that game, but his presence indicates this fragment was from the late teens a century ago.
Further, the 1-0 and 0-1 records for the winning and losing pitchers are clues this game took place very early in the season. So what early-season game in Chicago in the teens of the 1900s was significant enough to be included in our weekly puzzler? That would be the April 20, 1916, Cubs home opener, when they played their first game at Weeghman Park, which would eventually be renamed Wrigley Field. Amazingly, the Cubs actually won that day.