Paul Rhoads blasts Big 12 officials
Updated:
October 4, 2013, 6:19 PM ET
By
Max Olson
| ESPN.com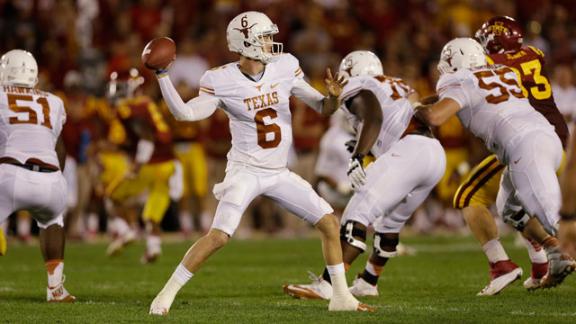 Final Drive Lifts Texas Past Iowa State, 31-30
Texas QB Case McCoy helped engineer a 75-yard drive resulting in the game-winning touchdown.
Final Drive Lifts Texas Past Iowa State, 31-30
Iowa State coach Paul Rhoads blasted Big 12 officiating Thursday night after a Texas fumble at the goal line ended up being ruled down by contact.
[+] Enlarge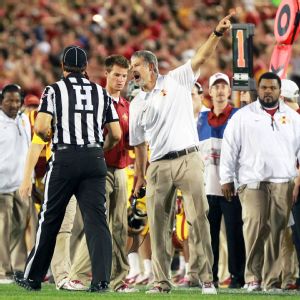 Reese Strickland/USA TODAY SportsIowa State coach Paul Rhoads screams at an official after an apparent fumble by Texas at the goal line was negated because the runner was ruled down by contact. Texas scored two plays later and won 31-30.
Rhoads launched into a loud postgame rant about the game's final moments, his voice rising to a yell as he explained his displeasure with the ruling that led to a 31-30 victory for Texas.
"I've got the privilege as the head coach of this football program to face my players, win or lose, and look them in the eye and [tell them] how proud I am of the work they put forth, the effort they gave," Rhoads said. "And to make a play on the 1-yard line, with their backs against the wall -- clear to everybody -- and have it taken away from them … that's hard to express.
"You don't just put an arm around a guy and tell him it's OK when that happens to him. I'm so proud of the effort my kids gave to win this football game tonight."
On first-and-goal from the 3, Texas' Johnathan Gray rushed up the middle and was met by several Iowa State defenders. While Gray continued to push his way closer to the end zone, ISU linebacker Jeremiah George swiped the ball out of Gray's arms and ran down the field.
The play was ruled down by contact after a 1-yard gain. After review, officials determined the ruling on the field "stands as called" because video evidence wasn't indisputable.
"

I've got pretty good eyesight. The view I had of that gigantic screen in the north end zone showed a player that was not down and our guy with the football.

"

-- Iowa State coach Paul Rhoads
"The conference office reviews all things," Rhoads said Thursday. "I'm sure they will review this, and I'm sure they will come forward with what they feel the play should've been called.
"I've got pretty good eyesight. The view I had of that gigantic screen in the north end zone showed a player that was not down and our guy with the football."
On Friday, Big 12 supervisor of football officials Walt Anderson released a statement defending the judgment made by the game officials.
Anderson said the replay official had reviewed five camera angles and correctly determined that video evidence could not confirm that Gray lost the ball before being ruled down.
"There is no question the runner ends up on the ground, and there is no question that eventually an Iowa State player ends up with the ball," Anderson said. "However, after reviewing the video evidence it is impossible to tell with certainty when the runner loses control of the ball and at that point was he down or not."
On second-and-goal, Texas ran Gray up the middle again. He leaped toward the end zone and attempted to extend the ball past the goal line with two hands. Replays show ISU defensive back Jacques Washington knocked the ball out of Gray's hands before it crossed the goal line. Gray appeared to grab the fumble and try to again extend the ball for the score.
That play was not reviewed, and Texas scored on a 1-yard dive from quarterback Case McCoy on third down to take the 31-30 lead.
Wasn't Pretty, But Texas Will Take It

Mack Brown saw the positives, but you didn't have to look hard to find a whole lot of negatives from Texas' win over Iowa State, Max Olson writes. Story
• Vote: Was Iowa State robbed?
• Blog: More on Texas Longhorns
Rhoads was also unhappy that Iowa State was penalized 10 times for 118 yards on the night, while Texas committed six penalties for 62 yards.
"We were the least-penalized team in the league coming into this game," he said. "There sure seemed to be a lot of hankies on the field tonight. I'm sure they made tremendous calls all night long in regards to that."
For Texas, the goal-line call was reminiscent of last year's game against Oklahoma State, when replay appeared to show Horns running back Joe Bergeron fumbling on a game-winning goal-line touchdown.