Commentary
Keeping a close eye on Colonial
Updated:
May 21, 2014, 11:59 AM ET
By
Richard Durrett
| ESPNDallas.com
The PGA Tour moves from the Dallas area to Fort Worth this week with the Crowne Plaza Invitational at Colonial. It's played on a classic golf course down the street from TCU. It was the home of Ben Hogan, who won the event five times in his impressive career.
The Crowne Plaza Invitational at Colonial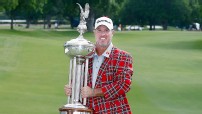 • Defending champion: Boo Weekley
• Tee times, leaderboard | Experts' picks
• Venue: Colonial Country Club; par-70, 7,054 yards
• Location: Fort Worth, Texas
• TV coverage: Thu., Fri. 3-6 p.m. ET on Golf Channel; Sat., Sun, 1-2:30 p.m. ET on Golf Channel, 3-6 p.m. ET, CBS
• Payout: A 124-man field with winner taking $1,152,000 of a $6.4 million purse
• Format: 72-hole stroke play with 36-hole cut to low 70 and ties.
• Money leaders | Schedule | Rankings
• Follow @ESPNGolf on Twitter
Colonial also has hosted the 1941 U.S. Open (won by Craig Wood); the 1975 Tournament Players Championship (Al Geiberger was the champ); and the 1991 U.S. Women's Open, captured by Meg Mallon.
The goal of anyone teeing it up here is to get their name engraved on the Wall of Champions and slip into a plaid jacket. That list includes many of the greats in the game, including Jack Nicklaus, Arnold Palmer, Sam Snead, Lee Trevino, Tom Watson and Phil Mickelson.
So as the field tees it up this week, here are a few things to watch, whether you're going, or viewing it on TV.
Shotmaking: This is not a course where you can tee it up and crush the ball for four days and win. The tight fairways require precision off the tee. Golfers must choose the correct side of the fairway to have the best opportunity to put the ball close. The guys that have "good misses" should stay in contention. Where you miss around Colonial's greens helps determine if you can save par or are in danger of putting up a big number.
Adam Scott: The new No. 1-ranked player in the world is playing in the event for the first time since 2011. Scott overtook Tiger Woods despite the fact that he didn't play in the HP Byron Nelson Championship, a tournament he won in 2008. Scott won the Masters in 2013 and has three top-10 finishes in seven PGA Tour events this season.
The Horrible Horseshoe: That's the nickname for the third, fourth and fifth holes -- a tough stretch that can impact momentum and confidence early in a round.
No. 3 is a 483-yard par-4 dogleg left that requires an accurate tee shot over the bunker and around a tree. It also has a tricky green that has fooled many players.
No. 4 is the signature hole of the Horseshoe, a 247-yard par-3 up the hill to the green. The fact that it's long makes it difficult, but then if the pin is behind the bunker, getting it close becomes a true challenge. It's a hole where par is a good score.
No. 5 is a 481-yard par-4 and ranks among the toughest every year at the Colonial. Water runs along the right side and there's a ditch on the left. It's a long approach even if you execute the drive correctly.
Jordan Spieth: The 20-year-old, who played in the final group at the Masters and the Players Championship, is looking forward to teeing it up at Colonial, a course that he loves. The Dallas native made the cut at the Nelson, but was disappointing in his driving, putting up a career-low in fairways hit. He'll need to do better if he's to contend at Colonial, where he finished tied for seventh a year ago.
FOLLOW GOLF ON ESPN
Stay up-to-date with the latest news, stories and analysis.
Follow ESPNGolf on Twitter
"I think it's an awesome golf course and if I can get out there and get comfortable on those greens, I can feel good," Spieth said. "The shape of the holes fit my eye better."
Boo Weekley: The defending champion comes in fresh off a top-5 finish at the Nelson, helped by two straight 68s on the weekend. He won last year at Colonial, shooting a final-round 66 to pass Matt Kuchar and a host of others. His game is in good form as he heads to a place where he's clearly comfortable.
Zach Johnson: He seems to play his best golf at Colonial, no matter how he's doing otherwise. He won the tournament in 2010 and 2012 and was third in 2013 and fourth in 2011. So he has had quite a four-year run. If you're looking for a consistent performer who should be in the hunt come Sunday, it's Johnson.