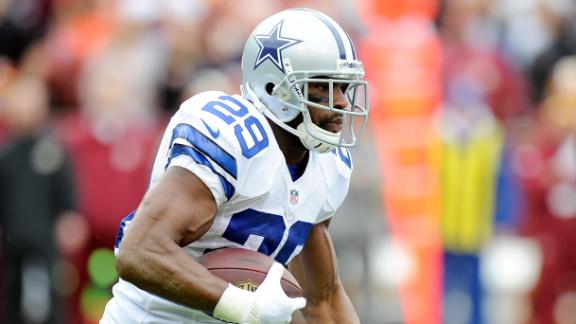 Cowboys committed to the run

By Tim MacMahon
ESPNDallas.com
Archive
This is not a knee-jerk reaction to RB DeMarco Murray's dominant performance in the Dallas Cowboys' smashmouth win over the Tennessee Titans on Sunday.
I believe Murray will break Emmitt Smith's franchise season rushing record of 1,773 yards, set in the Cowboys' last Super Bowl season, because the team is truly committed to the run and the Pro Bowl running back is due some breaks in the durability department.
After two games and 51 carries, Murray leads the NFL in rushing with 285 yards. That puts him on pace for 2,280 yards, which would shatter Eric Dickerson's league record. That's a stretch, but Smith's franchise mark is certainly within reach for Murray and his premium-pick-packed offensive line.
Look at Murray's production in the last nine games: 947 yards on 173 carries. That's an average of 105.2 yards per game. Assuming Murray plays all 16 games, he needs to average 106.3 yards per game the rest of the season to catch Smith.
That, of course, is a dangerous assumption, considering that Murray has never played all 16 games in his career. Maybe it's foolish to think that trend will end this season, but stranger things have happened.
For example, did you ever think coach Jason Garrett would ever pay more than lip service to committing to the run?
The Cowboys had plenty of excuses to get pass-happy in Week 1, when Murray's fumble on his first carry contributed to a 21-3 hole in the first quarter, but he still got 22 carries in that loss to the San Francisco 49ers. And the Cowboys fed him 29 times the following week.
It's a common-sense approach for a team with an elite offensive line, a quarterback with back problems, and a defense that needs to be protected as much as possible.
At this point, the question isn't whether the Cowboys will feed Murray enough. It's whether they will they wear their workhorse down.
Twenty carries will be the norm for Murray, not the exception. He's carried at least 20 times in 13 games during his career, rushing for 1,596 yards in those contests. Make it 16 this season and he'll break Smith's record.
Murray won't get enough carries

By Jean-Jacques Taylor
ESPNDallas.com
Archive
The Dallas Cowboys' single-season franchise rushing record of 1,773 yards, set by Emmitt Smith in 1995, is safe. DeMarco Murray isn't going to get enough carries to break it in today's NFL.
Coach Jason Garrett is preaching the benefits of the physical approach the Cowboys have employed in their first two games, which has Murray on pace to gain 2,280 yards and carry the ball 408 times.
This from a dude who has never carried the ball more than 217 times in a season and who has had only 13 carries of 20 or more yards in his career.
That's not a knock on Murray, just reality. And we haven't even talked about his propensity to get nicked up.
Murray, who has missed 11 games over his first three seasons, is a physical runner who doesn't avoid contact between the tackles and would just as soon lower his shoulder and bang a defender.
But the biggest reason Murray won't break Smith's record is that the game has changed dramatically since Smith led the Cowboys to their third Super Bowl win in four seasons.
These days, the NFL is a passing league. When Smith played, running backs still ruled.
In 1995, Smith gained 100 yards or more in 11 games, including four performances of more than 150 yards. More important, he carried the ball at least 20 times in 14 of 16 regular-season games.
Just so you know, 12 runners have gained more than 1,773 yards in the past 19 seasons. Those 12 runners averaged 347 carries per season.
We all know Murray isn't going to average 22 carries per game no matter how well he plays this season.
Garrett and playcaller Scott Linehan won't allow it. They don't want Murray working that hard on a regular basis.
They like backups Joseph Randle and Lance Dunbar, and they want Murray fresh so he can close out games in the fourth quarter -- as he did Sunday against Tennessee, when he gained 33 yards on seven carries.
Randle and Dunbar combined for 53 yards on 14 carries.
Murray, playing for a contract, will be the first Cowboys' runner since 1999 to gain more than 1,300 yards.
That qualifies as a great season. It just won't be the best in franchise history.