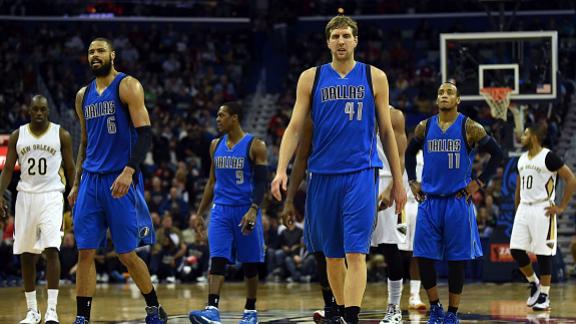 Chandler force on both ends

By Tim MacMahon
ESPNDallas.com
Archive
The Dallas Mavericks' All-Star lobbying efforts are focused on Monta Ellis, which makes sense for a few reasons.
Ellis is having a heck of a year, he's never been an All-Star, and the Mavs would be wise to make sure that a guy who might be a bit sensitive about being the team's fourth-highest-paid starter feels he's getting the appropriate amount of love and support from the franchise.
But Tyson Chandler, not Ellis, is the Mavs' most deserving All-Star candidate (not that any of the Mavs have much of a shot in the ridiculously loaded Western Conference).
The 7-foot-1 center is the only Dallas player who is a consistent force on both ends of the floor. His scoring average (10.5 points per game) doesn't accurately reflect the impact Chandler makes offensively. His remarkable ability to catch and finish above the rim commands respect from opposing defenses, creating space for the Mavs' scorers to work, and Chandler provides a lot of extra opportunities by crashing the glass. On defense, his presence is the difference between Dallas being decent and dreadful.
Chandler is also the only Maverick who ranks among the NBA's top five in two major statistical categories: field goal percentage (second, .669) and rebounding (fourth, 12.0).
We could also go the basketball geek route in support of an argument that Chandler has been the Mavs' MVP, if not an All-Star in a conference that also features Memphis' Marc Gasol, Sacramento's DeMarcus Cousins, Houston's Dwight Howard and a bunch of forwards who also have strong cases to go to New York.
Chandler ranks ninth in the league in real plus-minus (5.49), 80 spots above Ellis. Chandler ranks 13th in wins above replacement (5.85), 37 spots above Ellis. Chandler ranks 29th in player efficiency rating (21.18), 31 spots above Ellis.
Dirk Nowitzki could also be included in the discussion about the Mavs' most deserving All-Star candidates, but he'd rather get a full week off, which shouldn't be a problem considering all the elite forwards in the conference.
Nobody from the Dallas' roster is likely to get the All-Star call, but if any Maverick does, it ought to be Chandler.
Ellis thrives in the clutch
By Bryan Gutierrez
ESPNDallas.com
Archive
Dallas (30-15) boasts a .667 win percentage. With the Western Conference as stacked and as competitive as it is, there's a possibility that the Mavs won't have a representative in the All-Star Game.
It's up to the coaches to determine if that will be the case. Speaking of cases, Monta Ellis has made his quite clear as a worthy nominee to make the All-Star team as a reserve. His coach certainly thinks so.
"I think Monta Ellis is the most-deserving [Maverick] because of how he continues to elevate his game and all of the huge plays he's made," Rick Carlisle said last week. "Each year with us, his defense is a bigger factor. He's become more of a leader. The offensive load that he's carried late in games is well-documented. The evidence is all there."
Ellis can separate himself from other reserve hopefuls in the West with his ability to thrive in the clutch. Using NBA.com's definition of "clutch" as the last five minutes of a game with the score within five points, Ellis leads the league in clutch points scored.
Ellis is the team's leading scorer at 20.3 points per game and was the team's top assist man with 4.4 per game prior to the acquisition of Rajon Rondo. The last player to lead Dallas in scoring other than Dirk Nowitzki was Michael Finley in the 1999-2000 season. Finley averaged 22.6 points, while Nowitzki averaged 17.5.
Ellis has done all this while being an iron man for the Mavs. He is one of only three players in the NBA who have started every game this season, joining Los Angeles Clippers center DeAndre Jordan and Portland Trail Blazers point guard Damian Lillard.
In just over a season, Ellis has reinvented himself. He's no longer a high-volume shooter on a terrible team. He's now one of the most dangerous players in the clutch and a vital cog on a playoff-worthy team in the league's most competitive conference. Ellis has certainly made his case to be named an All-Star reserve.
103.3 FM ESPN PODCASTS
Dirk Nowitzki, Mavericks
Mavericks F Dirk Nowitzki discusses his decision to take a pay cut, basketball's growth throughout his career, Dallas' acquisition of Rajon Rondo and the depth of the Western Conference.