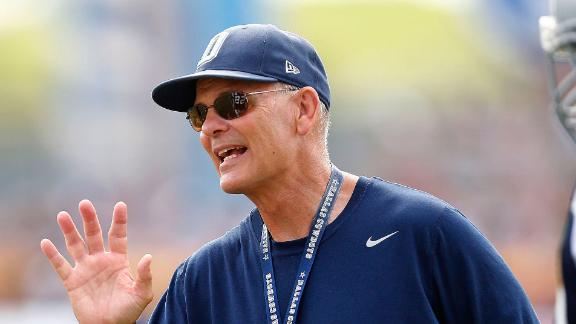 LB brings different vibe to defense

By Todd Archer
ESPNDallas.com
Archive
When the Cowboys acquired Rolando McClain in a trade for a conditional draft pick, I was skeptical. After all, he had retired twice and not played in a game since 2012 after he was de-activated by the Oakland Raiders.
You know things must be bad when the Raiders are trying to get rid of you.
But if you're looking for a reason the Cowboys' defense has played better, although maybe not as great as it may seem, then McClain is the answer.
The Cowboys lost Sean Lee for the season with a torn anterior cruciate ligament in the spring. He was the Cowboys' only true playmaker on defense. He could affect the run game. He could affect the pass game. Heck, he led the Cowboys in interceptions last year with four and missed five games with injuries.
The Cowboys thought Justin Durant would take over for Lee, but McClain was too good to be kept off the field. They tried to give him the middle linebacker job a couple of times in camp, but both times they tried to do it, he suffered a minor injury.
That led to many questioning just how much he wanted to play football. His track record didn't help his cause.
But when he played, he played well. And when he's played in the regular season, he's played well. He has made game-changing plays, like the interception in Week 2 against the Tennessee Titans and the forced fumble in the most recent win against the New Orleans Saints.
Orlando Scandrick has done a decent job in his first two games back from suspension. But he's played the same way he's always played. He'll break up a pass, drop an interception and come up with some good pressures off the edge.
McClain has brought a different vibe to the defense. He brings a presence they lacked when they lost Lee. He is unafraid to hit and hit hard. He has done a better job in pass coverage. Some thought he would not adapt well to the 4-3 scheme, but he is fitting well.
Years ago Bill Parcells labeled Dat Nguyen a "football playing dude." Jason Garrett does not have the gift for quips the way Parcells does, but he might want to call McClain a "football playing dude," too.
CB is defense's most versatile player

By Jean-Jacques Taylor
ESPNDallas.com
Archive
Orlando Scandrick is the Dallas Cowboys' most important defensive player because he's their most versatile one.
You need a corner to play outside, Scandrick can do it. You need a corner to play the slot, he can handle that, too.
You need someone to blitz, no problem. Scandrick probably has the best feel of any player on the team when it comes to perfectly timing the blitz. You need a corner to hold the edge and force the run back inside, he does that with the best of them.
More important, he gives this unit a swagger and confidence it needs.
After all, the Cowboys' defense for the most part is comprised of a collection of players other teams didn't want for a variety of reasons. It would be easy for them to have a collective esteem issue, but Scandrick won't allow it.
Scandrick plays with a tenacity and ferocity that belies his 5-foot-10, 194-pound frame -- and he always believes he's the best player on the field.
You won't be able to convince Scandrick otherwise. And his teammates thrive on his attitude.
Scandrick showed his value Sunday night in the Cowboys' 38-17 win over the New Orleans Saints.
He finished with seven tackles and performed well in coverage much of the night, but it was his performance on the Saints' first possession of the third quarter that helped Dallas open up an insurmountable lead.
On first-and-10 from the Dallas 12, Scandrick lined up in the slot and played receiver Marques Colston perfectly. In fact, he beat him to the spot on a curl and would've intercepted Drew Brees' pass if Colston hadn't knocked it away.
On second down, he did a terrific job of beating a block and disrupting Pierre Thomas' run around the left end. Thomas was tackled for no gain. On third down, he played his zone perfectly, giving defensive tackle Nick Hayden time to pressure Brees into an incompletion and force the Saints to settle for a field goal.
Field goals don't provide enough momentum to rally from a 24-0 halftime deficit. The Cowboys scored a touchdown on their next possession to open up a 31-3 lead.
At times, Scandrick can be arrogant. Abrasive, too. It's because he wasn't highly recruited out of high school or drafted as high as he thought he should've been.
Those perceived slights drive him. He refuses to let another player outwork him. In the process, he's become the most important defensive player on the Cowboys' roster.
103.3 FM ESPN PODCASTS
On NFL Week 4, 9/29
Mike Greenberg and Mike Golic react to Week 4 of the NFL season, including the Cowboys' win over the Saints, Dallas' improvement this season and New Orleans' struggles.
Numbers Never Lie: 9/29/14
Michael Smith and Jemele Hill discuss the Cowboys' impressive win over the Saints, Steve Smith Sr.'s dominating performance against his former team, the Jets' QB situation and more.
First Take
Skip Bayless and Stephen A. Smith react to the Cowboys' win over the Saints. Plus, what was learned from the Eagles' loss to the 49ers.