LIVE YOUR DREAMS, DIRK

By Jeff Caplan
ESPNDallas.com
Archive
Chase your goals, Dirk. Live your dreams. Go ahead and play ball for the love of country and get those young German boys to London in 2012.
By all means Dirk Nowitzki should return to the German national team after a two-year hiatus and lead them to a second consecutive Olympic appearance. Nowitzki, now more than ever after overcoming adversity and odds to capture his first NBA championship, is the beloved champion of German basketball and hero to the young players he will guide on the national team.
It is obvious -- to me, at least -- that we Americans have lost sight of the Olympic flame that burns inside of those from other countries that are not spoiled by nightly televised games of our multiple professional, world-class sports leagues.
Yes, Nowitzki lived the Olympic dream once. But, by God, let him revel in it again.
This is a fellow who showed up at the 2008 Games in Beijing with the Olympic rings shaved into the side of his head, for goodness sake.
Yes, it can be risky, which is why Mavs owner Mark Cuban is vehemently opposed to NBA players participating in international competition. Logically speaking, it's hard to argue. Who wants to see an employee you're paying millions upon millions of dollars suffer an injury playing for someone else?
Stuff happens.
Nowitzki could injure himself walking to his Mercedes.
The bottom line is Nowitzki has been worth every check Cuban has signed over 13 years and then some. He just rewarded Cuban, the Mavs and North Texas with one of the more remarkable and fulfilling postseason playoff performances in history -- 27.7 points and 8.2 rebounds a game.
Nowitzki had always said his decision would be based on how much down time his offseason would afford. Well, the last two summers, he had plenty of time off and he didn't play.
This summer, under normal conditions, time would be crunched from the end of the Finals to the start of national team practices in early August, the three-week Eurobasket qualifying tournament starting Aug. 31 in Lithuania, to the start of Mavs training camp in late September.
But these are not normal conditions. Many in and around the NBA believe the lockout will delay the start of next season, perhaps by a couple of months. Some predict a total wipeout.
So chase your goals, Dirk, and live your dreams. Again.
Few ever get the chance.
You've heard our takes; now give us yours. DISCUSS
DIRK SHOULD NOT PLAY

By Jeff "Skin" Wade
ESPNDallas.com
"Ben & Skin Show"
This isn't about whether Dirk Nowitzki "deserves" to play for the German national team in the 2011 Eurobasket tournament. Or whether he's "earned the right" to play. Dirk has always done right by the Mavericks and has delivered way more than most professional athletes ever do. Loyalty, work ethic, and of course, the ultimate prize: championship, baby!
Clearly he's "earned the right" to do as he pleases and he "deserves" that satisfaction. Having said all that, I don't think he should play for the German national team this summer. It will harm his and obviously the Mavericks' chances of repeating next June -- assuming there is an NBA season, of course. And any decision as to whether to play for Germany should be reached with that assumption in mind.
The obvious reason he shouldn't play is his age and the amount of ball he just played. Dirk is 33 and coming off of a grueling, heavy-workload season. Though he played 500 fewer regular-season minutes than the previous season due to injury (eight fewer games played), he still eclipsed last season's minute total because of 21 playoff games. Dirk just played more playoff minutes than his three previous postseasons combined. If he was 28, sure thing -- keep grinding, my man. But we're talking 13 seasons and well over 40K total minutes of NBA ball here -- plus international play.
Remember that flukey knee injury that robbed Dirk of those eight games at the start of 2011? It hardly looked bad yet it seemed as if either he or the team was hesitant to get him back into the mix despite no compelling evidence that he should refrain from playing on it. I call that the "KG factor" -- the worry about the wear and tear on that frame playing those minutes.
The last couple of years Kevin Garnett's broken-down knees have rendered him a shell of his former self. Three seasons ago, KG was one year younger than Dirk is now and they'd played virtually the same amount of minutes to that point in their careers. Go back and look at KG's durability through 13 seasons (almost identical to Dirk's) and what has happened to him since. If Dirk wants to make the most of his remaining NBA years, then his international days should be left behind.
"But a lockout-shortened season could afford an advantage to older teams and players like Dirk." MYTH!
The 50-game season played after the '98 labor dispute produced some stretches of three games in three nights and tons of four-games-in-five-nights situations in a compressed amount of time. That's a disastrous grind for older players, much less players coming off championship ball that took them well into June, followed up with international play.
Hopefully everything gets resolved in time and we play a full regular season that starts the last weekend in October. I think that's irrelevant to this conversation anyway.
I say stay on the beach till we're ready for NBA ball again, my man. A repeat bid awaits you.
LISTEN LIVE!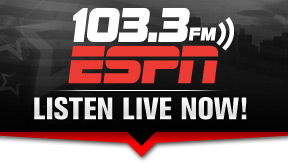 Want to sound off on today's Hot Button topic? Give us a call at 214-787-1033. Listen Live »
JordanHeckFF Jordan Heck
cleveland teen kicked out of soccer league for an incredible list of reasons https://t.co/PTRKjO7geb https://t.co/f9MLFVuVlt
about 3 hours ago

Jeff_Caplan Jeff Caplan
Sad and inspiring all at once. https://t.co/MEtO5Qxwsq
about 7 hours ago

Jeff_Caplan Jeff Caplan
Like putting an extra quarter in the owners' piggy bank. https://t.co/PlMesmOxR6
about 8 hours ago

JJT_ESPNDallas Jean-Jacques Taylor
Talking Cowboys' pass rush, NBA all-star game and crying Jerry with @Iamelf on @kesn1033 until 8.
1 day ago

BigCountyPreps1 BIG COUNTY PREPS
Every public school coach in the #BCP area makes less than 4K a ye for coaching year round.Look at the image below 😳 https://t.co/qOeBWevxDQ
1 day ago

tomhaberstroh Tom Haberstroh
Unbelievable finding in our @ESPNMag story: NBA players travel more miles in 82 games than MLB does in 162. https://t.co/hYXrFFodx2
1 day ago

Jeff_Caplan Jeff Caplan
#Blazers #Jazz #Kings - yes, Kings - or > 1, which makes the playoffs? #Rockets, #Grizzlies #Mavs which doesn't?https://t.co/OsbOgApZqO
1 day ago

JJT_ESPNDallas Jean-Jacques Taylor
so glad @Boys_Vox could swing by @SMU and give my students some real insight into why he's a baaaaad man. Thanks bro, I appreciate u
1 day ago

Jeff_Caplan Jeff Caplan
.@MiamiHEAT's Hassan Whiteside tweeted a Bill Russell quote the other day. But this is the 1 he must take to heart: https://t.co/NyNGfKnukK
2 days ago

camluttrell Cameron Luttrell
Brad Sham, @Boys_Vox, the @dallascowboys play by play announcer is speaking to my journalism class right now. Follow along for live tweets
2 days ago

camluttrell Cameron Luttrell
There are 2 things no one can control but you. 1. How hard you work 2. Your attitude - @Boys_Vox #Cowboys #workhard
2 days ago

Jeff_Caplan Jeff Caplan
Can we just do this and be done with it? Report: All 30 teams, even the few poor schlubs lacking cap space, will pitch Kevin Durant.
2 days ago

espn_macmahon Tim MacMahon
Digging into the state of the Mavs at the break for much of the next 2 hours on @KESN1033 with @LandryLocker.
2 days ago

espn_macmahon Tim MacMahon
@BryanBroaddus Appreciate the insight. I obviously haven't studied him like you have but see a turbo version Brandon Jacobs.
2 days ago

espn_macmahon Tim MacMahon
@BryanBroaddus What don't you like about Derrick Henry for Cowboys?
2 days ago

Jeff_Caplan Jeff Caplan
Yeah, we'd be good with #Mavs F Chandler Parsons bringing back this childhood hairstyle. Definitely: https://t.co/IhRYKzECyK
2 days ago

Jeff_Caplan Jeff Caplan
Wait, Timmy's back? #Spurs https://t.co/VCQimU1SSp
2 days ago

andydalton14 Andy Dalton
If anybody in DFW traveling from 75-635 towards the airport finds 2 black suitcases on the road please contact me. Fell out bed of our truck
2 days ago

Jeff_Caplan Jeff Caplan
Dirk says he's 'never seen anything like' what #Mavs just finished... https://t.co/YjjLNlmhLD
2 days ago

espn_macmahon Tim MacMahon
A stat that might surprise you: DeMarcus Ware (4) had more playoff sacks as a Cowboy than Charles Haley (3.5).
2 days ago