NOWITZKI HAS MVP TROPHIES ON HIS RESUME

By Jeff Caplan
ESPNDallas.com
Archive
This is not an easy decision, but then, Hall of Fame selections are not supposed to be easy.
If one spot in the ESPN Dallas Hall of Fame is reserved for an active player, should it go to Dallas Stars legend Mike Modano? Or to Dirk Nowitzki, the greatest player to ever wear a Dallas Mavericks uniform?
Both are class acts. Both are all-time greats in their respective sports -- no American-born player has recorded more points than Modano; Nowitzki is on pace to crack the top six on the NBA's all-time scoring list in the next three seasons. Both led their teams to two championship appearances and delivered each franchise its only championship. Both are beloved by teammates and the community.
Both deserve it, and both will get in -- eventually. For now, there's room for only one, and Nowitzki gets my vote.
For starters, Nowitzki, I believe, owns two crucial accomplishments and one undeniable distinction that separate him from Modano for Hall of Fame inclusion.
The first accomplishment is winning a league MVP award, which Nowitzki earned for his 2006-07 regular season. The second is an NBA Finals MVP, which the 7-foot power forward won after the six-game elimination of the star-studded Miami Heat two months ago. While the Mavs' championship embodied team spirit, this was not a team drowning in All-Stars. It had one.
Modano did produce a team-high 23 points (five goals, 18 assists) in 23 playoff games en route to Dallas' only Stanley Cup, but it was current Stars general manager and 2011 Hockey Hall of Fame inductee Joe Nieuwendyk who was named the postseason's most valuable player on a team loaded with -- ahem -- star power at every position.
Nowitzki also can claim perhaps the crown jewel of sports dominance in a particular city -- revival and renaissance. Yes, Modano introduced North Texas to icing and the Zamboni, and a love affair certainly ensued.
While it took him longer to bring home the hardware, Nowitzki had the tougher assignment. He did the impossible, lifting a pulse-less franchise out of the dark decade of the 1990s and into an era of being a perennial contender.
Sure, give credit to owner Mark Cuban for opening his wallet and helping to change the culture, but it's the players who win games and it's the players whom fans pay big money to see.
The one constant for the Dallas Mavericks has been Dirk Nowitzki -- regular-season MVP, NBA Finals MVP, world champion and ESPN Dallas Hall of Famer.
Why postpone the obvious?
You've heard our takes; now give us yours. DISCUSS
MODANO BUILT FOUNDATION FOR HOCKEY IN TEXAS

By Richard Durrett
ESPNDallas.com
Archive
Before the puck even dropped for the first time at Reunion Arena in 1993, Mike Modano was the public face on a new sport in DFW.
The No. 1 overall pick by the Minnesota North Stars in 1988 arrived in Dallas as one of the NHL's superstars. But he immediately became more than simply an elite hockey player.
For all of Dirk Nowitzki's greatness, the best player in Mavericks history wasn't charged with introducing basketball to North Texas. Modano had to be an ambassador and teacher of his sport. Texas, the heart of football country, didn't know much about a sport played on ice.
Modano and the rest of the Stars' organization that transplanted from Minnesota made an immediate impact with a fan base that loved superstars. He won a Stanley Cup, led his team to numerous playoff appearances and broke scoring records for U.S.-born players. He is a lock for the Hockey Hall of Fame and could retire as early as this summer.
If the ESPN Dallas Hall of Fame had room for one active player, the spot would belong to Modano for his role in helping Texas embrace hockey.
Modano scored a career-high 50 goals that first season in Dallas as the Stars began to construct a franchise that would become a consistent force in the Western Conference. He went from a high-flying scorer to one of the better two-way players in the game when the defensive-minded Ken Hitchcock was hired.
No. 9 still tallied a bunch of points, but he also used his exquisite skating ability to control the flow of the game and prevent opposing teams from generating momentum.
He was the centerpiece on a team that would go on to win the Stanley Cup in 1999. Joe Nieuwendyk, now the club's general manager and one of the 20 finalists for the inaugural ESPN Dallas Hall of Fame, would win the Conn Smythe Trophy as playoff MVP. Eddie Belfour kept most of the pucks out of his net. But it was Modano whom fans loved because he was there from the beginning and played at a consistent level every season.
Modano broke Joe Mullen's record for goals by an American-born player on March 17, 2007, and passed Phil Housley for most NHL points by a player from the United States on Nov. 7, 2007. Former President George W. Bush called from Air Force One to congratulate Modano, who signed with the Detroit Red Wings last season after an emotional Dallas farewell.
And as Modano collected records and trophies on the ice, the sport was building a foundation in Dallas. More people packed Reunion Arena and later American Airlines Center, and more importantly, youth leagues popped up with more regularity. Now, Texan-born players are being drafted by NHL teams, something that seemed unlikely when the sport was born in this area nearly 20 years ago.
Modano deserves a lot of credit for that. A spot for No. 9 in an active wing of the ESPN Dallas Hall of Fame would be a fitting place for that new generation to pay homage.
LISTEN LIVE!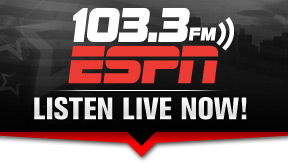 Want to sound off on today's Hot Button topic? Give us a call at 214-787-1033. Listen Live »