TONY ROMO SHOULD PLAY

By Tim MacMahon
ESPNDallas.com
Archive
It's one of Tony Romo's favorite lines from Bill Parcells: Football players play football during football season.
Count on the Cowboys' franchise quarterback playing football Monday night against the Redskins. And expect him to play well.
It's pretty simple logic for Romo. If he could fight through the pain Sunday in San Francisco, it certainly wouldn't stop him after a full week of medical treatment.
The Cowboys are confident that the small puncture in Romo's lung will be healed by the time the Redskins get into town. That makes Romo's status a matter of whether he can manage the pain of playing with a fractured rib.
Is there really any question about that? Of course not.
"I can't imagine it being any worse," Romo said nonchalantly when asked if he thought he might have to sit out a game.
Romo said that after wincing while putting on his socks in the visitors' locker room at Candlestick Park. That intense pain didn't prevent him from leading one of the most memorable Cowboys comebacks in recent memory. It didn't stop him from completing 12-of-15 passes for 201 yards and a touchdown in the fourth quarter and overtime as the Cowboys rallied from a 10-point deficit.
The pain hopefully won't be as excruciating Monday night. He'll have a full week of treatment, and the Cowboys' athletic trainers and equipment staff have time to come up with the best possible plan to protect Romo's ribs. He might get a pain-killing injection, which is stronger than the medication he took in San Francisco.
This isn't about Romo trying to prove how tough he is. It's about the pride he takes in doing his job and the importance he places on winning, especially for a team trying to rebound from a terrible season.
"It's really about a football player," coach Jason Garrett said. "It's about a competitor, and Tony is that. Tony is a football player. He's a great competitor, one of the best competitors I've ever been around. He just loves to play."
Even in pain.
TONY ROMO SHOULD NOT PLAY

By Calvin Watkins
ESPNDallas.com
Archive
Tony Romo was courageous for leading the Dallas Cowboys past the San Francisco 49ers in the Bay Area on Sunday afternoon. But Romo's injuries are worse than expected: It's more than a fractured rib; it's a small tear in his lung. It's common when you fracture a rib, but it's not common to play with one.
Romo should take a seat for the home opener against the Washington Redskins on Monday night.
This is not about adding to the legend that is Tony Romo. This is about living to fight another day.
The Cowboys most likely will be without wide receiver Miles Austin, and it's not known if Dez Bryant will play either. The offensive line is leaky with center Phil Costa still trying to recover from a knee injury and guard Bill Nagy dealing with a neck problem. Running back Felix Jones also isn't 100 percent as he recovers from a dislocated shoulder.
It's too risky.
If the lung has healed in a week's time, then fine: Let Romo play. If the lung hasn't healed, save him for the Detroit Lions the following week. You even could think about sitting Romo for two more games and bring him back after the bye week to take on the New England Patriots.
Given the health of the team, the best-case scenario for the Cowboys would be a 2-2 mark heading into the bye, and what team wouldn't take that?
Every game is important, especially in a 16-game season. But the Cowboys don't need the stress of Romo playing vs. the Redskins, who will look to take him out of the game.
It's not like the Cowboys have some scrub as the No. 2 quarterback. Jon Kitna has won 50 games in this league. While his career isn't as distinguished as some, Kitna is capable of leading. This team likes Kitna, and he likes them. And if Kitna is playing for one or two games at the most, great.
You don't have all your offensive weapons at 100 percent. It might be time to sit Romo, at least for this game.
You've heard our takes; now give us yours. DISCUSS
LISTEN LIVE!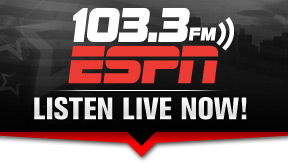 Want to sound off on today's Hot Button topic? Give us a call at 214-787-1033. Listen Live »