ALEXI OGANDO
MATT HARRISON

By Richard Durrett
ESPNDallas.com
Archive
The Texas Rangers could have a nice problem by the time the end of March arrives. With the signing of Yu Darvish, Texas has more starting pitchers than spots in the rotation. They aren't going to go with a six-man rotation, so unless someone is traded (possible) or gets hurt (see Tommy Hunter's groin last year), one of the current starters must be moved to the bullpen.
Alexi Ogando should be that guy.
This isn't because Ogando can't start in the big leagues. His All-Star selection after the first half of 2011 is proof that he can. But Ogando ran out of gas in the second half of the season and returned to the bullpen, where he was solid in 2010 (4-1, 1.30 ERA).
Ogando became a postseason force as a reliever. When he came in a game in the American League playoffs in 2011, he was almost unhittable. He allowed just one hit in 2 2/3 innings against the Tampa Bay Rays in the ALDS and then allowed one run (on a homer) on three hits in 7 2/3 innings in the ALCS against the Detroit Tigers. Ogando struggled in the World Series, but overall has shown an ability to get key outs late in games when it counts the most.
The Rangers still want to develop young players, but that must be balanced by the club's ability to contend for a third straight World Series appearance this season. Ogando can help the bullpen do that, by joining Mike Adams as a setup man for closer Joe Nathan. And moving Ogando to the bullpen in 2012 doesn't mean he can't start in 2013 or sometime in the future.
The club has already said they're committed to seeing whether Neftali Feliz can start. And they need to do that now to better assess his value going forward. Colby Lewis, Derek Holland and Darvish have secured their spots. That leaves Matt Harrison. To me, Harrison showed in 2011 that he's got a chance to be a solid, consistent left-handed starter for years to come. He won a career-high 14 games, pitched more than 185 innings and was able to bounce back from rough outings, which was a problem for him earlier in his career. Harrison's confidence is high as he enters 2012.
So leave Harrison in the rotation and let Ogando help make the bullpen better.
You've heard our takes; now give us yours. DISCUSS

By Tim MacMahon
ESPN.com
Archive
Yu Darvish's arrival means there won't be room for one of the other pitchers in the Rangers' starting rotation. That's a pretty nice problem for the Rangers to have.
Ron Washington has already pretty much given the ball to Colby Lewis for Opening Day. Derek Holland is fresh off a phenomenal second half capped by a masterpiece of a start in the World Series, the kind of performance that causes people to believe the 25-year-old is primed to be a top-of-the-rotation pitcher. A commitment has been made to convert Neftali Feliz from closer to starter.
That means the decision comes down to Matt Harrison or Alexi Ogando.
The easiest solution is just to make Ogando a setup man again. That worked during the Rangers' run to the World Series. But that doesn't make it the best move for the Rangers.
Ogando ran out of gas in the second half of his first season as a starter, but the dude was dominant before the break. Why give up on a potential ace so quickly? Why not bet that Ogando can build endurance and be an All-Star-caliber starter on a regular basis? After all, he earned a spot on the All-Star team by going 9-3 with a 2.92 ERA in the first half of the season.
Harrison is probably the safer pick for the rotation. He proved last season that he can certainly be a solid middle-of-the-rotation man, going 14-9 with a 3.39 ERA.
And a 26-year-old lefty coming off that kind of a season ought to have some significant value on the trade market. The Rangers should find out just how much value Harrison has over the next couple of months.
There are holes on the Rangers' roster even after two straight trips to the World Series. They could use an established center fielder. They could upgrade at first base (just not for the cost of $214 million over nine years).
Can a package headlined by Harrison get a quality player at one of those positions? The Texas front office needs to find out and let Ogando prove he can perform as an All-Star starter for the whole season.
LISTEN LIVE!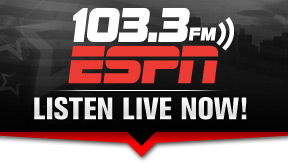 Want to sound off on today's Hot Button topic? Give us a call at 214-787-1033. Listen Live »