EXPECT RODDY TO DROP BUCKETS

By Jeff "Skin" Wade
ESPNDallas.com
"Ben & Skin Show"
With each new day in the sensational story that is Jeremy Lin it becomes increasingly difficult to take this position, and I'm not even sure I believe what I'm saying here. The Lin story has dumbfounded many of us who worship at the altar of hoop. And yes, I'm writing this only a few hours after Lin's game-winning 3-pointer in Toronto.
But I said this a week ago, so I'll stick with it for now -- even though I definitely have splinters all along my backside from this old wooden fence I'm sitting on. I think I'd still take Rodrique Beaubois over Jeremy Lin right now with no salary-cap implications or any other factors besides which player you would rather have.
I'm still trying to figure out what each of these players is. In the case of Lin, he's rising through the atmosphere at ludicrous speed, while Roddy B is flatlining on the Mavs bench collecting DNP-CD's. Part of the reason I was so hesitant to believe in Lin as some sort of mystical, messianic, ball-distributing hoops deity from a realm called the Ivy League is because of just how overhyped Roddy B was.
Mavs fans went nuts over Roddy's rookie résumé, which included highlight reel plays run specifically for him (The Roddy Oop), a 40-point night at Golden State in which he went 9-11 from behind the arc, and becoming the first rookie in NBA history to shoot at least 50 percent from the floor, 40 percent from 3-point range and 80 percent from the charity stripe. Then, he had a wasted year with a bum foot and lost confidence -- meanwhile the Mavs won a championship and his role mattered way less. Now he gets spot duty at a position he's not completely comfortable playing.
And then there's J Lin. You know the story -- I won't rehash it. It's mind-blowing. Problem is, I still have no idea if he really is something close to a consistent 20-and-8 guy or if he is Ramon Sessions -- a solid backup NBA point guard. If he's the 20-and-8 guy, then it's the nuttiest story in NBA history, right? What's close? I'm at a loss. Question is, do I believe what we're watching right now is in fact the greatest story ever? Probably not, right? Shrug, head-scratch, smile.
So for me the question is what do I think each of these guys will be consistently as opposed to what's going on right now? Keep in mind both are the same age. I still believe Roddy can be a dynamic combo guard off the bench akin to what Leandro Barbosa did in Phoenix, and on the super-high end something like Jason Terry in his bench role the past several years for Dallas. I don't see him as a point guard who runs a high-level, championship-caliber NBA team, but he could have a huge role for that type of team. I feel really confident in saying Lin can consistently be a Sessions type, but I doubt he's the next Steve Nash.
So if i had to gamble today, I'd still gamble on Roddy. Can I change my mind if dude is still dropping 20-summin and 8 every night in March?
You've heard our takes; now give us yours. DISCUSS
I'M GOING LINSANE

By Jeff Caplan
ESPNDallas.com
Archive
After his bedazzling rookie season, Rodrigue Beaubois' likeness was put on billboards in DFW, a superstar in the making.
After five games, performances of legendary proportion, Jeremy Lin is king of the back page.
"When you're on the back page," Mavs swingman and former New Jersey Net Vince Carter said, "it doesn't get any better than that in New York."
So which 23-year-old has the brighter future as an NBA starter? Give me Lin.
It's now six games, but the laughingstock New York Knicks of a week ago are 6-0 and suddenly have been catapulted into the playoff mix, "Lincredibly" doing it without superstars Carmelo Anthony and Amare Stoudemire.
This isn't about overreacting to Lin's amazing run (26.8 ppg, 8.5 apg) or diminishing it as some kind of "Linderella" story sure to go poof. Nor is it wise to prematurely judge Beaubois' development sabotaged by a fractured foot two summers ago.
This is about recognizing the 6-foot-3, 200-pound Lin's skills -- his vision, his strong floor game and his ability to penetrate, make athletic plays, anticipate, set up teammates and, above all, lead.
He's been doing it since winning a high school state championship in Palo Alto, Calif., and through four stellar years at Harvard.
As Kobe Bryant astutely pointed out after Lin dropped 38 points on the Lakers, it might only seem like Lin has come out of nowhere. The truth is the skill has been there. Not everyone saw it, or perhaps better yet, could come to acknowledge it.
Mavs president of basketball operations Donnie Nelson did as the lone NBA executive to offer Lin a summer league roster spot in 2010. Pac-10 schools have regretted not recruiting him, and in the past few days the two NBA general managers who dismissed him in December have expressed regret.
Warriors GM Larry Riley said, "I have egg on my face," and Rockets GM Darryl Morey tweeted: "Did not know he was this good. Anyone who says they knew misleading U."
Lin's high school coach Peter Diepenbrock knew.
"When he was a freshman in high school, he's telling seniors, 'You're supposed to go here, you're supposed to do this,' because he has just an innate feel for the game and a confidence in that feeling that he knows exactly what people should be doing, when they should be doing it and he's not afraid to speak his mind," Diepenbrock said that summer in Vegas, where Lin outplayed Beaubois and outdueled No. 1 pick John Wall. "The point guard, first and foremost, is a leader on the floor."
Lin's father, a Taiwanese immigrant, loved basketball and taught the game to his sons. They studied the NBA greats and attended Warriors games. The Lin boys devoured basketball.
Call me "Linsane," but my money's on Jeremy Lin.
LISTEN LIVE!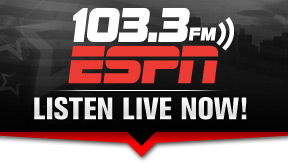 Want to sound off on today's Hot Button topic? Give us a call at 214-787-1033. Listen Live »
SherwoodStrauss

Ethan Strauss


Curry asked about Durant's comment regarding his defense: "I got a great teammate that's obviously a better... https://t.co/1Pbl6Opd7v
about 2 hours ago

royceyoung

Royce Young


Donovan: "The difference in the game to me was the fact they went to the free throw line 34 times."
about 3 hours ago

Jeff_Caplan

Jeff Caplan


Who thinks that??? https://t.co/N9GCypyvfk
about 4 hours ago

espn_macmahon

Tim MacMahon


@tomhaberstroh Weird. I posted that like 3 hours ago.
about 4 hours ago

espn_macmahon

Tim MacMahon


Yep, Draymond Green had nothing to do with Golden State winning title last year or 73 games this season. Good point. https://t.co/FCWfpSdVqS
about 5 hours ago

JJT_ESPNDallas

Jean-Jacques Taylor


yo, who do you think sent him bro? #SkyHigh #CalssOf85 #SoulPatrol #TraditionNeverGraduates https://t.co/fv7l5sXPdv
about 5 hours ago

jasonrmcintyre

Jason McIntyre


He took every big man off the dribble with ease this season, drives, step backs, all that. He can't do that now. https://t.co/ahsK1bs9RE
about 7 hours ago

espn_macmahon

Tim MacMahon


Steph Curry hits his last five launches from near the halfcourt logo before Game 5. https://t.co/oM5oSNgGHv
about 7 hours ago

JJT_ESPNDallas

Jean-Jacques Taylor


Profar, who's expected 2 be promoted when Odor starts suspension Fri, is hitting .284 w.5HR & 26 RBI. 16 BB & 26 K. .782 OPS
about 8 hours ago

JJT_ESPNDallas

Jean-Jacques Taylor


Odor gets 7G suspension instead of 8G after appeal, but he has free BBQ for life https://t.co/2ZRVDQUMg2
about 8 hours ago

espn_macmahon

Tim MacMahon


What happens to the Mavs if Mark Cuban becomes VP? He told @ESPNAndyKatz: https://t.co/vbzccpykKK https://t.co/nzv8irEsCh
about 9 hours ago

ItsSoccerVines

Soccer Vines


Messi Free Kick Challenge 😳🔥🙌🏽 https://t.co/6EiwhXLRPD
about 9 hours ago

MikeLeslieWFAA

Mike Leslie


Art Briles daughter, Staley Lebby, posts her thoughts on facebook about her father's firing at #Baylor. https://t.co/TbCq4iEGWS
about 9 hours ago

pinepaula

Paula Lavigne


Our original story from earlier this year: OTL: Women say Baylor ignored sexual assaults https://t.co/qwBvzG7ppq
about 10 hours ago

JJT_ESPNDallas

Jean-Jacques Taylor


Well.... https://t.co/2VvgX3vyxx
about 11 hours ago

JJT_ESPNDallas

Jean-Jacques Taylor


😂😂😂😂😂😂😂😂😂😂😂😂 https://t.co/1rcySq2eFa
about 11 hours ago

ESPNStatsInfo

ESPN Stats & Info


The Thunder have a small lineup of their own, and it has been the team's best combination against the Warriors https://t.co/Ez1Us7WFh2
about 12 hours ago

JJT_ESPNDallas

Jean-Jacques Taylor


Admit it, Russell Westbrook = Dez Bryant https://t.co/6wjoiOJ8hE
about 12 hours ago

ReidLaymance

Reid Laymance


Baylor football scandal timeline https://t.co/3PhG7LzTcn via @houstonchron
about 13 hours ago

townbrad

Brad Townsend


After reading Findings of Fact that "horrified" Baylor's Board of Regents, I'm nagged by another fact: Art Briles has two grown daughters.
about 14 hours ago