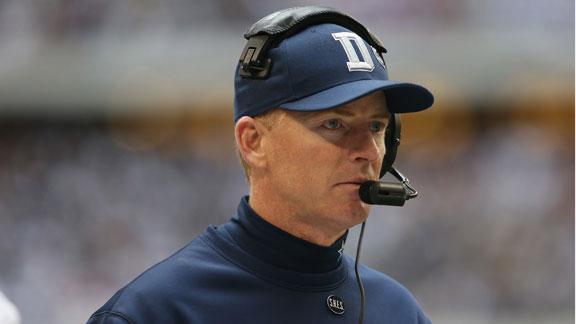 Is Garrett's job safe if Cowboys make playoffs?
Win and everything will be fine

By Todd Archer
ESPNDallas.com
Archive
Jason Garrett has been around the NFL for most of his life. He understands the business.
Win, and everything will be fine. Lose, and Garrett will hear about Jon Gruden, Lovie Smith or name-that-coordinator as the next possible head coach of the Cowboys.
Owner and general manager Jerry Jones opened the door for in-season changes when he promoted Garrett to take over for Wade Phillips midway through the 2010 season.
But if Garrett makes the playoffs this year, there should be no question about his job status in 2014.
When Garrett took over as Cowboys coach on a full-time basis in 2011, the Cowboys admitted they were in some sort of rebuilding or transition mode by changing out Andre Gurode, Marc Colombo and Leonard Davis along the offensive line.
The last two years have been about building the right way while still attempting to get in the playoffs. In each of his first two full seasons, Garrett put the Cowboys in position to win the NFC East title with wins in Week 17 only to lose both times (to the New York Giants in '11 and the Washington Redskins last year).
There is no question that Garrett made mistakes in 2011 and '12 that cost victories. He has gone through some on-the-job training. And he knows 8-8 is not good enough.
It is important that the Cowboys understand what they are and what they are not, and by that I mean Jones has to understand he has not put together the best of rosters for Garrett to coach. And, yes, I realize Jones will never take the general manager to task.
But the Cowboys should not be viewed as some sort of Super Bowl-or-bust team in 2013.
Despite the pronouncements of national media types who do not look at the full roster, this is not "one of the most talented teams in the NFL." The Cowboys have stars -- Tony Romo, Jason Witten, Dez Bryant and DeMarcus Ware -- and some on the way, like Sean Lee. But they need more. They did not add substantial free-agent help this offseason. They need young players to come through immediately to make up for the sins of past drafts. They need Monte Kiffin and Rod Marinelli to build a defense that makes plays when it matters most.
It's Garrett's job to put it all together and make that next step.
Making the playoffs would show progress after what Garrett did in 2011 and '12.
If the Cowboys do make the postseason with a team that has come through this rebuilding/transition time, what sense does it make to start over with a new coach, no matter what name you want to throw out there?
One misstep in playoffs is all it takes

By Ian Fitzsimmons
ESPNDallas.com
Archive
I once asked the great Lee Trevino if he still reads putts when he plays a round of golf. His answer: "HAAAEEELLL NAAAWWW!!!!"
That is the exact same answer and reaction I had when I was asked this Hot Button question. How can anyone (even Archer) truly believe that coach Jason Garrett's job is safe, even if he makes the playoffs this season? If you do believe that, have you considered the following: How did the Cowboys do once they got there? What if Dallas, after giving up a fourth-quarter lead, had the ball and was driving for a game-winning field goal or TD ... only to have Garrett suffer a Princeton brain lock and mismanage the game clock (again) so the Cowboys lose (again).
Remember what Garrett pulled against Arizona two years ago? Against Baltimore last season?
Would his job still be safe? Exactly. I think I hear Lee Trevino.
How about this scenario. The Cowboys make the playoffs -- which would be a miracle -- and then are one-and-done without any drama or game mismanagement in crunch time. They just lose. Maybe they even win a game and get bounced in the next round. To me, that still doesn't lock up Jason Garrett for another year.
I hear you screaming. Wondering what the heck I'm thinking. Well, I am thinking of one name. That name: Jerry Jones.
Remember him?
He's the guy who got cross with Jimmy Johnson after two Super Bowls and ran him out of the Metroplex. Jerry is the guy who admits to pulling the trigger too quickly on Chan Gailey and not quickly enough on Wade Philips. He's the man who changes his mind on how he feels about his current head coach from the Senior Bowl to the NFL combine to last week in an interview on the NFL Network. The same man who repeatedly attempts to justify paying a quarterback who has a record of 17-21 since 2009 more than $100 million.
Do you really believe you can predict what Jerry Jones is going to do when it comes to his -- and believe me, they are his -- Dallas Cowboys?
If you think just making the playoffs is good enough and justifies that kind of cash being paid to that QB from that owner, then you are living in a fairy-tale world, and please be sure to give Cinderella my number.
I think I just heard Lee Trevino being asked again to read a putt.