Rangers after catcher J.P. Arencibia
The Texas Rangers are negotiating with free-agent catcher J.P. Arencibia on a deal that would make him the team's backup catcher, a source confirmed late Thursday.
Arencibia, who turns 28 in January, was nontendered by the Toronto Blue Jays earlier this week, becoming a free agent. The Rangers had expressed interest in Arencibia even before he was nontendered, liking his power.
More Texas Rangers coverage

For more news, notes and analysis of the Rangers, check out ESPN Dallas' Rangers Report. Blog
In 2013, Arencibia hit just .194 and posted a .227 on-base percentage, which would have been the lowest in the majors had he qualified. Despite the low average, Arencibia still managed 21 homers (second among all catchers) and 55 RBIs.
Perhaps going to Rangers Ballpark in Arlington could help the right-handed hitter's power numbers even more. Arencibia struck out 148 times and walked just 18 times. But the power has been fairly consistent. He's averaged 20 homers in his three full major league seasons after showing power in the minors, as well.
The Rangers signed Geovany Soto earlier this offseason and named him the primary catcher. They explored other options, but didn't want to pay the high prices for catchers such as Brian McCann and Carlos Ruiz.
In the past week, a gaggle of other catchers have been signed -- Jarrod Saltalamacchia (Miami Marlins), A.J. Pierzynski (Boston Red Sox) and Dioner Navarro (Blue Jays) -- and the Rangers are working toward figuring out their catching situation.
General manager Jon Daniels was asked about the position Wednesday as he met with the media prior to the winter meetings.
"We're looking for the best all-around fit," Daniels said. "We place a high value on durability. If Geo went down, we would want somebody who could step in and be an everyday guy."
Daniels made it clear that Soto would be the starter and that he would likely start at least 100 games, though nothing is set in stone. But with Arencibia, the Rangers would add someone who has power and, they hope, the ability to bounce back from a rough 2013 at the plate.
Fox Sports first reported the two sides were working toward a deal.
ESPNDallas.com
Richard Durrett joined ESPNDallas.com in September 2009. He writes about colleges, the Dallas Stars and the Texas Rangers. Richard spent nine years at The Dallas Morning News covering the Rangers, Stars, colleges, motorsports and high schools.
MLB ON ESPN.COM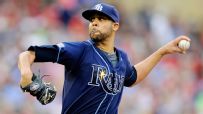 Trade Deadline Rumblings: Why the Rays will wait another week to decide David Price's fate.