Derek Holland blames dog for fall
A Chicago Cubs curse could fit the bill if Texas Rangers fans are looking for something to blame for Derek Holland's knee injury, which likely will keep him out until midseason.
It was Holland's dog, Wrigley, a boxer, who caused the starter to buckle on the stairs of his home and injure his left knee badly enough that he needed arthroscopic surgery Friday morning to repair torn cartilage.
"He was running up the stairs and clipped me," Holland said Saturday. "I hit my knee on the step, and if it wasn't for me grabbing the rail, I might have fallen all the way down the stairs and cracked my head open."
More from ESPN.com

Richard Durrett asks whether the Rangers should go all in on star pitcher Masahiro Tanaka after losing Derek Holland to injury. Blog

Holland was adamant that playing hockey, which he does at times during the offseason, had nothing to do with the injury. He said he played Monday night, but was fine Tuesday before the accident happened.
"I'm getting tired of the assumption that I hurt myself playing hockey," Holland said. "I played the full game and was fine."
Holland said it was a recreational league and that hitting is not allowed.
Holland, 27, repeatedly talked about the frustration he feels about not having an opportunity to play the full year after making all 33 of his scheduled starts in 2013.
Holland had a solid season, putting up a career-high 213 innings and a career-best 3.42 ERA.
"It was just a freak accident, and it stinks. That's what happened," Holland said. "For me personally, it's a big blow. I was very excited to get back with the guys and start the season. I felt like my offseason was great. I had what I thought was a good season last year and wanted to build off it.
"An accident like this, it crushes me."
Holland admits that he's talked with Rangers sports psychologist consultant Don Kalkstein this week and is making sure to keep his "mind right." But he said he's focused on his rehab, which already has begun.
"I did range of motion today and felt good," Holland said. "I'm hoping I can come back sooner than what they're saying. That's just a reference. We'll see how things go."
ESPNDallas.com
Richard Durrett joined ESPNDallas.com in September 2009. He writes about colleges, the Dallas Stars and the Texas Rangers. Richard spent nine years at The Dallas Morning News covering the Rangers, Stars, colleges, motorsports and high schools.
MLB ON ESPN.COM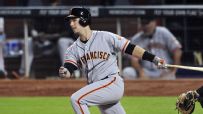 Buster Posey must play a key role for the Giants in the second half.