Rangers apologize for statue trash
Updated:
April 1, 2014, 1:45 AM ET
By
Richard Durrett
| ESPNDallas.com
ARLINGTON, Texas -- The Texas Rangers have issued an apology for the trash that accumulated on the "Rangers Fans" statue as fans entered on Opening Day.
The statue, which honors all Rangers fans with a depiction of the late Shannon Stone and his son, Cooper, had beer cans and other items pile up on it prior to Monday's game. A picture circulated on various social media sites showing the trash.
Stone died at the ballpark in 2011 as he tried to reach for a ball thrown to him by Josh Hamilton as a souvenir and fell over the railing in the outfield. His son, Cooper, was with him at the game. The statue was unveiled prior to the 2012 season.
"The Rangers certainly regret and apologize for the trash that accumulated on the Rangers Fans statue at the home plate gate this afternoon," the Rangers said in a statement.
"With thousands of Opening Day fans, many of whom had been tailgating, entering the park in the 30 minutes before game time, large amounts of cans, bottles, and other items that are prohibited in the park, accumulated at all entrances.
"Numerous clean up calls came into the maintenance department in this period, and the club utilized a large number of employees to continually remove the vast amount of trash that was accumulating."
The apology was posted to the club's Twitter account, along with a promise to ensure it doesn't happen again.
The debris on the statue was removed in a timely manner but it should not have been allowed to be placed there in the first place. Cont.

- Texas Rangers (@Rangers) April 1, 2014
The Rangers Fans statue is a cherished component of the ballpark & the club will make certain this situation does not occur in the future.

- Texas Rangers (@Rangers) April 1, 2014
MLB ON ESPN.COM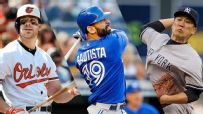 Which of the five teams in the AL East have the ability to reach the postseason in 2015?