Rangers put Geovany Soto on DL
NEW YORK -- The Texas Rangers' projected opening day catcher is on the shelf again.
Geovany Soto was placed on the 15-day disabled list Tuesday afternoon with tightness in his right groin. Soto suffered the injury running the bases in Monday's 4-2 victory over the New York Yankees.
Soto started the season on the DL when he underwent surgery to repair a torn lateral meniscus cartilage in his right knee in spring training.
"It's frustrating," Soto said. "I was out with the knee surgery and to comeback work, really, really hard to come back and do everything and more to be ready, it's frustrating. All I can do is do whatever the doctors tell me to do and work hard and come back. Some things you can't control."
Last weekend, the Rangers had four catchers on the active roster.
Manager Ron Washington said Robinson Chirinos and Chris Gimenez will be the main catchers with J.P. Arencibia serving as the emergency catcher. Arencibia will mainly play first base the rest of the season.
"Feel real bad, he worked his butt off to get back and he was starting to be productive for us," Washington said of Soto, who hit .364 in four games with three starts at catcher. "And he's done a great job with our pitching staff since he's been back. It's going to be a blow."
ESPN.com
Calvin Watkins covers the Houston Rockets and the NBA for ESPN.com. He joined ESPNDallas.com in September 2009. He's covered the Dallas Cowboys and Texas Rangers as well as colleges, boxing and high school sports.
MLB ON ESPN.COM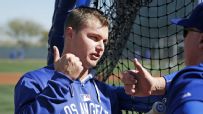 Is rookie Joc Pederson ready to be the Dodgers' center fielder?