Commentary
Rotation dip leaves Rangers vulnerable
With Angels up next, starters' sudden downturn threatens Texas' hold on first place
ARLINGTON, Texas -- Another game, another raggedy pitching performance from the Texas Rangers' rotation.
For the third consecutive game, the Boston Red Sox whacked one of the starting five. This time, it was Alexi Ogando, who allowed four homers in four innings in a 6-0 Boston win Thursday. On Wednesday, the Red Sox bashed Matt Harrison, and Tuesday they beat up Colby Lewis.
[+] Enlarge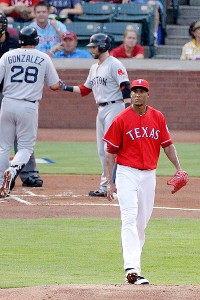 AP Photo/Tony GutierrezAlexi Ogando allowed four home runs -- two to Adrian Gonzalez -- in four innings Thursday. The Rangers allowed 30 runs in the past three games against Boston.
The ugly numbers? Try 30 runs and 39 hits in the past three games.
Ridiculous.
The Rangers' lead in the American League West has been sliced to two games, and if this troubling trend of sorry starting pitching doesn't reverse itself this weekend, the Los Angeles Angels will leave town in first place.
The teams begin a three-game series Friday night.
The Rangers have one of baseball's best lineups and a bullpen that was fortified at the deadline. Their rotation has been good much of the season, regularly turning in quality starts. Each of their starters has at least 10 wins.
That said, the rotation gave the team no chance to compete against Boston after starting the series with a 4-0 win. In the past three games, the Rangers trailed by a total of 15-0 after the first three innings.
The Rangers' lead in the AL West reached an apex of six last week after taking three of four games against the Angels in Anaheim.
Then the Angels were reeling. Now, they're baseball's hottest team with six consecutive wins.
As you would expect, the Rangers have downplayed this series against the Angels all week with their one-game-at-a-time talk. Well, Angels manager Mike Scioscia hasn't, which is why he still hasn't named his starters for Saturday and Sunday.
He senses the Rangers' vulnerability -- who wouldn't? -- and he sees an opportunity for his team to apply pressure to Ron Washington's club. Thus, he's probably going to use Jered Weaver and Ervin Santana this weekend on three days' rest.
Scioscia wants to see whether the Rangers can beat his top three pitchers since they missed Dan Haren, who's scheduled to pitch Friday, last week.
"It's a big series, no doubt about it," Washington said. "I have no reaction at all to them starting their guys on three days' rest.
"Scioscia's club never dies. They never will. They're going to battle all season, and he has some pitchers to throw out there."
Still, this is an opportunity for the Rangers to put some doubt in the Angels' clubhouse, while proving their series win last week was no fluke. And it's a chance for the Rangers to create some much needed momentum heading into the final month of the season.
But it's not going to happen if everyone not named C.J. Wilson doesn't pitch better.
In this past time through the rotation, the Rangers have yielded double-digit runs three times. Starters not named Wilson have allowed 34 hits in 18.1 innings with an ERA of 12.29.
That's absurd.
You can look for excuses, if you want. They're easy to find.
The heat. The schedule. Arm fatigue.
Whatever.
More Texas Rangers coverage

For more news, notes and analysis of the Rangers, check out ESPN Dallas' Rangers Report. Blog
This club has established a new standard for itself after getting to the World Series last season. The Rangers are supposed to be among the best teams in baseball, and it's time for them to start playing like it again.
These are called the dog days of August for a reason. Everyone is tired. Everyone has aches and pains.
This part of the season is all about mental toughness. It's about the mind controlling the body and demanding that it perform.
This is about the kids in the rotation -- Harrison, Ogando and Derek Holland -- proving they can handle the physical stress and mental strain of a playoff race. The Rangers have even discussed using a spot starter to give one of the young pitchers extra rest.
This series against the Angels won't determine which team wins the division because there's still a month of baseball to play, but when it ends we'll have a much better gauge of whether the Rangers are about to take us on another magical playoff journey.
It begins and ends with the starting rotation.
Wilson is leading the way. The rest of the starters must follow.
Jean-Jacques Taylor is a columnist for ESPNDallas.com.

ESPNDallas.com
Jean-Jacques Taylor joined ESPNDallas.com in August 2011. A native of Dallas, Taylor spent the past 20 years writing for The Dallas Morning News, where he covered high schools sports, the Texas Rangers and spent 11 seasons covering the Dallas Cowboys before becoming a general columnist in 2006.