Commentary
Rangers winning most bets they place
Judging by results on the field, smart money says Texas made right call on Yu Darvish
Updated:
December 20, 2011, 12:09 PM ET
By
Richard Durrett
| ESPNDallas.com
Can't you just picture Texas Rangers general manager Jon Daniels at the featured table at a World Series of Poker event? He'd have his sunglasses on and would seem relaxed, even crack a joke or two -- though none involving something about being one strike away twice. Sitting in front of him would be a big stack of chips and he'd be the guy always willing to at least see the blind before considering folding even with a hand that might appear lackluster (Texas will talk to any agent, discuss any player and poke around on any deal it thinks could lead to something that makes the club better).
But good luck getting any kind of read on the cards he's holding.
[+] Enlarge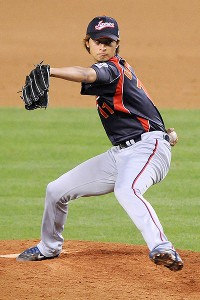 Kirby Lee/Image of Sport/US PresswireThe Rangers won the right to negotiate with Japanese star pitcher Yu Darvish for the next 30 days.
The Rangers won a baseball pot of sorts Monday, paying handsomely -- sources said it was around the $51.7 million total that was first reported by Yahoo! Sports -- for the right to negotiate with Japanese star pitcher Yu Darvish for the next 30 days. Whether they "won," won't fully be determined until we see if Darvish lives up to all the hype. Ask the Boston Red Sox.
But Monday illustrates what we've discovered the past two offseasons: That the Rangers have the cash to compete in the free-agent market. No longer is Daniels simply playing Texas Hold 'em with prospects as chips.
He's got the green stuff, too.
And if the past four seasons are any indication, Daniels and his staff have a tendency to win most of the bets they place.
Daniels played the process like a poker pro. He stayed quiet and the club downplayed its interest. The Rangers talked about focusing on retaining their core players and how that was going to be the bulk of their escalating payroll. They barely mentioned Darvish by name. Then they shoved all the chips to the middle of the table to get him. Well, many of them anyway.
The Rangers' tact during the process makes sense. Why broadcast to the baseball world that you're interested in Darvish? Don't give another team -- the Toronto Blue Jays or the always lurking "mystery team" -- any clue that you're willing to go big for Darvish and maybe give them incentive to increase their bids.
Was the bid a reaction to the Los Angeles Angels' signings of Albert Pujols and C.J. Wilson the same day that Darvish announced he was going through the posting process?
Not necessarily, Daniels said.
"Our commitment from ownership and management is to put the best possible team out there," Daniels said late Monday night. "We've had success the past couple of years and haven't been able to close it out, and that's our goal."
Projecting Darvish
Using his ZiPS projection system, Dan Szymborski projected Yu Darvish's next five seasons with the Texas Rangers.
More on Darvish


Law: Darvish No. 3 free agent
Szymborski: What is Darvish worth?
Coskrey: Yu's big adjustment
Newman/Sarris: Money better in Japan?
| YR | W | L | ERA | BB | K | WAR |
| --- | --- | --- | --- | --- | --- | --- |
| '12 | 13 | 7 | 3.62 | 46 | 169 | 4.5 |
| '13 | 13 | 7 | 3.55 | 44 | 167 | 4.7 |
| '14 | 13 | 7 | 3.52 | 42 | 163 | 4.6 |
| '15 | 12 | 6 | 3.54 | 39 | 153 | 4.3 |
| '16 | 11 | 6 | 3.46 | 38 | 150 | 4.3 |
The Rangers have scouted Darvish for three years and saw nearly all of his games this past season. They were interested long before Pujols and Wilson headed to the West Coast. But you would think the Angels' moves helped convince management to up the offer, wouldn't you?
Texas felt Darvish was the top pitcher on the market, so it paid the steep price to get him. The Rangers may not be the Red Sox or New York Yankees when it comes to payroll, but they have a large enough checkbook that when Daniels, CEO Nolan Ryan and the front office staff think it's worth it, they're willing and able to go "all in."
In a sense, that's what Daniels & Co. did with Darvish. They are banking that Darvish is an ace, or at the very least a king that gives them the winning hand next October -- and Octobers to come.
The club also must believe that Darvish becomes a member of their core, much like Adrian Beltre did last year when he signed a large contract. The possible signing causes other ripples: Will ownership have enough money to sign the rest of the club's core in future years, which would mean a further increase of the payroll? If not, which member of the core won't be here long term? Does this hurt the team's ability to re-sign Josh Hamilton? Those are questions Daniels has likely already thought about and will have to deal with soon.
"Our mentality stays the same," Daniels said. "We would like to keep this group together."
But for now, the Rangers have the chance to sign a pitcher who would slot into the front end of their starting rotation, making them more competitive in 2012. Depending on which scout you talk to, Darvish has the stuff and makeup (one scout told me he was a "true competitor and very driven" to succeed) to be a No. 1 pitcher for years in the majors. Others think maybe a No. 2. The truth: No one knows for sure.
Texas is confident enough to spend more money on Darvish than the Angels did on Wilson, a guy the Rangers knew better than anyone. Why? Perhaps one reason is age. The 6-foot-5 Darvish is 25. A five- or six-year deal would take him to his early 30s, where Wilson is now.
SN: Yu Darvish to Texas!
As the Rangers win the Yu Darvish bidding war, ESPNDallas.com's Richard Durrett takes your questions.
• Chat wrap
But this is also a case of Daniels betting on his scouts. The Rangers have worked hard the past five years to build their presence in the Pacific Rim. And Daniels himself flew overseas to see Darvish pitch.
They made the right call on Colby Lewis, whose improved pitching in Japan was able to translate to the majors -- not to mention his durability.
Several scouting reports say Darvish throws his fastball around 95 mph, and has a two-seamer, slider, curve, cutter and even a few more pitches in his vast repertoire. He struck out a lot of batters in Japan, didn't walk many and induced plenty of ground balls. That's a mixture for success, especially at Rangers Ballpark in Arlington.
Texas will hope that the Darvish they saw in Japan is the one who takes a mound in Surprise, Ariz., this February, assuming a deal is worked out in the next month.
Daniels and his staff have proved the past few years that they can evaluate talent and make shrewd investments. They also aren't afraid to take a risk. They've evaluated and taken a risk here. If they made the wrong call, the financial commitment could haunt them for years. If they're right, maybe Darvish is the final piece for a team trying to get back to a third World Series and finally win it.
Judging by the results on the field and the moves of the front office the past few years, the smart money says the Rangers made the right call here. We'll see.
Richard Durrett covers the Rangers for ESPNDallas.com.