Commentary
Top 40 Texas Rangers of all time
There was nothing easy about coming up with the top 40 Texas Rangers of all time in conjunction with the team's 40th anniversary in Arlington.
Sure, there are some obvious names. But when you're talking about four decades of baseball -- even if the club wasn't in contention most of those years -- it's difficult to pare down the list. So there were some worthy players left out.
40 Greatest Rangers Of All Time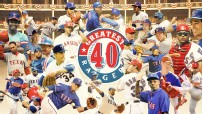 For the team's 40th anniversary in Texas, we present the 40 all-time greatest Rangers.
Greatest Rangers gallery


Rank the top 20

Blog »
The criteria for determining the top Rangers included the impact made on the field and off. It's weighted heavily toward on-field accomplishments, but the commitment many have made to the Rangers off the field after their playing days were over had to be considered. And you had to wear a uniform to be on the list.
With that in mind, our choice for No. 1 shouldn't surprise anyone. Nolan Ryan not only drove up ticket sales every time he pitched in Arlington in the late 1980s and early 1990s, but he returned to the organization in 2008 and helped bring about the club's rise to one of the American League's powers. It was Ryan who hoisted the AL championship trophy at Rangers Ballpark in Arlington after ALCS wins against the New York Yankees in 2010 and the Detroit Tigers in 2011.
I can't think that No. 2 will bother Rangers fans, either. For many, the first player who comes to mind in a Rangers uniform is Pudge Rodriguez, who made 10 consecutive All-Star appearances, including nine starts. He won 10 straight Gold Gloves and helped anchor a Rangers club that won three AL West crowns in the late 1990s.
But the biggest common thread on our list is the number of current Rangers who appear on it. That's what happens when the club is in the middle of its best years. The key players and manager Ron Washington are all over this top-40 list because they were critical in getting the club to two consecutive World Series.
Who's missing from our list? Who is ranked too high or too low? Should Josh Hamilton be No. 3?
Put together your top Rangers and let us know why you ordered them the way you did.
ESPNDallas.com
Richard Durrett joined ESPNDallas.com in September 2009. He writes about colleges, the Dallas Stars and the Texas Rangers. Richard spent nine years at The Dallas Morning News covering the Rangers, Stars, colleges, motorsports and high schools.