Rangers hire Ivan Rodriguez
SURPRISE, Ariz. -- Ivan "Pudge" Rodriguez has officially joined the Texas Rangers organization in a front-office position.
The Ben & Skin Show
Jim Bowden joins Ben and Skin to talk about Rangers spring training and some interesting trade scenarios.
Rodriguez, who spent the first 12 seasons of his 21-year career with the Rangers, will hold the title of special assistant to the general manager, instructor and ambassador.
It means Rodriguez, a 14-time All-Star catcher, will not only help instruct the catchers throughout the organization (assisting catching coordinator Hector Ortiz), but he will also be involved in aspects of the business side of the club.
"He came down with us to the Dominican last month with our scouts and developmental folks, and I give Pudge credit, he jumped right in," Rangers general manager Jon Daniels said. "He was there first thing in the morning and stayed all day. He watched a lot of the players. You could tell he has a passion for helping players. He's going to be a good resource for us.
More Texas Rangers coverage

For more news, notes and analysis of the Rangers, check out ESPN Dallas' Rangers Report. Blog
"Obviously, one of the great Rangers of all time, probably a future Hall of Famer -- he wanted to get back in the game, and it's pretty obvious he should do that with the Rangers."
Rodriguez caught a major league record 2,427 games over 21 seasons. He helped Texas win American League West titles in 1996, 1998 and 1999 and was the 1999 AL MVP with a .332 average, 35 homers and 113 RBIs. Rodriguez won 13 Gold Gloves in his career, 10 with the Rangers.
Rodriguez said he is looking forward to a new chapter in his baseball life.
"We have a great organization, great young players," he said. "I'm excited to help them. It's going to keep me in the game. Even though I'm not in between the lines, I'll be in baseball in other ways by coaching, working with the kids, working with the front-office guys. As long as I'm in baseball, I'm OK with it."
ESPNDallas.com
Richard Durrett joined ESPNDallas.com in September 2009. He writes about colleges, the Dallas Stars and the Texas Rangers. Richard spent nine years at The Dallas Morning News covering the Rangers, Stars, colleges, motorsports and high schools.
SPRING 2013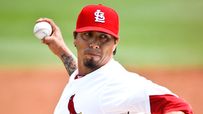 SPRING TRAINING
BBTN 500
WORLD BASEBALL CLASSIC
OTHER LINKS