Bud Selig: Stricter drug penalties
Updated:
March 2, 2013, 7:23 PM ET
By
Ron Matejko
| Special to ESPNDallas.com
SCOTTSDALE, Ariz. -- Commissioner Bud Selig announced Saturday that he is making a push for stricter punishments in the joint drug-testing program between Major League Baseball and the players' association.
Timeline of MLB's Drug-Testing Rules
• Aug. 30, 2002: Players and owners announce a CBA that includes a joint drug program for the first time since 1985. The deal calls for a survey urine test for banned steroids in 2003 and '04, and if more than 5 percent of tests are positive in a year, for testing with penalties to start the following year and continue until less than 2.5 percent test positive in two straight years combined.
• Nov. 13, 2003: MLB says between 5 and 7 percent of 1,438 anonymous tests were positive for steroids, triggering the start of testing with penalties in '04. A first positive test results in treatment and a second in a 15-day suspension without pay or fine of up to $10,000. Penalties increase to a 25-day suspension or fine of up to $25,000 for a third positive test, a 50-day suspension or fine of up to $50,000 for a fourth and a one-year suspension or fine of up to $100,000 for a fifth.
• Jan. 13, 2005: Under pressure from Congress, players and owners announce a new drug agreement in which first offenses result in a 10-day suspension, second violations in a 30-day ban, third in a 60-day penalty and a fourth in a one-year ban. Fifth violations are subject to discipline by commissioner.
• Nov. 15, 2005: Still under pressure from Congress, players and owners announce a new drug agreement in which first offenses result in a 50-game ban, second in 100-game bans and third in lifetime bans. Many stimulants are banned for the 2006 season.
• April 22, 2008: Following the Mitchell Report, players and owners adopt recommendations that the drug program's Independent Program Administrator be appointed for a multiyear term, be removed only in narrow circumstances and issue annual public reports. Random urine testing increases.
• Nov. 22, 2011: Players and owners agree to blood testing for HGH during spring training in 2012.
• June 7, 2012: Players and owners agree to add HGH blood testing during spring training, during the offseason and for reasonable cause. Random urine testing is increased, players suspended before the All-Star Game become ineligible for election or selection to the game and collection rules are modified.
• Jan. 10, 2013: Players and owners agree to HGH blood testing throughout the regular season and to have the World Anti-Doping Agency lab keep records of each player, including his baseline ratio of testosterone to epitestosterone.
-- Associated Press
Selig cited last season's suspension of Melky Cabrera and the recent report of players allegedly seeking performance-enhancing substances through the Biogenesis facility in South Florida as evidence that tougher punishments are needed.
This development comes on the heels of the joint announcement in January that MLB would become the first professional sports league to blood test randomly for human growth hormone during the regular season.
"I have been interested in stiffer penalties for some time," Selig said.
"We've made meaningful adjustments to our testing, and it is time to make meaningful adjustments to our penalties."
Selig said there were only five positive tests of the more than 5,000 conducted last season.
The new penalties are intended to deter the small number of those who still don't see the current ones as harsh enough.
"I don't know if we can ever get to zero; there will always be somebody out there," Selig said. "For a very small percentage of people it hasn't served for as much of a deterrent as I think it should."
Selig also said recent comments made by MLBPA executive director Michael Weiner, who stated the topic of stricter punishments should be addressed, indicated both sides are in agreement.
"The players have been discussing whether changes in the penalties are warranted since the offseason," Weiner said during a telephone interview Saturday.
"As I've said throughout spring training, there's a variety of player views on this subject. In fact, during the offseason we suggested to the commissioner's office the possibility of differential penalties, namely advanced penalties for certain intentional violations but reduced penalties for negligent violations.
"That format was not of interest to MLB at that time. We look forward to ongoing negotiations over the drug program, but any change in the penalties would be a 2014 issue. It would be unfair to change the drug-testing rules now that the 2013 program has begun to be implemented."
Weiner and MLB executive vice president Rob Manfred will engage in discussions to determine the specifics for the proposed new punishments.
Selig didn't offer a target date for implementation but said he would like to see something accomplished as soon as possible.
Selig also said he had ideas for what he would like to see for stricter punishments but wouldn't offer specifics.
He did say, however, that he believes a tougher penalty for first-time offenders is necessary.
Since 2006, initial infractions result in a 50-game suspension and second offenses in a 100-game ban. No player has been penalized a third time, which results in a lifetime suspension.
Information from The Associated Press was used in this report.
SPRING 2013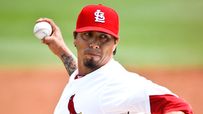 SPRING TRAINING
BBTN 500
WORLD BASEBALL CLASSIC
OTHER LINKS