MLB suspensions for 12, reports say
Updated:
August 5, 2013, 3:12 PM ET
ESPN.com news services
Major League Baseball and 12 players have agreed to 50-game suspensions for their roles in the Biogenesis case, multiple media outlets reported Monday, with the harshest penalty, against Alex Rodriguez, set to be handed down in the afternoon.
Fitzsimmons and Durrett
Fitzsimmons and Durrett discuss the latest on Nelson Cruz's 50-game suspension.
Rodriguez will be suspended through the end of the 2014 season in an announcement to come at 3 p.m. ET, sources told ESPN's T.J. Quinn. Rodriguez is expected to appeal and will be allowed to play until his appeal is heard.
The players' union made a late appeal to MLB for a deal for Rodriguez but was told there would be no more negotiations. He will be punished under the Joint Drug Agreement and other areas of the league's collective-bargaining agreement but will be allowed to play while he appeals.
The other players, initially confirmed by FoxSports.com, who have agreed to the suspensions without the right to appeal are:
[+] Enlarge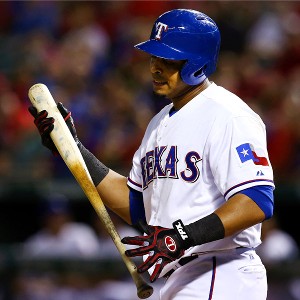 Tom Pennington/Getty ImagesRangers All-Star outfielder Nelson Cruz was among 12 players who agreed to 50-game suspensions for their roles in the Biogenesis case.
• Nelson Cruz, Rangers outfielder
• Everth Cabrera, Padres shortstop
• Jhonny Peralta, Tigers shortstop
• Antonio Bastardo, Phillies reliever
• Francisco Cervelli, Yankees catcher (on DL)
• Jordany Valdespin, Mets outfielder (minors)
• Jesus Montero, Mariners catcher (minors)
• Cesar Puello, Mets outfielder (minors)
• Sergio Escalona, Astros pitcher (minors)
• Fernando Martinez, Yankees outfielder (minors)
• Fautino De Los Santos, free-agent pitcher
• Jordan Norberto, free-agent pitcher
Beyond Rodriguez, the suspensions come with potentially stiff consequences for at least two of the players and their teams. Cruz, Cabrera and Peralta were each All-Stars this season, with Cruz's Rangers and Peralta's Tigers contending for playoff berths.
Milwaukee outfielder Ryan Braun was the first player to reach an agreement with MLB on a suspension for his connection to the Biogenesis case. The 2011 NL MVP accepted a season-ending 65-game suspension last month.
SportsNation: Biogenesis suspensions

Nelson Cruz and Jhonny Peralta have accepted 50-game suspensions. If you were in their shoes, would you have appealed? Cast your votes!

The Yankees have said they expect Rodriguez to be accused of recruiting other athletes for the clinic, attempting to obstruct MLB's investigation and not being truthful with MLB in the past when he discussed his relationship with Dr. Anthony Galea, who pleaded guilty two years ago to a federal charge of bringing unapproved drugs into the United States from Canada.
The Yankees also expect Rodriguez to be eligible to play Monday night, sources told ESPN The Magazine's Buster Olney, because they expect his suspension to be tied solely to a drug-policy violation and thus eligible to be appealed.
Evan Longoria, the Tampa Bay Rays' three-time All-Star third baseman, weighed in on the news of the suspensions via Twitter:
Today is a sad day for MLB,the fans of this great game, and all players who may have been negatively affected by others selfishness...

— Evan Longoria (@Evan3Longoria) August 5, 2013
Ultimately, although today will be a day of infamy for MLB, it is a tremendous step in the right direction for the game we love.

— Evan Longoria (@Evan3Longoria) August 5, 2013