Ray Davis to represent Rangers
Ray Davis was unanimously approved by Major League Baseball owners Thursday as the "control person" for the Texas Rangers.

Davis
It means that Davis will represent the ownership group and the club at various meetings throughout the year. That was the role Nolan Ryan handled until he resigned as CEO on Oct. 31.
Davis, a co-chairman of the team's board, said last month that he would handle representation of the club at meetings for a few years and then Bob Simpson, also co-chairman, would do it for a few years.
Davis and Simpson were the two biggest financial backers when the team was purchased at auction in 2010 by a group put together by Chuck Greenberg.
Ryan was the public face of that ownership group and served as CEO until deciding to leave the organization and sell his stake last month.
ESPNDallas.com
Richard Durrett joined ESPNDallas.com in September 2009. He writes about colleges, the Dallas Stars and the Texas Rangers. Richard spent nine years at The Dallas Morning News covering the Rangers, Stars, colleges, motorsports and high schools.
MLB ON ESPN.COM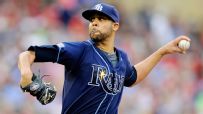 Trade Deadline Rumblings: Why the Rays will wait another week to decide David Price's fate.