Chris Broussard gets Pop'd
Updated:
December 13, 2013, 6:04 PM ET
By
Adam Reisinger
| ESPN.com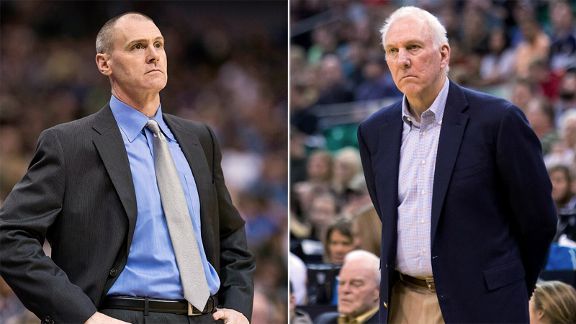 USA TODAY SportsRick Carlisle took a page out of Gregg Popovich's national TV playbook Wednesday night.
It's the fear of every NBA sideline reporter: Getting Pop'd. San Antonio Spurs coach Gregg Popovich has become notorious for his terse answers during the in-game interviews that are a staple of national TV broadcasts.
On Wednesday Chris Broussard got the Pop treatment ... but from Dallas Mavericks coach Rick Carlisle.
Broussard was a good sport about the whole thing.
I got Popovich'd by Rick Carlisle. Lol

— Chris Broussard (@Chris_Broussard) November 21, 2013
And maybe the conservation of words worked out best for Carlisle. His Mavericks outscored the Houston Rockets 36-19 in the fourth quarter to overcome a 14-point deficit and earn their eighth win of the year.
More reaction from the Twitterverse:
Dallas 36-19 run after Carlisle went Pop

— Ben Golliver (@blazersedge) November 21, 2013
Rick Carlisle just did a Gregg Popovich impersonation on @Chris_Broussard

— Calvin Watkins (@calvinwatkins) November 21, 2013
Man, Rick Carlisle was more Popovich than Popovich to my man Chris Broussard.

— J.A. Adande (@jadande) November 21, 2013
Rick Carlisle has gone Daniel Bryan.

— Hardwood Paroxysm (@HPbasketball) November 21, 2013
hahahahahahahahahaha RICK THA GOD

— Mavs Moneyball (@mavsmoneyball) November 21, 2013