Commentary
Devin Harris steps into spotlight
Carlisle continues to play his hot hand off bench and the Mavs are beneficiaries
DALLAS -- The beauty of Rick Carlisle as a basketball coach is he doesn't fear change -- he embraces it.
You play well like Devin Harris has the past two games and Carlisle has zero problem increasing his role. You play poorly the way Jae Crowder did for a couple of weeks and it wasn't all that surprising he played a couple of games in the NBA Development League.
See, no one aside from Dirk Nowitzki, Monta Ellis, Vince Carter and Shawn Marion is guaranteed playing time.
For Carlisle, it's strictly a production issue. And that's why Harris is in the process of creating a new role for himself: fourth-quarter closer.
Dallas 105, Indiana 94.
[+] Enlarge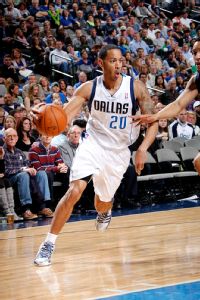 Glenn James/Getty ImagesDevin Harris had a season-high 20 points, many during key moments of the Mavericks' big win over the Pacers on Sunday.
Go ahead and give Harris credit for this one. He was sensational in the second half, finishing with a season-high 20 points, five assists and four steals as the Mavs beat the Pacers for the second time this season.
"He was active defensively, he was hitting shots, making plays and he brings an extra dimension to our guard rotation," Carlisle said. "I thought all of our guards played well, but he stood out because he had the ball a lot and he made good decisions and timely plays at both ends all night."
It started in the third quarter after the Mavs, as they often do, had blown every bit of a 17-point first-half lead. A 3-pointer by Indiana's Paul George to start the third quarter tied the score at 48-48.
Harris finished the third quarter with seven points and three steals as the Mavs built their lead 76-71 entering the fourth quarter.
What we're seeing from Harris is exactly what owner Mark Cuban had in mind when he said he viewed Harris as the club's key acquisition at the trade deadline.
Harris, who had surgery on his left foot in August, made his debut on Jan. 17 with 17 minutes against Portland. He has played in only 21 of the team's 64 games this season.
And for much of the season, Harris hasn't been much of a factor. He's averaging 7.6 points and 4.2 assists in about 19 minutes a game.
He'd failed to score in double figures in 11 of 12 games until he found a rhythm late against Portland, helping the Mavs avoid being the first team in more than a decade to blow a 30-point first-half lead in their five-point win over Portland.
Harris scored 12 points against Portland, including a key off-balance driving layup that helped stave off Portland.
Every part of Harris' game worked against Indiana. Harris maneuvered into the lane any time he wanted, setting up his teammates for easy buckets.
Other times, he settled at the 3-point line and waited to shoot uncontested jumpers. He made 4-of-6 from beyond the arc.
The Mavs led 89-87, when Harris drove hard to the bucket and somehow flipped a shot over his head, off the glass and into the basket as he was fouled. He made the free throw for a 92-87 lead with 4:15 left.
He buried the Pacers with 33 seconds left when he drilled yet another 3-pointer off a pass from Ellis for the game's final points.
More on the Mavericks

News, notes and analysis of the Mavericks from ESPNDallas.com's Tim MacMahon, Richard Durrett and our team.
Blog » ESPN Dallas »

"This is kind of the second phase of his comeback," Carlisle said. He's gone through about six weeks of playing in games and working on rhythm and conditioning and this is like his second wind.
"He's working hard. He comes in and shoots at night, and he's putting the work in and it is obviously paying off."
This was a good win for the Mavs.
This time Indiana wasn't preoccupied with the debauchery that is All-Star Game festivities in New Orleans as they were when they played the Mavericks in the last game before the break.
The Pacers, who had a team meeting following their third straight loss, have now lost four in a row and are tied with Miami in the loss column in the race for the record in the the Eastern Conference.
Indiana knew Miami had lost earlier in the day, so the Mavs had the Pacers' full attention.
So what. Dallas had Harris.
"It's hard to stay patient with the process when you're coming off an injury and you want to help the team win," he said., "But you have to do it. You have to go through some of the struggles I've gone through and work through it.
"My confidence is up now and hopefully, I can keep it going."
As long as he does, he'll remain Carlisle's fourth-quarter closer.

ESPNDallas.com
Jean-Jacques Taylor joined ESPNDallas.com in August 2011. A native of Dallas, Taylor spent the past 20 years writing for The Dallas Morning News, where he covered high schools sports, the Texas Rangers and spent 11 seasons covering the Dallas Cowboys before becoming a general columnist in 2006.