Commentary
Loss leaves Spurs with tables turned
Updated:
April 26, 2014, 11:37 PM ET
By
Bryan Gutierrez
| ESPNDallas.com
DALLAS -- In a span of 1.7 seconds, the script flipped for the San Antonio Spurs in their series with the Dallas Mavericks.
Spurs guard Manu Ginobili made a go-ahead layup with 1.7 seconds left to put the Spurs up 108-106. But Mavs forward Vince Carter responded as the third option in a set play out of a Dallas timeout by hitting the game-winning 3-pointer over Ginobili at the buzzer to give Dallas the 109-108 victory -- and a 2-1 series lead.
"He created some space going to the corner, used sort of a fake that got me in the air and he shot a good shot," Ginobili said. "When you have a good opponent like that who is that talented and can get a shot off, it can happen."
ESPN Stats & Information notes that Game 3 of Mavs-Spurs was only the third game in the past 15 postseasons with two go-ahead shots in the final two seconds of the game. Carter's buzzer-beater was also the first to upend the Spurs in a playoff game since Kevin Martin hit one for the Sacramento Kings in 2006.
[+] Enlarge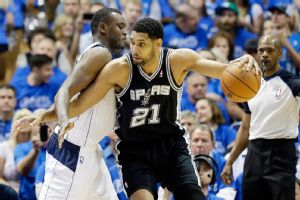 AP Photo/LM OteroTim Duncan had 22 points and three blocks in the Game 3 loss to Dallas.
How close is the margin between winning and losing?
"It's about 1.7 [seconds]," Spurs forward Tim Duncan said.
That's how long it took the tables to turn for the Spurs. Going into the playoffs, San Antonio was the top overall seed, widely regarded as the league's best team, and drew an opponent it had beaten 10 straight times, including eight games at home and in four straight playoff games. If the Mavericks hadn't blown a 10-point lead in the fourth quarter of Game 1, the Spurs could be facing the brink of elimination.
"That's the playoffs," Duncan continued. "Everything changes in the playoffs. This isn't a regular-season game. We've prepared for each other. We know what we're going to do.
"They've come in with a game plan, we came in with a game plan. We're trying to execute it. Thus far, they've been very good."
While the two franchises clearly know each other inside and out, the result still comes as a shock. Rick Carlisle has stepped up to the challenge and has been every bit as good as coach of the year Gregg Popovich. The Mavs have been able to claim a 2-1 series lead by putting the Spurs on their heels with aggressive switching on pick-and-rolls and a high-octane attack on offense. They've decided to let Tony Parker and Tim Duncan get whatever they want and work to contain everyone else, which Dallas has done effectively.
"They've got depth, and they're a great team," Ginobili said. "It's not that we don't know them. It's hard, it's the NBA, it's the playoffs, it's the West."
Now, San Antonio is in a spot where results haven't been kind to them in the past. Including best-of-five series, the Spurs are 0-9 in playoff series after losing Game 3 on the road to go down 2-1. Ominous stat notwithstanding, the Mavericks are well aware of San Antonio's pedigree.
"To me, they're still obviously the heavy favorite, but they know we're here to play," Mavs forward Dirk Nowitzki said after the victory.
2014 NBA PLAYOFFS: SERIES PAGES
Check out our coverage of every first-round playoff series:
Mavs owner Mark Cuban had a wide smile as he left the team locker room. He didn't want to speak with the media, but he obliged the request and gave a comment.
"We've got to win two more, and they're not an easy team to beat," Cuban said. "It's not like you can expect them to roll over. It's the exact opposite. But the interesting thing is it felt like 2006 in that war that we fought down there."
This series is drawing some unique parallels to that 2006 conference semifinals matchup, one in which the Mavs won Game 7 on the road en route to making their first trip to the NBA Finals. Game 1 of that series saw the Mavs maintain a lead through to the second half only to see the Spurs surge ahead to secure the victory. Like Game 2 of this series, Game 2 in 2006 saw Dallas get out and run off San Antonio turnovers en route to a blowout victory. While there was no buzzer-beater in 2006's Game 3, the Mavericks were able to secure a one-point win.
In addition to that history, the Spurs do have experience being on the short side of the No. 1-versus-No. 8 upset when they lost to the Memphis Grizzlies in the 2011 playoffs. San Antonio will need a win in Game 4 to ensure that history doesn't repeat itself.
"They got the best of us tonight," Duncan said. "We have to get the one on Monday and turn it back into a series."
Now, the Spurs have put themselves in a spot where they are against the ropes and have to give their best effort of the season to get back to level footing. While they still have a chance to advance in the playoffs, they might have to push themselves more than they expected.
NBA FINALS ON ESPN.COM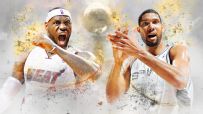 Follow the playoffs on ESPN:
Twitter | Facebook | G+
MORE CONTENT