Cavs take Andrew Wiggins at No. 1
Updated:
June 27, 2014, 3:04 PM ET
ESPN.com news services
NEW YORK -- With Andrew Wiggins at No. 1, it was a big night for Canada and Kansas. And it better be the right one for the Cavaliers.
Cleveland went north of the border to open the NBA draft for the second straight year Thursday night, hoping Wiggins works out better than Anthony Bennett.
More NBA Draft Coverage

The Cavaliers kicked off the draft by selecting Kansas guard Andrew Wiggins. Recap ESPN's coverage of all 60 picks. DraftCast
• Adande: Draft ends, questions begin
• Strauss: 76ers again fire up tank
• Ford: Team-by-team

| Pick-by-pick
• Trades: Tracker | Grades


• Social: The Ten Squared | Moments
• Podcasts: Wiggins | Parker
• SN: Wiggins right pick for Cavs?
Thrilled to go first and even happier when Jayhawks teammate Joel Embiid went two picks later, Wiggins beamed in his black tuxedo jacket with a white floral pattern.
"A thousand thoughts are going through my head right now," Wiggins said. "It's a dream come true."
Bennett was injured last summer, went into the season out of shape and made no impact, one of the reasons the Cavs were back in this spot again.
But Wiggins seems a much more ready product after averaging a Kansas freshman-record 17.1 points per game. He might have ended up as the top pick anyway, but he became the best option for the Cavs when Embiid suffered a stress fracture in his right foot shortly before the draft.
After making Canada the only country besides the U.S. to have consecutive No. 1 picks, Wiggins slipped on a maroon Cleveland hat, hugged his supporters and went on stage to shake hands with commissioner Adam Silver, who was calling the first round for the first time since replacing David Stern.
Cleveland Browns rookie quarterback Johnny Manziel took to Twitter on Thursday night to welcome Wiggins:
A WIGGINS!!! Welcome to the city my brother and congratulations @22wiggins #CavsSZN

- Johnny Manziel (@JManziel2) June 27, 2014
Milwaukee followed with another freshman, Duke forward Jabari Parker, who on Wednesday disputed that he was out of shape for his workout with Cleveland and performed poorly. Some consider him the more NBA-ready player after an All-America season for the Blue Devils, and getting to play in Milwaukee puts him near his family in Chicago.
[+] Enlarge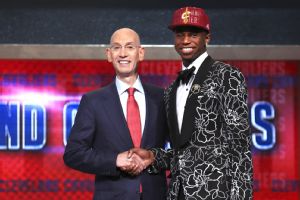 Joe Murphy /NBA/Getty ImagesCleveland selected Kansas guard Andrew Wiggins with the first overall pick in Thursday night's draft.
"I'm just very optimistic," Parker said. "If it was 1, 2, put me at 60, just getting that opportunity, getting that chance of being in the NBA."
Embiid went third to Philadelphia, drawing loud cheers from the many red-and-blue dressed 76ers fans who made the trip to Barclays Center in Brooklyn, as well as from Philadelphia guard Michael Carter-Williams, last season's rookie of the year, who was sitting on the arena floor level.
The 76ers had two top-10 picks and could afford to take a chance on Embiid, the big man who might have ended up the top prize despite his lone season at Kansas ending early because of a bad back. But once the foot injury popped up during workouts, leaving his NBA debut uncertain after surgery, the two teams at the top passed.
"He worked so hard," Wiggins said. "He didn't let nothing get to him. He always stayed motivated. So I'm just proud. It's a proud moment for Kansas."
It was considered a deep draft, with top-level talent stretching toward the bottom of the lottery and perhaps beyond. Arizona forward Aaron Gordon went fourth to Orlando, which also had two picks in the lottery, followed by Australian guard Dante Exum to Utah.
O! Canada

Andrew Wiggins on Thursday night became the second Canadian-born player to be selected No. 1 overall in the NBA draft. Here's a look at the company he joins:
Player
Pick
Year
Team
A. Wiggins
1
2014
Cavs
A. Bennett
1
2013
Cavs
T. Thompson
4
2011
Cavs
K. Olynyk
13
2013
Mavs
B. Wennington
16
1985
Mavs
L. Rautins
17
1983
76ers
-- ESPN Stats & Information
Then came two teams not used to picking so high: The Boston Celtics took Oklahoma State guard Marcus Smart, with the rival Los Angeles Lakers following at No. 7 with Kentucky forward Julius Randle.
The highlight of the night came just after the lottery, when Silver welcomed Baylor's Isaiah Austin to the stage for an emotional tribute. Austin had to end his playing career after being diagnosed with Marfan syndrome, a rare genetic disorder that affects the heart.
Wearing a blue hat with the NBA logo, Austin rose for a standing ovation after Silver announced that "The NBA selects Isaiah Austin."
There were 10 international players in the first round, tied for the second-most in draft history. It ended with NBA champion San Antonio taking UCLA's Kyle Anderson.
The Spurs routed LeBron James and the Miami Heat in five games in the NBA Finals, and James informed Miami on Tuesday that he would opt out of the final two years of his contract. He could stay with a stronger team in South Florida or go somewhere else -- perhaps with Carmelo Anthony -- for another title shot.
Just don't ignore the new kids.
"You got Doug McDermott scoring 3,000 points. Shoot, you got Julius Randle went to the national championship. Shabazz Napier won two national championships," Parker said. "I mean, we're all good. We're all great players."
Information from The Associated Press was used in this report.
NBA DRAFT ON ESPN.COM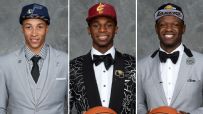 Follow the draft on ESPN:
Twitter | Facebook | G+
MORE CONTENT
Adidas Youth Milwaukee Bucks Climalite Beta Rays Grey Long Sleeve Shirt Shop »