Chandler Parsons: 'No hard feelings'
Updated:
July 15, 2014, 10:56 PM ET
ESPN.com news services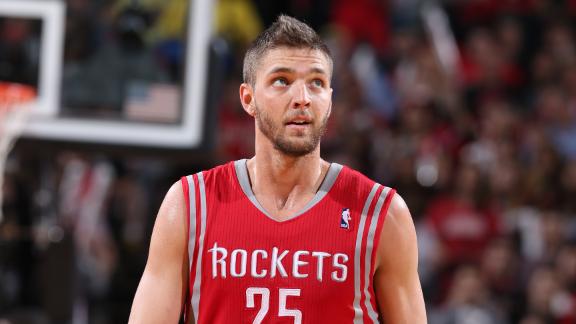 Parsons Offended By Rockets
Mike Golic and Mike Greenberg react to Chandler Parsons' comments that he was offended by Houston in the free-agency process.
Parsons Offended By Rockets
NEXT VIDEO
Chandler Parsons sought to clarify Tuesday his comments of a day earlier in which he said the Houston Rockets had offended him, stopping short of an apology while expressing gratitude toward the team that brought him to the NBA in the 2011 draft.
Parsons said the opportunity the Rockets gave him by making him a restricted free agent when they declined a $965,000 option for next season was "crazy when you look at it that way."
More from ESPN.com

The Rockets have provided Chandler Parsons with plenty of motivation to play at a high level for the Mavericks, writes Tim MacMahon. Story
---

Amin Elhassan says the Dallas Mavericks got better offensively and finally got the free agent they wanted, while the Houston Rockets actually got better defensively, replacing Parsons with Trevor Ariza. Story

---
The Rockets are off to a rough start this offseason, but they've been here before, writes Jason Friedman. Story

"That's why I'm so grateful for them," Parsons told reporters on a conference call. "They really did me a solid by letting me out a year early, and I'm assuming that the plan was to do this and not let me hit the unrestricted market next year, so they could lock me in."
Parsons said he was surprised when the Rockets then declined to match the Mavericks' three-year, $46 million offer sheet but that he had "no hard feelings at all."
"I thought that was the plan going forward but they were going to," Parsons said. "(The structure of the contract) really put pressure on them and didn't give them any flexibility for their future if they did match it. They decided what they felt was best for their future. They told me to go and get my best individual contract. And we both did what we felt was best for ourselves."
The Rockets would have indeed matched the offer to Parsons if they had been successful in their pursuit of Chris Bosh, who ultimately re-signed with the Miami Heat.
"I didn't mean to sound ungrateful or disrespectful in any way," Parsons said of his comments to Yahoo! Sports. "I just simply meant that I was offended that they didn't view me as a core piece of their team going forward and they didn't view me as a third star that could win championships there. That was what I meant by offended.
"I hope I didn't hurt anybody's feelings and I hope there's no hard feelings there, because I had a great time in Houston. I created a lot of memories there and have nothing but love and respect for the organization, the coaching staff and my teammates. But it's just offensive when they're publicly saying they don't have a third star and they're going after a third star when I was right there in front of them."
Information from ESPNDallas.com's Tim MacMahon was used in this report.
NBA FREE AGENCY ON ESPN.COM